Weasley Reunion!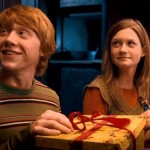 Mar 11, 2017
We recently found out via Emma Watson that the cast of Harry Potter keep in touch via a group chat, and last week saw Tom Felton and Matt Lewis join Emma Watson on the red carpet of Beauty and the Beast. This week there's been a Weasley reunion – the best kind of reunion! – as Bonnie Wright supported Rupert Grint at the L.A. launch party of his new series, Snatch.
Bonnie Wright posted the encounter on Instagram with a lovely caption, and the hashtag #proudsis – they really do look related!
Jason Isaacs (Lucius Malfoy) and Alison Sudol (Queenie Goldstein) also met at the Chance Casino (Species Fan Club) event for Sychronicity Earth, after a twitter exchange in January about his scarily good acting skills:
Evanna Lynch – ever the vegan activist, as she describes herself in her Instagram bio – has been campaigning for British MEPs to vote in the EU parliament to ban rearing rabbits in cages via her Twitter and Instagram, saying:
"Millions of rabbits are suffering and dying in battery cages on farms across the EU. Join Animal Equality in urging British MEPs to vote in in favour of measures to ban this cruel practice on March 14th."
The petition provided by Animal Equality to take action is here.
Snatch is set to premiere this month on Crackle, Sony's streaming service. See the trailer below, and read more here!