A 'Fantastic' Surprise for Fans at Warner Bros. Studio Tour London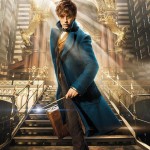 Mar 16, 2017
Guests of the Warner Bros. Studio Tour London were in for a treat far better than anything sold at Honeydukes or Jacob Kowalski's Pastry Shop today.
Pottermore reports that their once-in-a-lifetime visit began when everyone received a free Fantastic Beasts poster. If that wasn't exciting enough, when guests reached the pre-tour screening room, they were told to check under their seats.
No, they weren't greeted by any missing creatures. (Thank, goodness.) Nor was the next surprise a prank worthy of Fred and George Weasely. In fact, each guest found their very own replica of Newt Scamander's wand!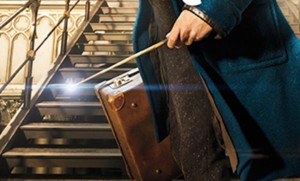 But there was one more surprise in store. (As they say, the third time's the charm!) To the amazement of the guests, Eddie Redmayne, Newt Scamander himself, and co-star Dan Fogler, no-maj Jacob Kowalski, stepped through the doors of the Great Hall.
After everyone composed themselves–outwardly–Redmayne and Fogler took pictures with the group.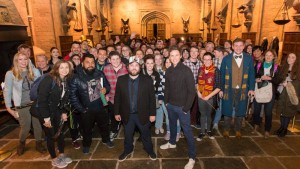 Their appearance was no doubt meant to promote the highly-anticipated DVD and Blu-Ray release of Fantastic Beasts and Where to Find Them. Leaky previously reported that the film is currently available for digital download, with the DVD and Blu-ray to be released March 27th in the UK and March 28th in the U.S. The article also gave a sneak-peek of some of the behind-the-scenes extras included in the special features.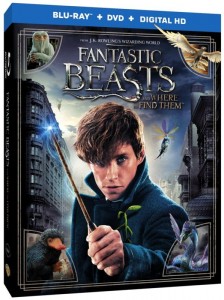 Finally having the film in hand, however, will just be the icing on the cake of a fantastic month for fans. Leaky reported they were able to download the e-book of Newt Scamander's updated encyclopedia of magical creatures, as well as Audible's audiobook narrated by Redmayne, on Tuesday. The hardcopy by Bloomsbury, featuring new cover art, was also available Tuesday, and all include the new foreword written by JK Rowling and entries on six new beasts!
The update includes detailed information on the Snallygaster, the Horned Serpent, the Thunderbird, the Hidebehind, the Wampus, and the Hodag, all beautifully described in recent Leaky coverage of the 3D paper models commissioned by Pottermore.
All of these incredible keepsakes and companion pieces to the Fantastic Beasts series will tide over fans temporarily, but they still eagerly await any and all information on the untitled film sequel (which Rowling assures is coming!)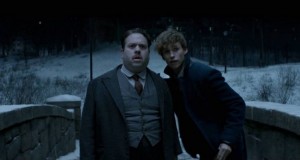 Though even the actors have been kept in the dark about key plot details, we know they will soon be returning to Leavesdon Studios, right next door to the Warner Bros. Studio Tour. Leaky posted today that reports now indicate filming for the second installment will begin in August!
We may not have the privilege of meeting Eddie Redmayne and Dan Fogler in person, but you can bet your dragon egg that we can't wait to see the duo navigate another round of wizarding adventures onscreen again soon!
For the full Pottermore exclusive on their surprise addition to the tour, read here.