Best Wishes to Robbie Coltrane on His Birthday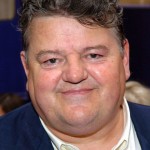 Mar 30, 2017
Robbie Coltrane, the actor who so brilliantly brought to life Harry Potter's beloved gamekeeper, Hagrid, celebrates his 67th birthday today. In honor of his special day, let's take a look at some of his most recent work as well as a look back at how Coltrane so masterfully and memorably embodied Hogwart's gentle giant.
It's been a challenge keeping up with all of Coltrane's successes lately. As reported by Leaky  earlier this month, he received Best Actor prizes from The Royal Television Society and the UK's Broadcasting Press Guild for his performance in the new Hulu courtroom drama National Treasure. Coltrane portrays aging comedian Paul Finchley who is accused of a rape that allegedly occurred decades earlier. The award-winning series, which was written by Harry Potter and the Cursed Child playwright, Jack Thorne, also stars Julie Walters, Harry Potter's Molly Weasley, as Finchley's wife.
For fans who haven't had the opportunity to see him in this latest project, here's a sample of his stint as the abashed Finchley in National Treasure. Fans can credit Coltrane's tremendous range as an actor for the ability to make the viewer completely forget he is also the personification of the good-natured Hagrid.

The next clip takes us back, appropriately enough, to the birthday introduction of Harry and Hagrid in the Philosopher's/Sorcerer's Stone, a performance that earned Coltrane a BAFTA nomination for Best Supporting Actor. Potter enthusiasts may not be aware that he and the late Alan Rickman, saga anti-hero Severus Snape, are the only actors to have been nominated for a major award for their work in the series.

Lastly on this, "in praise of Robbie Coltrane day", is a 2006 interview filmed shortly after the release of Goblet of Fire. The clip includes some insight from J.K. Rowling on her reasons for casting Coltrane as Hogwart's half giant and inevitable father figure to young Harry. Fans may not consider him that on the outset, but Hagrid truly was the designated non-muggle in Harry's life from start to finish; the loving "wizard"  who first brought him a birthday cake and delivered his "lifeless" body in the end.

Happiest of Birthdays to the one and only Robbie Coltrane. Even with best actor trophies for his new gig, he will always be the real Rubeus Hagrid in our hearts.