Catching Up With Gary Oldman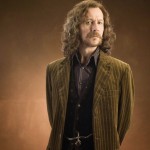 Apr 05, 2017
Gary Oldman is best known to Harry Potter fans as the enigmatic Sirius Black, godfather of Harry Potter. He's an interesting, conflicted character–clearly affected by his long stint in Azkaban and itching for the opportunity to openly rejoin the Order of the Phoenix. He operates a bit off the cuff and with an emotionally-frayed edge so that he forgets, at times, he's a wanted man whose every move is risky both to himself and to his loved ones. He sometimes reverts to the young man still trying to reject his family's history of pure blood mania and affinity for dark magic, proving himself as a comrade-in-arms, rather than acting as the guardian Harry most needs.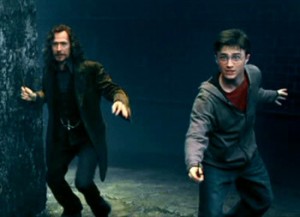 Oldman struck this balance perfectly, so that we felt a deep empathy for Sirius, which enabled us to forgive his shortcomings on Harry's behalf and appreciate his spirit, loyalty and dedication, and evident affection for him. We knew that he tried to act in Harry's interests, as best he knew how, and sacrificed himself without question, just as James did.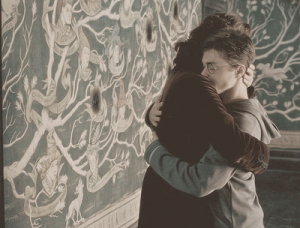 It's this gift for subtlety, the ability to make strong, outwardly-imposing characters relatable, that Oldman brings to his next role, that of the great Winston Churchill in Joe Wright's upcoming Darkest Hour.
As Leaky previously reported, he was initially hesitant to take on the part, speaking to Off the Record's Paul Clayton:
"Two and a half years ago when the role first came around, [I] laughed so loud…I thought, 'Winston Churchill, are you kidding? Look at me!'… I thought no, I'll never go near it…Many consider him to be the greatest Briton ever, and there are all these people who have played him. It was the fear, and the anxiety of it."
Thankfully, Oldman eventually came around to it and gave himself over to the role, becoming so immersed in the character that the transformation is remarkable. He is Winston Churchill.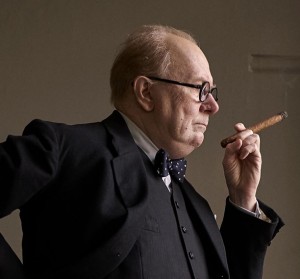 During a Focus Features event promoting the film, Oldman revealed that he spent over 200 hours in the make-up chair and assumed half his body weight in prosthetics in order to play the part believably. Doing Churchill justice was incredibly important to Oldman, as he is widely considered one of England's great historic figures. And, as the film covers an intense period in history–the first five weeks of Churchill's service as Prime Minister and his decisive response to Hitler's invasion–he knew it was a gift and responsibility to play it well.
Deadline reports that he told the Focus Features audience:
"[Roles are] all challenging in their own way but Winston was kind of a hard one…It's a lot to wrap your arms around. Not only the physical, but he is arguably the greatest Brit who ever lived … a kind of iconic figure. It was daunting but once I started to find out who the man was, it was … well, I never enjoyed anything so much in my life … I couldn't wait to get to work and be him."
The audience was treated to an exclusive clip from the film and was duly impressed by how closely Oldman embodied Churchill in appearance, carriage, and even speech. This is no surprise, though, since MSN Cover Video reports that Oldman intentionally alters the cadence of his speech in every role in order to make them unique. That's a mark of amazing talent and dedication!
Darkest Hour is set to release in theaters November 24th, and we can't wait to see Oldman back on the silver screen in the wartime drama.
In the meantime, Expose reports that Oldman will join Naomi Watts and Ryan Murphy in overseeing the Australians in Film (AiF) Heath Ledger Scholarship. The scholarship honors Ledger, a former AiF ambassador, and was established in 2008 following the actor's death. The winner will be named at a gala event June 17th and receive both a monetary allowance and mentoring support. Ledger's sister, Kate, says "the objective of the scholarship is to smooth the way and open doors allowing the recipient to focus all their energy and efforts on getting work."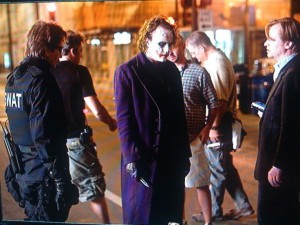 Oldman met Ledger on the set of The Dark Knight, in which he starred as Commissioner Gordon. The trilogy ushered in a new era of superhero adaptations, introducing a tonal shift that gave directors permission to depict the comic book heroes in a darker, more complex way. This grittier take has carried over to DC Comics' latest reboot of the superhero franchise, which feature a number of other Harry Potter and Fantastic Beasts alums, including David Thewlis in Wonder Woman and Ezra Miller as Flash in Justice League.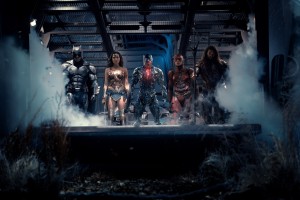 Though Oldman will not reprise his role as Gordon in the new films, We Got This Covered reports that he gives his blessing to J.K. Simmons, tapped as the latest incarnation of the character. Comicbook.com spoke with him at CinemaCon, where he was promoting Darkest Hour, to get his take on the casting change. He said:
"J.K Simmons doesn't need any advice from me. He's a wonderful actor. I'm intrigued to see what he does with it. I'm looking forward to it. Gordon was very good to me so I wish him a lot of luck. I'm excited for him."
We're excited to see Miller in the upcoming Justice League, as well as the others assembled in the stellar ensemble cast, including Simmons, and are thrilled to hear of Oldman's support for his industry colleague. Oldman will no doubt continue to find success in film and bring a plethora of fantastic characters and stories to screen for us!