You Can't Take the Hogwarts Out of Tom Felton!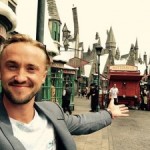 Apr 09, 2017
Tom Felton may have sorted into Gryffindor upon finally taking the Pottermore plunge two years ago, but he has no shortage of affection for the house he grew up in as Draco Malfoy, the villain we all loved to hate, showing off his Slytherin pride over the weekend.
Just Jared reported that Felton posted a picture of himself on Instagram yesterday, wearing a Slytherin lanyard and grey sweatshirt with Slytherin emblazoned across the front in bold green lettering. He captioned the photo, "You can take the boy out of Hogwarts…"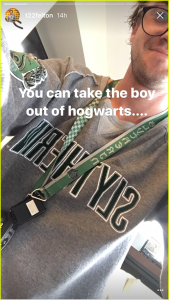 But, clearly, you can't take the Hogwarts out of the boy! Another Instagram post just confirmed it, as Felton shared an image of himself with Flash co-star Jesse Martin at a concert screening of Harry Potter and the Chamber of Secrets in Vancouver. He even called out director Chris Columbus, writing, "Yeah we did @chrisc1492."
E Online reported that Columbus then replied,  "My two favorite actors! You guys are the greatest!"
We're wondering how much Felton enjoyed reliving some of his classic moments from Chamber of Secrets. He probably fondly recalls all the times he got to chill in the Slytherin common room, which appeared to be fairly posh, if dark. Likely made it worth putting up with Crabbe and Goyle all those years.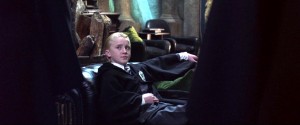 There was his introduction as a part of the Slytherin Quidditch Team, and we have to say, Harry got the better of him on and off the pitch in that situation. (Given how nice Felton is in real life, we're sure he was a good sport about it behind the scenes.)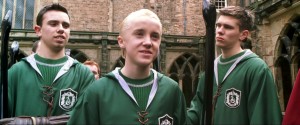 Then there was the epic duel in Defense Against the Dark Arts class. He didn't fair very well there, either, but he did have the threatening glare down.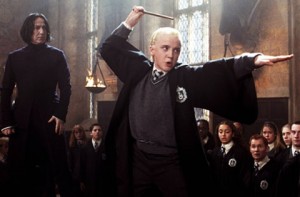 We absolutely love that Felton still takes so much pride in the Harry Potter series and has such a good time with it. His neighbors at the concert must have been pinching themselves! In fact, we're a little jealous. But, on the plus side, it sounds like he'll be participating in the fandom for a long time to come, so who knows, you could be the next lucky fan to have a magical encounter!
In the meantime, we'll settle for seeing Felton on the big screen, and he's showing another kind of pride–American pride, that is–in his upcoming film, Megan Leavey. A previous Leaky report described his role as follows:
"He plays Andrew Dean, a veteran dog handler and an important part in the tale of a different journey–[Megan Leavey's] struggle to move beyond her past, find a larger purpose in life, survive the dangers of the battlefield, and be reunited with the dog who saved her and taught her to love and hope again."
We Are Movie Geeks shared newly released photos of Felton and co-stars Kate Mara, Edie Falco, Bradley Whitford, Ramon Rodriguez, and Common in character. Check out this shot of Felton as U.S. Marine Andrew Dean.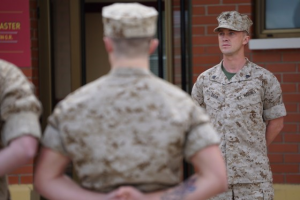 Megan Leavey opens in theaters June 9th, so get ready to show a little Hogwarts pride of your own and support Felton upon its release!