Jude Law Shares His Excitement on Playing Dumbledore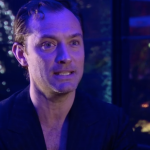 Apr 26, 2017
Almost two weeks after the announcement that Jude Law is our new Dumbledore in Fantastic Beasts 2, we finally have his reaction to being cast! BBC London caught up with Jude Law during promotion for his play, Obsession, and here's what he had to say when asked about his reaction to landing the role and about Dumbledore and Grindelwald's romance:
"My first port of call, I hope, is to meet J.K. Rowling and to talk exactly about that [referring to Dumbledore and Grindelwald's relationship] and find out who he is, and who she wants him to be, and learn a little bit more about her vision of this great man as a young man."
When asked if he was scared at all, he replied:
"I'm only excited by the whole prospect. Curious, excited — actually, you know, that's a good point. I think all good jobs have an element of fear […] because you want to do well by it. You want to please not everyone — you want to please people and you want to please yourself."
You can catch Jude Law live in Obsession, which is currently being performed at the Barbican Centre in London. Fantastic Beasts 2 begins filming this summer and will hit theaters 16 November, 2018.