David Thewlis on Playing the Villian in Fargo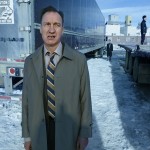 Apr 27, 2017
Collider.com writer Allison Keene recently had the opportunity to talk to the cast of Fargo, chatting with different cast members and the crew about Season 3 of the show and David Thewlis's character V.M. Varga.
Although he couldn't say much, Thewlis said about the character that,
"He's very hard to talk about. He's by nature a mystery."
As fans of Remus Lupin in the Potter films, we already know how great of an actor he is, so it's no surprise that he goes above and beyond to portray Varga. Producer Kim Todd told Keene,
"After we cast David, [Noah] Hawley started working even more on the character. David gives you so much to work with, and Noah would keep working on the character anyway, but he would tell us and David, ok, this is a guy who is always in control of himself and everything around him. Control is his watchword." Sounds a bit ominous doesn't it?
Getting into the actual interview with David, he talked about how different it was to film a show versus a film saying,
"..I've usually done film where you've got the script and you've got the whole story, I kinda liked the idea that I didn't know the story."
That's so entirely different than the Potter series, so it's really interesting that he plays the villain in a week to week series instead of a full-length film.
Speaking of villainy, Thewlis's character is apparently the worst. When asked about whether or not his character is a terrible person, Thewlis adamantly agrees,
"Oh absolutely totally, he's very very awful. Absolutely terrible, a terrible man, and it gets worse and worse and worse, he's got no redeemnig qualities whatsoever, as far as I can see, and he's just an enormous manipulator."
Because Thewlis doesn't know where the show is going when he filmed it; the tension of unknowing is probably palpable on screen (disclaimer; I haven't seen it!). Keene asks him about whether or not his character is a loner, Thewlis continues:
"…this is hard to say, because there are plot things that no one would want me to give away, because you want to watch Fargo and not know, I wouldn't want to know anything, so suffice to say that I'm throughly evil!"
So as he put it, you'll have to watch Fargo to learn more about his character and to see just how truly evil he is.
Fargo airs on Wednesday nights on FX.