Jason Isaacs Makes His Mark on Planet Comicon Kansas City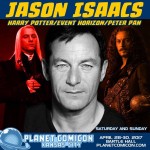 May 02, 2017
When Harry Potter fans conjure an image of Lucius Malfoy, undoubtedly the Dark Mark comes to mind, but Jason Isaacs' appearance last weekend at Planet Comicon was anything but dark. The talented British actor, known for decades of film, television, stage and voiceover work, brought his wit, charm and magically famous stories to Kansas City's Bartle Hall April 29 and 30. Tens of thousands from 48 states and 13 countries attended the 18th year of this locally operated fan-favorite event that welcomed over 130 creator and celebrity guests within 300,000 square feet of art, exhibits and collectibles from all walks of pop culture.
On Saturday morning Leaky made their way through a sea of costumed con goers to one of the main ballrooms where they were lucky enough to have a front and center seat for Isaacs' panel. As readers might guess, this particular session was packed with Potter-specific cosplay; every Hogwarts house was well-represented. Isaacs bounded on stage after what the audience learned was a night short on sleep direct from the set of his new project Star Trek: Discovery.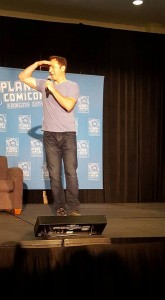 After a hearty round of applause, first on the actor's agenda was to get picture taking knocked out. He encouraged the audience to click as many photos as they wanted in 30 seconds, from every angle, including his backside, and then phones were banished!  (so no video – sorry!). He was pretty adamant about this in his playful way: later in the hour he spied a courageous audience member sneaking a shot and asked if they were filming him or playing Candy Crush?
Before delving into all things Potter, Isaacs laid down a couple of other house rules: don't ask about cast members who have died since this was a happy event, not a eulogy, and no matter what, steer clear of questions about Star Trek, as he was sworn to secrecy by the show's producers. To get his point across, the new Captain Lorca kiddingly said that the project is so confidential, that scripts are presented on black paper and the actors are required to eat them after memorizing their lines! The one item he did reveal about Star Trek was how surreal it was to be delivering the same iconic lines that he had been hearing for years ("Beam me up?").
Nice chair. Hope it's comfy. pic.twitter.com/xwfdWAmBQW

— Jason Isaacs (@jasonsfolly) March 7, 2017
Isaacs began his wizarding world anecdotes with a thought-provoking discourse on the notion of villainy, which he is extremely familiar with. He said there really are no villains, and that even someone like Hitler believed at the time of their heinous behavior, that they were acting in someone's best interest. Does the phrase "the greater good" ring a bell?
It was obvious that part of what makes him such a superb actor is his deep examination of character. He followed up this thought with a play-by-play on how Lucius got his infamous look. When he first came to the Harry Potter set in 2001, he felt a bit intimidated by such celebrated British icons as Sir Richard Harris and Dame Maggie Smith, so thought an eye-catching aesthetic might set him apart. Both the costume and makeup departments were ready to follow creatives' instruction and put him in a conservative pin-striped suit with his natural brunette hair, but he had other plans. In his mind, this character, who was a dark wizard from aristocratic lineage, had no business looking like a muggle so should be outfitted with velvet robes, a jeweled cane, and topped off with the luxurious platinum locks that happened to be sitting on a stand nearby. It sounds like it took some prodding for the decision makers to agree, but obviously Isaacs had the last word!
Next he touched on how lovely it was to work with the trio of Daniel Radcliffe, Emma Watson and Rupert Grint and of course added a fourth, his on-screen son, Tom Felton. He praised their acting ability as well as their dispositions and said they were always delightful on set. In fact, one of his first scenes with Tom, from Chamber of Secrets was an excellent example of their level of maturity at the time. When Isaacs reprimands young Felton on the hand with the snake-like handle of his walking stick while telling him not to touch anything, the metal fang pierced the skin of Tom's knuckles. Isaacs saw the boy's eyes well up and after the take, "father" apologized to "son" profusely, but the budding actor said, holding back tears, "It's okay. It was good for the scene." Now that's method acting!
Take a look at the deleted scene here:

Isaacs said that unlike many of his more recent hush hush ventures, the Potter set was open to visitors of all kinds. He claimed that the four adolescent wizards were always very engaging with his friends and relatives that stopped by, especially young children. He commented that the most requested attractions on set were Dobby and quidditch demonstrations, which unfortunately left little ones often a bit confused, as did seeing Hagrid with his head off. Their host hoped to keep their belief in the magic intact as long as possible!
One of Isaacs' last Harry Potter yarns stemmed from a question on the subject of reversed roles and if Draco had been a mudblood, would father have supported his son through his Hogwarts years? Isaacs thought Lucius absolutely would not claim Draco as his son in this case as he believed his character to be a coward and a racist and truly the proverbial man without a country by the end of the series. He walked us from the beginning of Deathly Hallows, freshly sprung from Azkaban, and looking according to Isaacs, "less Lady Gaga and more Courtney Love",  to scene one when Voldemort snaps Lucius' wand in two, which the actor felt represented his character's castration.
By the filming of the Battle of Hogwarts, which incidentally is celebrated on this very day each year as covered by Leaky here, Isaacs had some specific ideas about his character's demise for director, David Yates. He suggested that as he watched his wife and son depart from the castle together, that he be trampled by the emerging hoard of Death Eaters, no longer accepted by either faction. Yates thought this was a fabulous end for the flaxen-haired Slytherin until he realized that Harry and Voldemort would be dueling on his head in a few minutes, so Lucius leaves the war zone a few paces behind Draco and Narcissa, as fans will remember.
Isaacs then moved on to anecdotes from some of his other films such as the 2000 historical drama, The Patriot with Mel Gibson and Heath Ledger where he played another nefarious villain, the ruthless Colonel William Tavington. He told the audience how the three actors thought getting a gig that had them riding horses and shooting muskets all day was pretty cool until he was thrown off his horse!
The next story involved his casting in a small independent film from 2002 called Passionada which required he come straight from filming the acclaimed war drama Black Hawk Down as the bald US Army Ranger Captain Mike Steele. Passionada director Dan Ireland told him tresses were a absolute must for this role. Check out Isaacs' overnight transformation: Accio hair!
A few other entertaining tales involved roles in the 2003 film Peter Pan, where he continued his streak of evildoers as the infamous Captain Hook, voiceover work in Avatar: The Last Airbender, a mention about his most recent film, A Cure for Wellness as covered here by Leaky earlier this year and of course, his enthusiastic endorsement of the Netflix series The OA, where he plays the despicable Dr. Hunter Hap. Isaacs praised the show as one of the best he's seen (even though he was in it!)
In the last third of the hour, the master of ceremonies took questions from the full house on anything but Star Trek and dead actors-remember? There were a few good  Harry Potter questions worth sharing. When asked if he could switch parts with any other character, he replied that he originally auditioned for the part of Gilderoy Lockhart which was awarded to renowned British actor Kenneth Branagh. His nephews persuaded him to take the part of Lucius and he certainly is glad he did.
He was also asked which was his favorite movie in the series and responded Chamber of Secrets as it was his debut in the wizarding films. At the end of a scene, director Chris Columbus asked Isaacs to close the door behind him and the actor asked, "Can't I just wave my wand and shut it that way?" Columbus said, "Sure" and Isaacs knew in that moment the job was going to be awesome!
When asked about his favorite line in the series, he answered with a quote not from any script. When the original Dumbledore, Richard Harris, was in the hospital before his death, he summoned producer David Heyman to his bedside and said, "Don't you $#!&*@! dare replace Dumbledore before I die!"
Isaacs was asked an intriguing question in the context of The O.A. which was, "If you had a near death experience and came back with a special ability, what would you want it to be?" He was taken aback initially by the question and first responded that he had had plenty of near death experiences of which he didn't elaborate on but said his desired skill would be the ability to write a script like The O.A.
Audience members threw out a handful of general questions as well. One asked his favorite birthday memory, which occurred in his 21st year when he received a burgundy leather bag his parents bought him as a briefcase. When he changed course from studying law to theater, that case became a makeup bag. Another fan asked what Isaacs does in the makeup chair to avoid boredom. He said that he listens to Motown and other pop tunes and considers his morning chats with his makeup artist good therapy. The last question of this nature was a query about Isaacs' weirdest fan experience. He told a wild story of a mother of eight who wanted her breasts autographed. He was understandably hesitant about the request and asked what her children would think and all eight yelled in unison, "Do it!"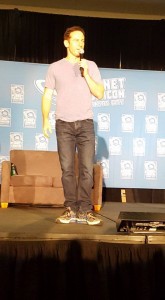 Isaacs wrapped up the panel with some words of advice. First he shared that before he came on stage, his teenage daughters in the UK "FaceTimed" him to get a movie recommendation for that evening. He thought it was sweet they were asking since teenagers don't often go to their parents for advice. He then took the opportunity to suggest to those in the room that if they were going to read a book or watch a film or television program, to make a it a well-written one, and not just put anything in their minds; to be discerning with their media choices.
One of the last questions of the afternoon brought out the philosophical and even inspirational side of Isaacs. When asked which one he would choose if he had the opportunity to star in another acclaimed film franchise, he began, "Here's the thing, without going all Deepak Chopra on you." For those who are unfamiliar, Dr. Chopra is a prominent New Age author and speaker and quantum healing advocate. Isaacs continued by saying that he tried not to be jealous of what others are doing and just be present, enjoy his life and be of service to others and be grateful for this life, for friends and family, for this body and for being a part of work like Harry Potter and The OA and the award-winning play Angels in America. He said that he doesn't worry if a project will be a success because his passion is for "making stuff" and that there is no reason to put him on a pedestal since he just wears makeup and pretends to be other people for a living. He finished by telling the audience with what felt like the utmost sincerity, that nobody is more special than they are, that they are the stars of their own movie, the movie of their lives.
That evening, Isaacs took to Twitter after a month-long hiatus from social media. Was he suddenly revitalized by his Midwest reception? Leaky thinks that may not have been the case, but were glad to see his clever commentary back online!
Hi Twitter. I left for a month so when I came back I could keep it light and showbizzy. Maybe the odd recipe. Instead I want a revolution.

— Jason Isaacs (@jasonsfolly) April 30, 2017
Here was his last retweet prior to the break, for the readers viewing pleasure:
This is the best video on the Internet currently. pic.twitter.com/KPNZddth5S

— Philip Lewis (@Phil_Lewis_) April 1, 2017
Leaky was back to the convention center for a second day of celebrity sightings and cosplay reconnaissance. Isaacs was scheduled bright and early for autographs, so Leaky tried to beat the Comic Con Sunday rush. The hall was a tad less jammed that day so a choice position in line was secured. As most seasoned autograph hunters know, the guest's assistant will often ask in advance to whom the signed item should be written and Leaky was set with a response.  Isaac's entered his booth refreshed with his signing hand at the ready. Leaky's turn was up to meet the man in person and we approached a little sweaty-palmed. Upon our request for his John Hancock signed to the collective, Isaacs said of course he knew The Leaky Cauldron and that he was very appreciative of their followers (that's you!) for doing their part to keep the fandom alive. He was certainly as gracious off stage as on: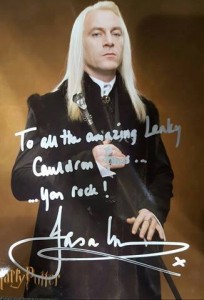 As would be expected, the majority of the convention's serious Potter cosplayers flocked to Isaacs' professional photo ops session where Leaky had prime opportunity to connect with avid Potter buffs who were more than willing to pose for a few shots. Most were familiar with Leaky, but a few new followers were recruited over the weekend!
We were thrilled to see a Newt among all of Hogwarts attire: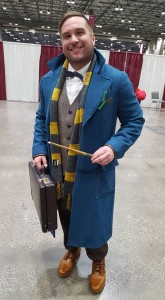 Professor Umbridge and her fellow Slytherin were willing subjects: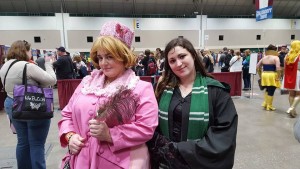 As was this amazing embodiment of Bellatrix LeStrange: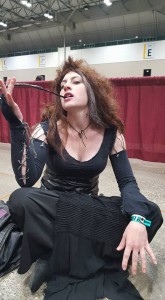 And we couldn't pass up this pose from a Hufflepuff: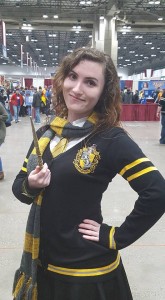 Veteran actor Ron Perlman, best known as superhero Hellboy and for his role in the FX crime drama Sons of Anarchy, caught Leaky's eye on the schedule as the Blind Pig proprietor Gnarlak in Fantastic Beast and Where to Find Them. Though Perlman held the attention of a packed house with his dry sense of humor and adventures from his extensive career, he never mentioned his stint on the Fantastic Beasts set and unfortunately Leaky didn't get a chance to ask. No doubt that with his booming vibrato, laid back presence and experience in the industry, he had a few Wizarding tales to tell-maybe next time!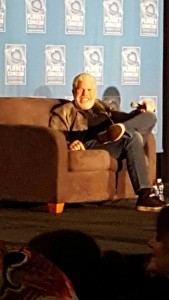 Many thanks to Jason Isaacs for sharing his wit and wisdom, to all of the incredibly creative Harry Potter cosplayers, and to Planet Comicon Kansas City for making it all possible. Who knows which star of the Wizarding World will show up next year but Leaky hopes to be there to find out!
For more information on Planet Comicon Kansas City click here.
Featured image from Planet Comicon Kansas City