Daniel Radcliffe to Star in Comedy Series 'Miracle Workers'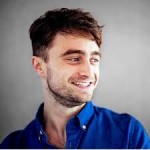 May 18, 2017
After the recent announcement that Daniel Radcliffe will star in action-comedy Guns Akimbo, TBS just announced that he will also star in Miracle Workers.
A seven part comedy series created by Man Seeking Woman's Simon Rich, the show will also star Owen Wilson, and will be executive produced by Saturday Night Live's Lorne Michaels.
The series is based on Simon Rich's book What in God's Name. Dan Radcliffe will portray Craig, "a low-level angel responsible for handling all of humanity's prayers", alongside Owen Wilson, who will play Craig's boss, God.
Radcliffe has delved into comedy on more than a few occasions, not only with his latest Guns Akimbo, but on Swiss Army Man and Now You See Me 2.
Brett Weitz – executive VP for original programming at TBS – said of Dan's talent for comedic acting and on his duo with Wilson:
"Having Daniel Radcliffe and Owen Wilson join the TBS family is proof of the continued evolution of this comedy brand as the home of the most creative minds in the business. Owen Wilson has long been a comic genius, and Daniel's performance in last year's Swiss Army Man really proved that there's a sophisticated comedian under the surface of those brilliant dramatic chops. Simon and Lorne are total pros in walking the tightrope between reality and ridiculousness, and they do it with a lot of heart and wit."
The series is scheduled to premiere in 2018. Read more at Hollywood Reporter here.