FIRST LOOK: Nighttime Lights at Hogwarts Castle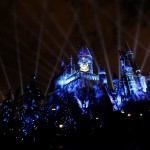 May 31, 2017
Universal Studios Hollywood is currently preparing to launch its first night show using new projection mapping technology. The light show will take place in the Wizarding World of Harry Potter, and will feature the towering turrets of Hogwarts Castle.
According to "Slash Film", annual pass holders were given a sneak peek of the show during a technical rehearsal several weeks before the scheduled premiere date (June 23).
The show begins with the voice of the Sorting Hat describing each of the four houses, followed by lights consisting of large and intricate imagery dedicated to each house. Music from the Potter films immerses guests completely in the theme park experience.
Whether or not the show will be revised before its official release remains to be seen, however it is obvious that Universal has outdone itself once again with this spectacular addition to the Wizarding World.
Read more about The Nighttime Lights at Hogwarts Castle here.