Big Week for 'Harry Potter': 20th Anniversary Editions, Audiobooks in Bookstores, Topping Amazon Charts and More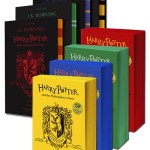 Jun 02, 2017
It's been a huge week for Harry Potter as the 20th anniversary of Harry Potter and the Philosopher's Stone draws near. To kick off the month we're bringing you news about the 20th anniversary house themed editions of Philosopher's Stone, an exciting announcement for independent bookstores, proof that Harry Potter remains a favorite among readers, and a fun new contest from Bloomsbury!
When we previously covered the new editions, designed by Levi Pinfold, it was all the way back in February. Now fans can finally get their hands on all 8 of the 20th anniversary edition Harry Potter and the Philosopher's Stone books from Bloomsbury! To celebrate the anniversary, two new covers were created and dedicated to each of the four houses, with a separate design for the hardback and paperback versions. These editions will also feature new content not included in the original.
According to Bloomsbury:
"These stunning editions will each feature the individual house crest on the jacket and sprayed edges in the house colours. Exciting new extra content will include fact files, profiles of favourite characters and line illustrations exclusive to that house. Available for a limited period only, these highly collectable editions will be a must-have for all Harry Potter fans in 2017."
The house crest's on the covers are designed around a traditional coat of arms and feature details designed to tell a story about each of the four houses. The description of the details of the crests are featured below alongside the books courtesy of Pottermore:
"In the Hufflepuff crest, for example, there are beech leaves to symbolize tolerance and a little lamb to show gentleness. In heraldry, gold or yellow is seen to represent generosity, which of course is perfect for the Hufflepuffs among us."

"The crescent in the Slytherin crest represents glory and honour, and has been used in several coats of arms throughout history, including the Fitzsimmons family, and Trinity Hall College, Cambridge. Slytherin green is for endurance and the dragon-like cockatrice suggests Slytherins are fierce warriors, which we've certainly seen to be true."

"Gryffindor red is meant to signify military strength, a unicorn is for purity and courage, and the antlers are for strength and agility. We're sure Harry would like the latter, if his Patronus is anything to go by."

"The Ravenclaw crest gets a parchment scroll to symbolise academic achievement, an owl for wisdom, a spearhead for sharpness of wit and a book for knowledge. Owls have cropped up a lot in European heraldry, such as in the Armorial Bearings of the late, great Terry Pratchett."
The books can be purchased from Bloomsbury for a limited time. The hardbacks are currently £13.49 and the paperbacks are £7.19.
Along with release of the new house editions this week came the announcement that J.K. Rowling and Pottermore are now partnering with Libro.fm to bring the Harry Potter audiobooks to independent bookstores! The books available will include all 7 of the original series as well as Fantastic Beasts and Where to Find Them narrated by Eddie Redmayne.
According to Bookweb, Stephanie Ballien, director or marketing at Libro.fm stated:
"Harry Potter titles have always held a special place within independent bookstores — on the shelves and in the hearts and minds of booksellers. Now in digital audio, current and future generations of Wizarding World fans can discover and rediscover these stories through their beloved local bookstores."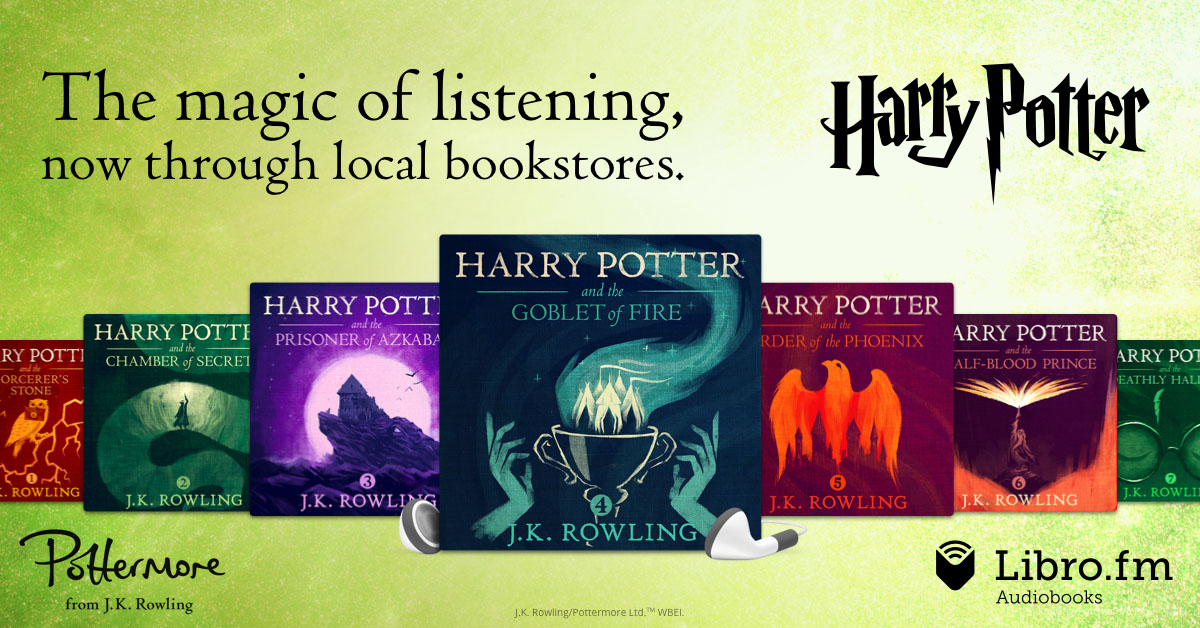 This week was also a big week for the Harry Potter books for another reason, their continued success on Amazon Charts. Amazon Charts is a newly added bestseller list on Amazon that tracks not only the most sold books that week, but also the most read. Since it started tracking these statistics 3 weeks ago it was clear that Harry Potter continues to be highly popular among readers, despite being released 20 years ago.
This week, the week of May 28th, 6 of the books topped Amazon's Top 20 Most Read Books of the Week fiction list with Harry Potter and the Order of the Phoenix leading the series books at spot number 6. It is followed by Sorcerer's Stone and Goblet of Fire in spots 7 and 8, respectively.  Deathly Hallows, 13, Half-Blood Prince, 16, and Prisoner of Azkaban, rounding off the list at spot 20, also all made the most read list. The only book to not breech the top 20 this week was Chamber of Secrets. 
This is the most number of Harry Potter books to be on the list at one time so far. Let's hope that people continue to read these magical books for years to come and that these numbers will be a regular statistic for the series!
 If you've already ordered your books and rented your audiobooks, you or your children can enter Bloomsbury's latest school contest. The lucky winner will receive a makeover of their school library in the Hogwarts house colors plus a trunk of all the Harry Potter books. They will also reward twenty runners-up with copies of the new 20th anniversary paperback editions and themed gift bags.
The competition requires students to draw their own magical library. All the details on how to submit an entry and other terms and conditions can be found on Bloomsbury's website. Make sure to get your entries in before the contest ends on July 17, 2017 if you want your school to have a brand new Harry Potter themed library!
Thanks for celebrating with us this month as we count down to the 20th anniversary! Keep checking back for more exciting news to be released as June 26th approaches!