Tom Felton Stars as Twin in Official 'Feed' Trailer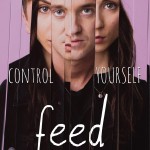 Jun 03, 2017
Tom Felton will star in Pretty Little Liars lead Troian Bellisario's first feature film, Feed (first announced in 2015).
He will star as Matthew, the 18-year-old twin of Bellisario's character, Olivia Grey. Tragedy tears the twins apart as they prepare for their last year at school, throwing Olivia's life into turmoil and seeing Felton haunt her throughout the film, leaving her to live without him or test how far she'd go to bring him back.
The film is reportedly based on director, writer and producer Bellisario's struggles with anorexia, which she commented on in an interview with Just Jared Jr:
"I sat down and I wrote a version of my own story. It's not the exact events, but what I wanted to do with the film was get the audience to understand what it sounds like and what it feels like to be struggling with that illness," Troian shared.

"I struggled with anorexia for many years and one of the most difficult things about that was it was very tough for me to explain to my family and friends why it was so hard for me to disengage with that," she says.

"It's not a disease you can see, you just hear something in your head that tells you not to eat — for many, many different reasons for different people. And I realized that I wouldn't be able to fully heal until I could get people that I loved to empathize with that, to understand where I was coming from."
Find Feed on VOD and online on July 18th 2017, and read more at Entertainment Weekly here. Watch the trailer below!
Click here to read more about Tom Felton and Season 4 of the Flash, as well as his leading role as Laertes in Daisy Ridley's (Star Wars: Force Awakens, Murder on the Orient Express) movie – which offered a sneak peak at the Cannes Festival – Ophelia.