Holliday Grainger on playing Robin in Cormoran Strike TV Series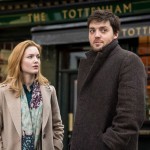 Jun 10, 2017
In an interview with Collider.com Holliday Grainger got to talk about playing opposite Tom Burke's Cormoran Strike as Robin Ellacott.
In the TV adaptation of Robert Galbraith's novel The Cuckoo's Calling, she plays Robin, the newly hired secretary to disabled detective Strike.  Collider asked her about the role and J.K Rowling's involvement:
"I just love Robin. One, it's contemporary, and I had been dying to get out of a corset. Robin is the closest character to me that I've done for awhile. I just recognized myself and my friends in her. She displays the aspects of being a woman that my friends and I would certainly like to have. I just felt like a king with Robin, and I wanted to portray her."
Collider asked about Grainger working with Rowling saying:
"Yeah, she'd come to all of the read-throughs and she was quite involved with watching all of the footage and giving feedback. It was great to be a part of a world that she has created. J.K. Rowling has created worlds that we all know and love. "
Along with this great insight, there's a surprising twitter account, a fan account actually, that seems to have access to the set of the show. @CormoranStrike_  tweets from different locations in the book, like this shot of the twitter user and Cormoran Strike!
I met the real Cormoran Strike! pic.twitter.com/lQ1Us0cSFx

— Cormoran Strike (@CormoranStrike_) January 19, 2017
With every reveal, the anticipation for the series grows! I'm sure we'll all waiting for it with bated breath. In the meantime, check out @CormoranStrike_'s  recent visit to Hardwick Manor, filming location for the Malfoy Manor!
This is the room they filmed in! 🐍 pic.twitter.com/CIbngsR91K

— Cormoran Strike (@CormoranStrike_) June 9, 2017