Matthew Lewis on Acting after Potter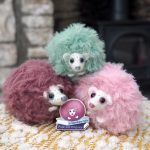 Jun 16, 2017
Like many of the younger Potter cast, Matthew Lewis (who played Neville Longbottom in the Harry Potter films) has spoken about his struggles with staying passionate about acting after over a decade of acting as Longbottom. Lewis said that felt like playing Neville was a privilege, but that the role felt slightly stagnant towards the last couple of films. Thankfully for us, he didn't leave the role!

According to iNews, Matt has now "reignited a passion":
"I felt like a kid who got lucky and was doing an acting gig," he explains. "Now I feel like an actor." 'I've learned more since leaving Harry Potter than I did in the previous decade."
When he was younger, he had to wear prosthetic teeth, and have bits of plastic behind his ears that made them stick out more. On top of that, he had to wear a fat suit as well until the later films. In this particular interview he told how limited he felt by the role, and has now found projects that have "opened [his] eyes to the industry".
As a 15 year old kid, I thought: 'I've had enough of this' and Lewis does admit that he didn't realise how much of an impact Neville had on the fans until after the films had wrapped. He says that:
"As a teenager I wasn't sitting there thinking about character and about motivation and about the effect that Neville was having on people from home. People who were inspired by him. I didn't think about all that. I wish I'd been a bit more grateful perhaps."
He goes on to talk a bit more about the finale of Ripper Street, saying how satisfying it was to  "be involved in a show that actually got to play out its ultimate goal", but that he won't miss the trademark moustache that came with the role – he shaved that off the day filming wrapped!
Read the full interview here. The final season of Ripper Street will premiere on BBC 2 on June 19th.