Emma Watson's 'Essential Feminist Bookshelf'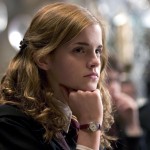 Jun 23, 2017
Listing a selection of books from authors such as Alice Walker, Caitlin Moran and Margaret Atwood, Emma Watson has curated an 'Essential Feminist Bookshelf' in addition to her feminist book club 'Our Shared Shelf'. The bookshelf came as a request from Compton Verney art gallery and mansion in Warwickshire – Emma was asked to 'unsilence the library' and fill its empty shelves, as the library was created by a Victorian champion of women's reading, Georgina Verney.
Watson writes on Margaret Atwood's The Handmaid's Tale:
"Margaret Atwood wrote The Handmaid's Tale over thirty years ago now, but it is a book that has never stopped fascinating readers because it articulates so vividly what it feels like for a woman to lose power over her own body"
On The Colour Purple by Alice Walker:
"It makes the invisible visible, and redeems people who seem irredeemable…I read this book in two sittings and have since told EVERYONE I know to watch the film."
On The Vagina Monologues by Eve Ensler:
"Just say the title and, even now, the words feel radical."
Caitlin Moran's How to Be A Woman:
"I read this on a plane from London to New York: I laughed out loud and cried so much, I think the whole of my cabin (airline staff included) thought I was losing my mind"
The full list is as follows:
Maggie Nelson, The Argonauts
Gloria Steinem, My Life on the Road
Nicholas D. Kristof and Sheryl WuDunn, Half the Sky
Eve Ensler, The Vagina Monologues
Marjane Satrapi, Persepolis: The Story of Childhood
Maya Angelou, Mom & Me & Mom
Clarissa Pinkola Estés, Women Who Run with Wolves
Alice Walker, The Color Purple
Caitlin Moran, How to Be A Woman
Margaret Atwood, The Handmaid's Tale
We can't think of anyone more fit for the job – Belle and Hermione would certainly be proud! Read more on the list here, and if you get a chance, the books will be freely available to read at the library from next week, or on sale at the museum shop.