Happiest of Birthdays to Neville Longbottom's Matthew Lewis!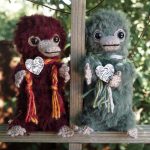 Jun 27, 2017
Personally, I love, love,  love Neville Longbottom; so by proxy, I also love Matthew Lewis. So there isn't a much better opportunity to rant about Neville/Matthew than on his 28th birthday!  While I don't know him, I like to speculate about the similarities between the actor and their character.
Not only is he the adorable, kinda dorky, shy Neville – but he also matures into a brave and unyielding, Voldermort-facing wizard at the end of the series. His ability to stand up to his friends in his very first year, (winning him points for Gryffindor house!), helping out Harry in Goblet of Fire with the Gillyweed or helping to run the secret Dumbledore's Army when Snape was briefly headmaster, makes him one of the top characters to admire in the series. He's one of the characters who change the most, and for the better.
I like to think that most of the non-wizarding traits also apply to Matthew Lewis, and even though his most recent trip to a The Stoke Pub in Guilford is no wizard battle; it is a chance for him to talk to fans and enjoy some football. According to getsurrey.co, he called ahead, brought some friends, and met some fans!
Neville's generosity extends into Matt's post-Potter life in the form of t-shirts, including one that says, " Started from the Bottom":
Along with being our favourite underdog Neville; Matthew Lewis has starred in numerous BBC shows like Happy Valley as well as Peaky Blinders, so it's safe to say that he's grown up into quite a talented actor and I hope to see lots of him in the future, Potter related or not!
For more on Matt Lewis' recent projects, checkout Leaky's coverage here.