UPDATE: MinaLima Celebrates UK Pride Month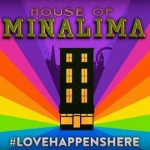 Jun 29, 2017
UPDATE: Read to the end for info on MinaLima's Pride celebrations and Leaky's visit to one of their craft workshops!
MinaLima, the acclaimed graphic design house that has produced props and graphic art for the Wizarding World franchise since 2001, has conjured some extra magic in honor of UK Pride Month and Pride in London (July 8th). According to the company's social media, the MinaLima staff will be offering free craft workshops and tours of their London studio, June 29-30 and July 6-7:
"House of MinaLima is celebrating love in all its forms with free tours and craft workshops on 29+30 June and 6+7 July, culminating in something fun on Saturday 8 July! No need to book, just drop by! During the workshops you'll learn some of the paper engineering skills that Miraphora and Eduardo use when working on films, as you make a prop of your own with a message of love tucked inside."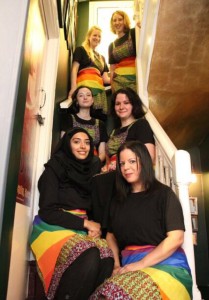 image credit: MinaLima
The uber-talented MinaLima duo, Miraphora Mina and Eduardo Lima, who are certainly fans of the Potter saga themselves, were interviewed recently by El Mundo as covered here by Leaky. They discussed some of their personal Potter favorites as well the joy they get from sharing their wizarding memorabilia with fans at their studio. Earlier this week they joined the fandom in the celebrating the 20th Anniversary of Harry Potter and the Philosopher's Stone when they posted some of their earliest and most iconic creations:
20 years ago #HarryPotterandThePhilosophersStone was published; we met a boy who received a letter to a magical place! 🤓⚡️#HarryPotter20! pic.twitter.com/KI8U3keKJY

— MinaLima (@minalima) June 26, 2017
20 years ago #HarryPotterandThePhilosophersStone was published and a three-way friendship was formed on #HogwartsExpress! 🚂⚡️#HarryPotter20 pic.twitter.com/dXfY0hU6oY

— MinaLima (@minalima) June 26, 2017
We would love to hear about your experience if you're lucky enough to spend time at MinaLima during Pride Month. Fill us in on the July 8 surprise!
London Pride Month, which takes place Saturday June 24 to Sunday June 9, 2017 is one of the largest Pride events in the world. Though not restricted to the LGBT community, this event gives those individuals a platform to raise awareness and campaign for equality on a wide range of LGBT issues and is often recognized as one of the most inclusive events in the world.
Leaky's coverage of the 20th Anniversary of Harry Potter and the Philosopher's Stone can be found here.
UPDATE – Details on MinaLima's Pride celebrations:
Celebrate Pride at House of MinaLima from 12-7 on July 8th with Twosome on a Tandem:
"Riding along the riverside at night, turning to face your other half, legs moving in unison… is there anything more romantic than a tandem?
For one day only, award-winning graphic design studio MinaLima is bringing one of their limited edition prints to life on the street outside their Soho gallery House of MinaLima, featuring… you!
Grab a partner, get dressed up and jump on the tandem to recreate MinaLima's 'Twosome on a Tandem' print, celebrating love… and the world's loveliest mode of transport."
You can also win a 'Twosome on a Tandem' print, signed by Mira and Eduardo themselves! Read more at the official Pride in London website here, and over at MinaLima here.
Head to House of MinaLima for your chance to win, and remember that craft workshops and tours are happening every 45 minutes tomorrow (July 7th). Be sure to also check out the new gallery on the first floor – I particularly loved the Daily Prophet blinds!
Leaky had the pleasure of visiting one of MinaLima's pride craft workshops, and made a special memo of love inspired by the Ministry of Magic memos in the elevator scene in Order of the Phoenix: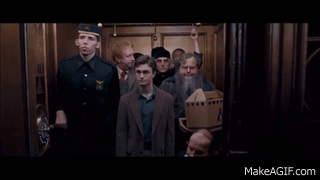 MinaLima made and elegantly decorated 1000 of these ultra-fancy paper airplanes (which – after seeing the process in the workshops – take skill to make, believe us!), only for the scene of them in Arthur Weasley's office to be cut! Be sure to head to the workshops to appreciate the beauty behind their process, and get your own keepsake, which you can see below: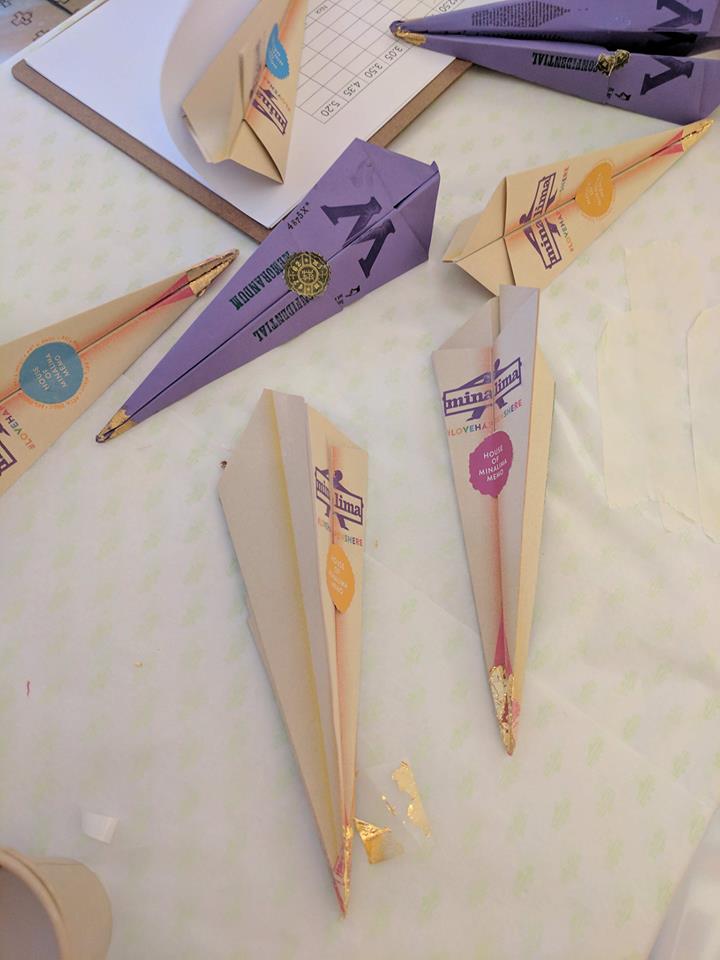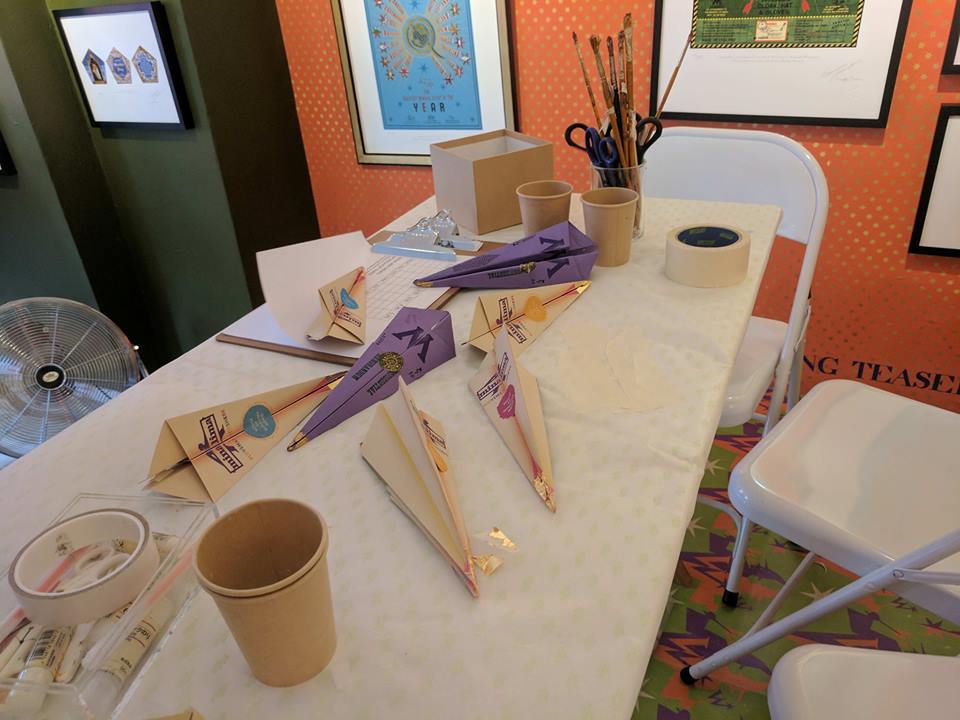 Thanks to everyone at House of MinaLima for the lovely workshop!