Production Begins on 'Fantastic Beasts 2'!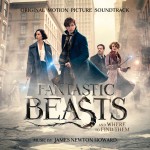 Jul 03, 2017
It's back! Directed by David Yates, Pottermore reported this morning (July 3rd) that production has officially started on the second Fantastic Beasts and Where to Find Them, reportedly with principle photography in Burbank, California.
It's time to discover some tidbits about the next @fantasticbeasts film. Follow our chain of tweets and track down the information…

— Pottermore (@pottermore) July 3, 2017
The core cast will return with Eddie Redmayne playing the lead magi zoologist, Newt Scamander, Katherine Waterston as Tina Goldstein, Alison Sudol as her sister, Queenie and Dan Fogler as no-maj Jacob Kowalski (hopefully that means his memory is 100% back).
Ezra Miller is also in the cast list, returning in a "mysterious way", as well as Johnny Depp still portraying Gellert Grindelwald, Jude Law as a young Albus Dumbledore, Zoë Kravitz as Leta Lestrange and Callum Turner has been confirmed as Newt's brother and renowned war hero, Theseus Scamander.
A few more cast members announced – which might give clues as to the plot – include:
William Nadylam as wizard Yusuf Kama
Ingvar Sigurdsson as a bounty hunter named Grimmson
Ólafur Darri Ólafsson as Skender, who runs a wizarding circus
Claudia Kim as an "attraction" at the circus
Kevin Guthrie as Abernathy, also known as Tina and Queenie's boss at MACUSA (Magical Congress of the USA).
The film opens in 1927, a few months following the capture of Grindelwald in the first movie. A new synopsis (read more on the story at Pottermore here) is as follows:
"Grindelwald has made a dramatic escape and has been gathering more followers to his cause – elevating wizards above all non-magical beings. The only one who might be able to stop him is the wizard he once called his dearest friend, Albus Dumbledore. But Dumbledore will need help from the wizard who had thwarted Grindelwald once before, his former student Newt Scamander. The adventure reunites Newt with Tina, Queenie and Jacob, but his mission will also test their loyalties as they face new perils in an increasingly dangerous and divided wizarding world."
We will see transitions from New York to London to Paris, reportedly with "surprising nods to the existing Potter universe".
The film previously put out an open casting call for young actors – as reported by Leaky – which indicates that we will also see teenage Newt, Leta, Grindelwald and Dumbledore, as well as another character called Sebastian.
We won't see the film until it opens in theaters on November 16th 2018, but until then, we'll keep you updated on all the latest news. Let's hope that the name will be announced soon!