J.K. Rowling Wrote Her Long-Awaited Fairytale – on a Party Dress!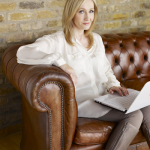 Jul 10, 2017
Fans will remember J.K. Rowling mentioning writing a 'political fairytale' a few years back. Whilst we've been spoiled with special additions to the story such as Fantastic Beasts and Cursed Child in the meantime, we weren't expecting this announcement in an early release of the CNN interview transcript.
J.K. Rowling revealed to Christiane Amanpour that she finished the fairytale, writing it on her 50th birthday party dress. She then hung the secret manuscript up in her closet!
The theme of Rowling's 50th (which she held on Halloween, despite her birthday being on July 31st) was to come dressed as "your own private nightmare", so she decided to come as a lost manuscript – her lost manuscript:
"On my 50th — the theme of my 50th birthday, which I held at Halloween, even though that's not really my birthday, was come as your own private nightmare. And I went as a lost manuscript. And I wrote over a dress most of that book. So that book, I don't know whether it will ever be published, but it's actually hanging in a wardrobe currently."
The interview will talk more about Rowling's children's charity, Lumos. She said on the origin stories of the charity that she distinctly remembers flicking through a Sunday newspaper whilst pregnant and seeing a distressing image of a child, and went to turn the page. Only after reconsidering and read the story did she realise how important it was to spread the word about the institutionalisation of children:
"I turned back and I read the story. And the story was about an institution in the Czech Republic where this boy, among many other children with special needs, was being kept, I would say, at least 20 hours out of 24 in a cage-bed, which is exactly as it sounds. It's a cot for a baby covered in — covered in mesh, covered in wire. And that was his existence. And from that, that's how it all began. I was just appalled and horrified."
She then goes on to speak about her worst fear – small spaces:
"I think my worst fear, my personal worst fear, is powerlessness and small spaces. So when you think about that little boy trapped in the cage-bed, he is totally voiceless. And nobody was speaking for him.
And I think that — we all have something that touches us on a very visceral level. I mean — and I think that's mine. That's my thing."
We all now know that J.K. Rowling uses the pseudonym Robert Galbraith, and adopted the initials J.K. to 'disguise her gender' as a result of suggestions made by her publisher, but she goes on to say that she's now grateful for the separation between her professional and private life:
"I quite like J.K. … I think I — I wouldn't have chosen it. It's — and I wouldn't have chosen it for that reason, either.
But I was so grateful to be published, if they told me to call myself Rupert, I probably would have done to be honest with you. But now, I actually quite like having a pen name, because I feel that's — to an extent, that feels like an identity and then I'm — in private life, I'm Jo Murray. And it feels like quite a nice separation."
Read the transcript of the interview 
here
. The full interview airs on 
Amanpour 
on CNN International at 8pm CET (2pm ET). We'll update you with further details post-show!