'Harry Potter' Cast in Film News and Clips: 'Dunkirk,' 'Star Wars: The Last Jedi,' 'Mary Poppins Returns,' and More!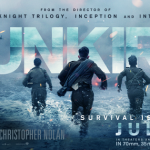 Jul 18, 2017
The Harry Potter cast continues to lend its talents to the film industry's most anticipated and acclaimed films. This week alums featured in news and clips for the WWII epic Dunkirk, the next eagerly-awaited Star Wars installment, The Last Jedi, Mary Poppins Returns, the sequel to one of Disney's most beloved musicals, and the hippy-era biopic Mad to Be Normal. Lionsgate also released a new trailer for The Hitman's Bodyguard, and an exclusive new poster for Stratton circulated courtesy of Vertigo Releasing.
Christopher Nolan's wartime masterpiece, Dunkirk, premiered July 13 to rave critical reviews. The film, which tells the story of 400,000 British and Allied troops stranded on the beaches of Dunkirk in northern France, stars Kenneth Branagh (Gilderoy Lockhart) as naval Commander Bolton. Bolton must orchestrate a coordinated rescue of the men, who are surrounded by German forces on all sides and trapped a mere 26 miles from the relative safety of English shores.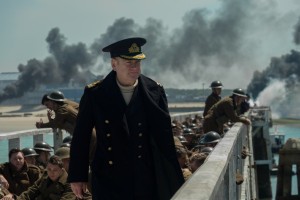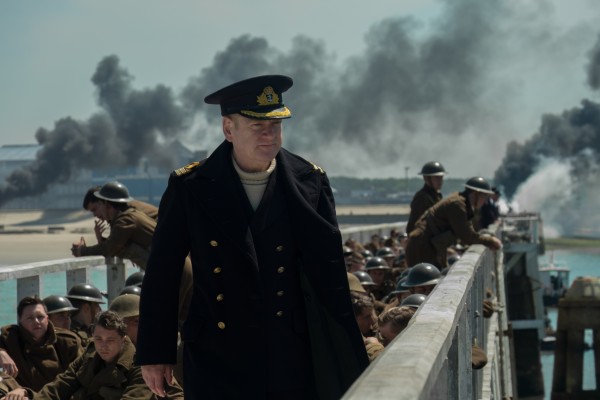 Branagh spoke about the film during red carpet interviews at the premiere, addressing, first off, the atypically-short length for a Nolan production, coming in at 106 minutes. He explained that this was an intentional decision on the part of the director to eschew devoting film time to "establishing characters" or the narratives of "off-screen relationships" or "token romances" in favor of a concentrated intensity that doesn't "let the audience off the hook at all." Rather, Nolan forces the audience to be present in every moment, constantly grappling with, as Branagh put it, what you do when you're "sitting ducks, you know, you're fish in a barrel." He added that he "was so proud to be in it from the get go."
Watch the full interview with On Demand Entertainment below, which also briefly covers Branagh's upcoming directorial and starring effort Murder on the Orient Express, featuring a stellar ensemble cast, which includes the incomparable (and intimidating) Dame Judi Dench.
Branagh also appeared on the TODAY show yesterday to promote the film in advance of its U.S. theatrical release Friday, July 21. He reviewed the history of the events depicted in the film and reiterated that Nolan's directorial choices were intended to bring home the "tremendous suspense that all of those men felt about whether–or if–they could get home."
To further illustrate the terrifying odds against them, Branagh revealed that Prime Minister Winston Churchill hoped, at the outset, to save 30,000 men from the beaches. Miraculously, after the nine-day evacuation ordeal, the country had banded together to retrieve 340,000 troops, showing a remarkable national resilience now often referred to as "Dunkirk spirit."
He went on to discuss his appreciation for Nolan's directorial skill in weaving together multiple timeframes and storylines for heightened emotional impact, as well as Nolan's use of real numbers and locales for scale. Branagh called it a privilege to be an actor who directs and has the opportunity to observe another director at work.
Watch the full TODAY interview below.
In other film news, Variety announced Disney's release of an exclusive new teaser for its upcoming Star Wars: The Last Jedi at the D23 Expo Saturday. The Last Jedi, also a highly-anticipated film this year, doesn't come out until Dec. 15, but many fans are already counting down the days!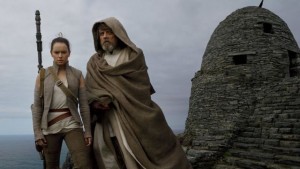 Picking up where The Force Awakens left off, the film reunites many series favorites, bringing Mark Hamill, Adam Driver, Daisy Ridley, John Boyega, Oscar Isaac, Lupita Nyong'o, Domhnall Gleeson, Anthony Daniels, Gwendoline Christie, and Andy Serkis back to the screen, while also adding newcomers Benicio del Toro, Laura Dern, and Kelly Marie Tran.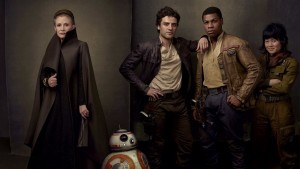 Boyega promises, "Everything is being shifted in the opposite way to what the audience expected after VII. Rian's made Star Wars fresh and new." Director Rian Johnson adds, "I'm hoping it'll be a little shocking, but I'm hoping it'll feel real and honest."
Gwendolyn Christie also comments on the film's enduring themes, observing, "It's our most ancient story of good against evil told in the most fascinating way, but it has a real spiritual depth to it." Then Carrie Fisher concludes, "It's about family, and that's what's so powerful about it."
Watch the behind-the-scenes teaser below for a look at the sets and props, actions shots, outtakes, commentary from the film's stars, and, of course, snippets of the epic score. Also, catch a brief glimpse of Harry Potter alum Domhnall Gleeson (Bill Weasley) returning as General Hux!
Disney didn't stop there, though, also unveiling a glimpse of its exciting new sequel Mary Poppins Returns at the D23 Expo. A brief clip was first seen during a compilation reel shown at the animation panel and, according to Movie Web, that five seconds was enough to set twitter ablaze. The official Mary Poppins Returns panel was then held Saturday, and footage has now surfaced online!
The teaser, lasting about 20 seconds, features Emily Blunt in full Mary Poppins regalia, looking every bit the part of everyone's favorite magical nanny. None of the film's other notable stars, such as Lin-Manuel Miranda or Julie Walters (Molly Weasley), were included, but we expect to see them eventually as Disney continues to promote the film's 2018 release.
Watch Blunt raise that iconic umbrella with Mary Poppins' characteristic twinkling eye and knowing smile in the clip below.

Though not on the same level critically, perhaps, The Hitman's Bodyguard, set to open in theaters Aug. 18, has all the makings of great entertainment. Starring comedy and action veterans Samuel L. Jackson and Ryan Reynolds in the lead roles, it could turn out to be one of the big draws of the summer, especially with the supremely-talented Gary Oldman (Sirius Black) joining the cast as the villain, an Eastern European dictator.
"It feels like a long time since we've had a truly great comedy make its way into theaters. Sure, there have been good comedies aplenty, but have there really been any great ones in the last few years? It is a bit early to tell, but The Hitman's Bodyguard looks like it could be that comedy."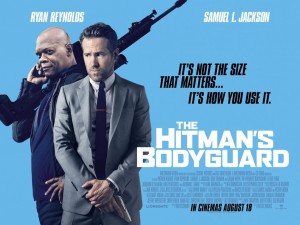 The latest trailer includes a glimpse of a steely-eyed Oldman, billed as "one of the world's most brutal dictators," as the focal point of what appears to be a highly-publicized trial, likely for war or humanitarian crimes. The hitman (Jackson) turns out to be the key witness in the case and, therefore, in need of protection from his career enemy, a bodyguard played by Reynolds, setting up an "odd couple" pairing bound to produce action-packed thrills and laughs. Watch the new trailer below.
Another action thriller, Stratton, is scheduled to open in UK theaters Sept. 1. The film, based on the best-selling books by Duncan Falconer, stars Dominic Cooper as Special Boat Service operator John Stratton. He is called upon to partner with MI6 to track down a rogue former Soviet operative thought to possess stolen chemical weapons. Tom Felton (Draco Malfoy) plays Cummings, who looks to be a member of Stratton's team.
Flickering Myth shared the exclusive new poster below.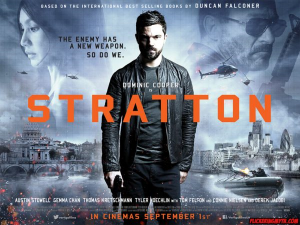 An official trailer for the film was released last August and includes a few hints at Felton's part in the mission!
Finally, the film recap would not be complete without recognizing Mad to Be Normal's win at the 29th Galway Film Fleadh annual awards Sunday. Screen Daily reported that it took home the honor for Best International Feature. The film about the life of 1960s famed psychiatrist RD Laing starred David Tennant (Barty Crouch Jr.) in the lead role with Michael Gambon (Albus Dumbledore) supporting.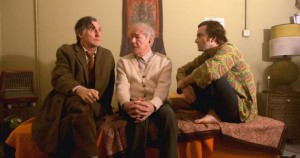 We congratulate them on the success of the Mad to Be Normal and expect acclaim for the other films mentioned here to continue pouring in as well!