Updates from San Diego Comic-Con!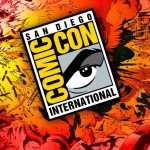 Jul 22, 2017
Potter fans may not have a Harry Potter or Fantastic Beasts panel to look forward to this year, but that doesn't mean they won't have the chance to celebrate the best fandom of them all (if we do say so ourselves). According to the Hollywood Reporter, the Hilton Bayfront Starbucks has been transfigured into a complete Hogwarts-themed experience!
From amazing window art to cheeky nods to your favorite wizarding drinks, this is undoubtedly the place to stop on your way to the convention.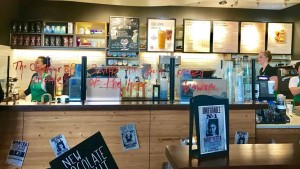 Look at the window art! pic.twitter.com/AL4yBwiGpP

— Sydney Bucksbaum (@SydneyBucksbaum) July 20, 2017
There's a boggart in the trash, fair warning. pic.twitter.com/NiKvosD3ce

— Sydney Bucksbaum (@SydneyBucksbaum) July 20, 2017
Now that that's out of your system (wink wink), let's see what our favorite Harry Potter alums are up to at the San Diego Comic-Con!
David Tennant–Call of Duty and Duck Tales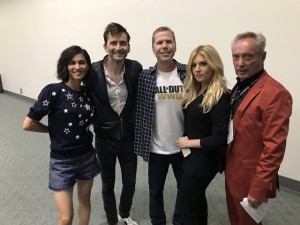 On Thursday David Tennant attended the panel for Call of Duty: WWII Zombie Mode. Tennant voices the character Drostan Hynd in the game, scheduled to release Nov. 3. In addition to hearing from the voice talent, audience members also viewed the new official trailer! View the video below and check out other photos from the panel event here.
Friday, Tennant participated in interviews, photo calls, and the cast panel to promote his upcoming television series Duck Tales. Disney has revived the beloved animated series and tapped Tennant to voice the iconic miser Scrooge McDuck. A one-hour premiere will air Aug. 12, followed not long after by the start of the regular series on Sept. 23. Check out photos and clips of Tennant, as well as a big character reveal, below!
At #SDCC2017? Come to 6A @ 3:30 for our panel w/D Tennant, B Schwartz, K Micucci, D Pudi, T Olagundoye, B Bennett, F Angones & M Youngberg! pic.twitter.com/paNLFQm4iW — DuckTales (@DuckTales) July 21, 2017
Fun photo of #DavidTennant and the #DuckTales cast today pic.twitter.com/Jbhq5lIzBm — David Tennant (@David_Tennant) July 21, 2017
Photos of #DavidTennant and the #DuckTales cast at interview for @YahooTVhttps://t.co/v2Y9iaUYYNpic.twitter.com/ylADCYs8Sa — David Tennant (@David_Tennant) July 21, 2017
[RT] Fun clip of #DavidTennant at Buzzfeed's GIF booth todayhttps://t.co/b0woqc1qRTpic.twitter.com/qXD29fQpxV — David Tennant (@David_Tennant) July 21, 2017
Via @catexblanchett Photo of #DavidTennant and @Krystenritter todayhttps://t.co/keTQq0H7XHpic.twitter.com/zUGTPVwXGQ — David Tennant (@David_Tennant) July 21, 2017
David Tennant and the #DuckTales cast talk to Yahoo! At #SDCC2017pic.twitter.com/0CpWv5pcoE — David-Tennant.com (@davidtennantcom) July 21, 2017
Great kicks with great people @katemicucci @rejectedjokes @becbenit @ToksOlagundoye & David Tennant #DuckTales pic.twitter.com/cLm4kdDhf8

— Danny Pudi (@dannypudi) July 22, 2017
First photo of #DavidTennant at #DuckTales panel today at San Diego Comic-Con 2017https://t.co/Jy8RKLkwLopic.twitter.com/cHMzC6TVR2 — David Tennant (@David_Tennant) July 21, 2017
David Tennant performing a Scrooge McDuck freak out written during the panel. #DuckTales#sdccpic.twitter.com/nGH8YNL2hC — Jodie at Con(s) (@crimsonrambler) July 21, 2017
Entertainment Weekly also scored an interview with the Duck Tales cast where they discussed how the felt about jumping into a vat of gold coins, other incredible voice talent to be featured on the show, and the catchy nature of the theme song.
EW went on to report that the Friday panel unveiled concept art for the popular Darkwing Duck, along with his motorcycle Ratcatcher and sworn enemy, Megavolt.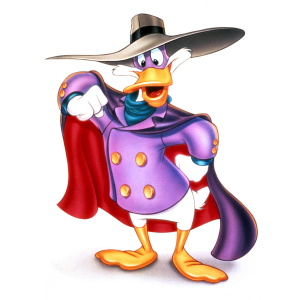 Producers did not reveal how the characters would be worked into the storyline, but it was exciting news for fans, nonetheless. They also treated attendees to exclusive teaser footage! According to Nerdist, the clip included everything fans could hope for in a reboot. Watch the video below to see Scrooge embark on a mission to find the Lost City of Atlantis accompanied by his nephews and submarine pilot, Launchpad McQuack.
Ezra Miller–Justice League
Cinema Blend reported that the Comic-Con opening Wednesday evening gave fans access to the show floor, including a Justice League booth featuring an up-close look at the costumes we've only glimpsed in trailers. View the clip carefully and enjoy the detail in Batman, Wonder Woman, Cyborg, Aquaman, and Flash's costume designs.
Jason Isaacs–Star Trek: Discovery
In preparation for the Saturday Star Trek panel, fans can indulge their inner Trekkie by attending the Michael J. Wolf Fine Arts Gallery exhibit. The exhibit, open to the public throughout the convention, features the USS Discovery Captain's chair, costumes, sketches, and series props. Showbizjunkies also reported the first thousand fans daily will take home a special edition poster!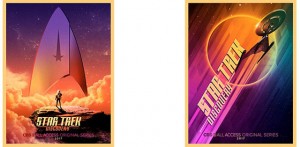 Though those posters are undeniably out of this world, fans are really waiting with bated breath for the panel with starring cast members. Jason Isaacs, signed on to play Captain Gabriel Lorca, was anxious to arrive as well, tweeting his progress from the airport.
On my way to #SDCC2017. Say hello to my little friend… pic.twitter.com/eOUzt82Ya0 — Jason Isaacs (@jasonsfolly) July 21, 2017
And while waiting, keep an eye out for the SyFy sci-fi drumline. The Hollywood Reporter indicates they'll be all over San Diego's Gaslamp Quarter Saturday from 1 p.m. to 6 p.m. (if you haven't already seen them!) They've been playing iconic film themes from Star Wars, Star Trek, Jurassic Park, Indiana Jones, Pirates of the Caribbean, and many more, including Harry Potter! Have a listen!