Wrapping Up San Diego Comic Con 2017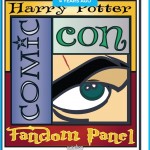 Jul 24, 2017
San Diego Comic Con 2017 has come to a close, and all five days passed in a flurry of excitement and activity! Potter fans were able to follow many of their favorite Harry Potter and Fantastic Beasts alums throughout the convention as they participated in panels to promote upcoming projects.
David Tennant attended for Duck Tales and Call of Duty and, on Saturday's panels, fans saw Ezra Miller for Justice League and Jason Isaacs for Star Trek: Discovery. Panels for television programs The Flash and David Bradley's The Strain were also held.
The trend continued on Sunday with a panel discussion for Stephen King's Mr. Mercedes, starring Brendan Gleeson, and a panel devoted to the Harry Potter fandom. What better way to end another amazing year at Comic Con? Read on for the final recap!
More Potter goodness. We found a young Harry!#Repost @cosplaymom99 (@get_repost)
???#sdcc2017 #sdcc #comiccon #… https://t.co/KJGHpuTywZ pic.twitter.com/EgoO13x52O

— BTB @ SDCC (@billythebrick) July 23, 2017
Brendan Gleeson–Mr. Mercedes
Brendan Gleeson (Mad-Eye Moody) plays Detective Bill Hodges in the highly-anticipated upcoming television series Mr. Mercedes, based on a novel by Stephen King. Series creator David E. Kelley spoke to Entertainment Weekly last week about casting Gleeson in such a pivotal role–and one in which the character clearly struggles with his job and his failures. He observed:
"We all saw in Hodges this guy who was not overly nice to people. He didn't care whether anybody liked him. And yet we're hoping to cultivate an adoration within our viewers for him at the same time. And man, that's a lot to ask for a character. Casting is crucial to it. Brendan just brings those qualities that allowed us to really reach the full measure of who Hodges is."
Kelley also revealed:
"He's very flawed. He's irresponsible in the middle, which, without giving away plot points, might be criminal negligence. But at the same time, that humanity that he has is pretty much beyond reproach. He's not a guy who asks to be liked, and yet we adore him. That is a quality that Brendan Gleeson is able to bring to the table. He was everybody's first choice."
Neither Kelley nor Gleeson were able to attend the Mr. Mercedes Comic Con panel, but that didn't stop fans from showing enthusiasm for executive producer Jack Bender and other cast members.
Geeking out on this final day of @Comic_Con with @WIREDInsider@AudienceNetwork@ATT@MrMercedesTV hosting a killer #WiredCafeSDCC#comiconpic.twitter.com/7SIfiu70ek

— GlassEye Screenworks (@GlassEyeScreens) July 23, 2017
In fact, the waiting crowd was so large that many fans were turned away from the room!
#room8 line has taken over the 6bcf line. Mr Mercedes is in WAY too small of a room as predicted by @SD_Comic_Con

— Stephanie Shamblin (@UndeadStephanie) July 23, 2017
While it is unfortunate that anyone missed out on the discussion for this crime thriller, it looks like they did their best to entertain and delight the fans who made it in. According to Deadline, fans were treated to a trailer and two exclusive clips!
panel @MrMercedesTV@StephenKing#HarryTreadaway#HollandTaylor#KellyLynch#JharrelJerome#BreedaWool#JackBender@Comic_Con#sdcc2017pic.twitter.com/47Rq5DLeGc

— Mulderville (@mulderville) July 23, 2017
Eye spy. #SDCC2017#MrMercedesTVpic.twitter.com/ZMzyEy1Ayl

— Mr. Mercedes (@MrMercedesTV) July 23, 2017
.@JharrelJerome's character is best friends with Brendan Gleeson's cop on #MrMercedesTV. #SDCCpic.twitter.com/4ibwCZTs8C

— NERDOPHILES @ SDCC (@nerdophiles) July 24, 2017
Deadline described the exciting footage as follows:
"The trailer gave a taste of what the drama has in store, but the clip featuring Treadaway stalking what seems to be a guy who has done him wrong showed exactly how demented Brady — who is also the local ice cream man in the series — is."
And later:
"Before the end of the panel, one more exclusive clip of the series was shown that featured a "bloody" cameo from a certain author, further illustrated Brady's warped mindset."
Though that video content has not yet surfaced online, the descriptions are certainly enough to peak interest and foreshadow what a suspenseful ride the series will be! Tune in for the premiere next month and, in the meantime, re-watch the official trailer released earlier this month below.
Keep your eyes out for when @MrMercedesTV premieres Aug 9. Just watched the pilot for tomorrow's #SDCC press room and it's something special

— MyEntertainmentWorld (@MyEntWorld) July 23, 2017
Fantastic Fans and Where to Find Them
Finally, the moment fans had been waiting for, the Harry Potter fandom panel was held Sunday afternoon. (Clearly saving the best for last.)
Our #HarryPotter Fandom panel @ SDCC celebrates its 10th year (& 20 years of Potter fandom) July 23 at 2 pm in 6BCF! https://t.co/26GhWwB2xkpic.twitter.com/ZKK0yiZ3A0

— Heidi at SDCC ?? (@travelingheidi) July 9, 2017
The #FantasticFans panel has begun! #SDCCpic.twitter.com/6ftU4IVwnV

— US Quidditch (@usquidditch) July 23, 2017
And where there are avid wizarding fans gathered in one room, enthusiastic (and sometimes heated!) discussions are bound to ensue.
She was asked about unpopular opinions and she delivered man

— ƒ???®?$? ????? (@flourish) July 23, 2017
OMG @elizabethminkel just said she likes Harry Potter fanfic better than canon and the room GASPED. #fantasticfans

— ƒ???®?$? ????? (@flourish) July 23, 2017
A little controversy is a magical thing. I already miss you, ladies. https://t.co/JCx3XfdomV

— Heidi at SDCC ?? (@travelingheidi) July 23, 2017
Mary, representing US Quidditch, also revealed there will be a mention of the wizarding sport in the July 31 print issue of Entertainment Weekly!
Pssst @travelingheidi I forgot to tell Jess but quidditch will likely be in the print edition of EW on July 31! #FantasticFans

— Mary @ SDCC (@airemay) July 23, 2017
Thank you #sdcc for having us! #FantasticFanspic.twitter.com/a9uin8Ufq8

— US Quidditch (@usquidditch) July 23, 2017
Also participating in the panel was David Carpenter, producer of the off-Broadway hit Puffs!
Hi! Meet our group of well-meaning, loyal rejects (with a thing for badgers). #Puffs#THIRDornothingpic.twitter.com/b7OZjCkBNY

— Puffs (@PuffsPlay) November 10, 2016
Positive reviews have poured in for the show, billing it as a must-see expansion of J.K. Rowlings' world, filled with new characters, stories, and lots and lots of laughs–all centered on the Hogwarts house that seems to get the least attention, Hufflepuff. Exeunt magazine explains the genius of this twist:
"Of all the Hogwarts houses, Hufflepuff is the only one that's defined principally by what it is not. It's not shady, like Slytherin. It's not brave, like Gryffindor. It's not brainy, like Ravenclaw. It's long been perceived, even among die-hard Harry Potter fans, as essentially featureless, an identity for those without much of an identity.

"Not anymore. In [writer] Matt Cox's superb tribute to the house, Puffs, Hufflepuff is rendered a plucky, peppy underdog whose extraordinary averageness is worth cheering."
The review goes on to conclude that the play finds a balance for wit in its heart, honing in on some of the same enduring themes which make J.K. Rowings' original works so memorable. It says:
"Cox, more than just a comedy wizard, also knows how to tug at an audience's heartstrings. His Puffs, ultimately, are not simply clowns, they're shining examples of the virtues of everyday, unglamorous persistence. They're also reminders to consider the contributions of those among us most often overlooked."
For tickets, head to the Puffs the Play site here!
Fans not only heard from the incredible assembled panel members, they also got to see a sizzle reel! (Oh, how we wish we had eyes–or extendable ears–on that.)
I always get a little weepy at the #FantasticFans sizzle reel — ƒ???®?$? ????? (@flourish) July 23, 2017
But, lest the fans at home feel left out, we can share footage collected by nighttime funny man Conan O'Brien while at Comic Con shooting themed shows. These must-see "auditions" for the role of teen Albus Dumbledore will make your day and serve as the perfect end to the Comic Con 2017 wrap-up. Enjoy!