Theater Revived and Re-imagined: 'Disco Pigs,' 'A Christmas Carol,' 'Figures of Speech,' 'Playcraft Live,' and 'Hamlet!'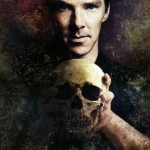 Jul 25, 2017
This week's theater round-up follows Harry Potter and Cursed Child cast through their involvement in other productions as they make their mark–and change things up–elsewhere in the performing arts industry.
WhatsOnStage shared first-look images of Evanna Lynch and costar Colin Campbell in Disco Pigs to promote the premiere of the 20th-anniversary production at Trafalgar Studios last week. Lynch, known to Potter fans for her perfect portrayal of the aloof and quirky Luna Lovegood, plays Runt, while Campbell stars as Pig.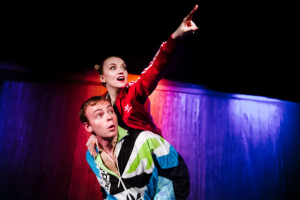 '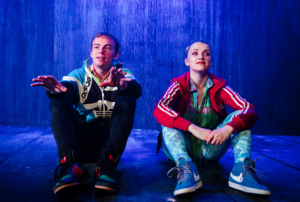 Last month Leaky covered an interview with Huffington Post in which she explained what drew her to the part:
"I loved the script; it was so different from anything I'd read before. The language is so strange and idiosyncratic. I find the story very romantic. It's these two teenagers, and they have their own little world. I always connect to characters who do things their own way, and who don't really set their standards by other people."
Lynch's description of the intriguing script suggests why the Enda Walsh play remains entertaining after 20 years. All that makes it distinct from more traditional theater fare continues to draw audiences, and even other stage veterans were among those in attendance opening night.
Specifically, WhatsOnStage reported that Harry Potter and the Cursed Child original cast members Paul Thornley (Ron Weasley) and Sam Clemmett (Albus Potter) were there to help christen the start of another successful run.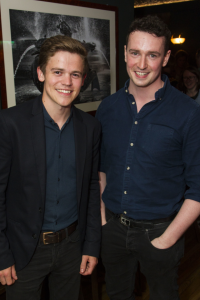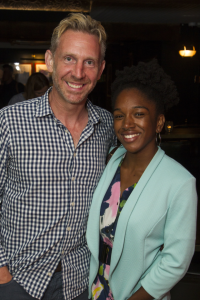 A WhatsOnStage review praised Lynch's work, confirming that it's a must-see revival:
"Her characteristic misty-eyed stare comes into play here when she imagines a future as a different person, unfettered by her attachment to Pig and the council estate where they live. But her versatility and emotional honesty as an actress shines through too. There's also an amazing moment where she gets beaten up by an unseen foe who holds no punches. It's quite amazing to watch, thanks to movement director Naomi Said."
In news of another classic revival, Cursed Child writer Jack Thorne joins with Harry Potter and the Deathly Hallows alum Rhys Ifans (Xenophlius Lovegood) for what Broadway World calls a "radical reworking" of  Charles Dickens' A Christmas Carol.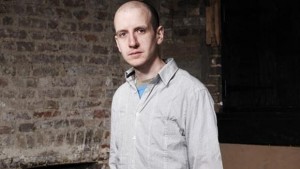 Ifans will star as the hard-hearted miser Ebenezer Scrooge, who is confronted with the bitter consequences of his life choices through four ghostly visits on Christmas Eve. The play will begin previews at the Old Vic on Nov. 18 and start its official run Nov. 29.
Continuing a "radical" approach to theater, Noma Dumezweni (Cursed Child's Hermione Granger) is contributing to the Figures of Speech digital project, and costume designer Katrina Lindsay is participating in online challenges in advance of Playcraft Live.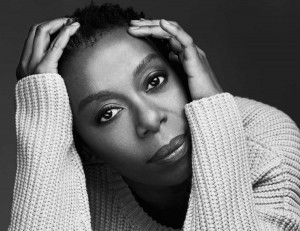 WhatsOnStage elaborated on the Figures of Speech project in a recent report. As a part of the Almeida's upcoming winter season, the project features "standalone filmed speeches from Derek Jacobi, Noma Dumezweni, Russell Tovey, Pearl Mackie and John Heffernan."
The incorporation of film and digital mediums into theater seems to be a new but growing trend, expanded in an entirely different way through Playcraft Live. The Stage described the event as follows:
"Playcraft Live will be a co-production between the Northern Ireland theatre and Minecraft, and will be performed by both human actors on stage at the Playhouse and their corresponding digital avatars in the Minecraft world."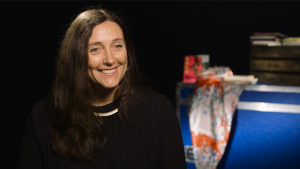 The story by Alex Scarrow will take place in the real and virtual world in a single live stream Oct. 14, after which time it will be posted on YouTube for viewing. Prior to the event, audiences are encouraged to participate in online challenges introducing them to set design, acting, costume design, and script writing, where Katrina Lindsay, award-winning costume designer for Cursed Child, will make her contribution.
Finally, the collaboration between stage and screen meets again as Sonia Friedman Productions brings Hamlet, starring Benedict Cumberbatch, back to theaters through National Theatre Live.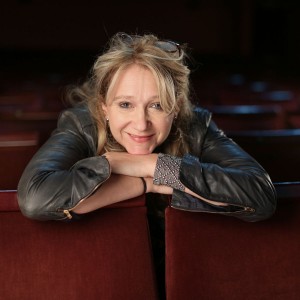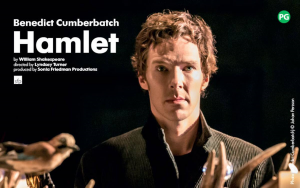 SFP issued a statement about the popularity of the production, which is no doubt the driving impetus for reviving a run of this kind:
"Originally staged at the Barbican Theatre in August 2015 and broadcast to cinemas in October of that year, this critically-acclaimed production became the fastest selling show in London theatre history for its twelve week sold out run in London. It is currently the most-viewed National Theatre Live broadcast to date with a global audience of nearly 800,000 people."
It will return to UK cinemas Oct. 5, so if you missed it the first time, note the date. Take the opportunity to see this ground-breaking production, and the others listed above, while you can!