Evanna Lynch on 'Disco Pigs', Acting & Gilderoy Lockhart!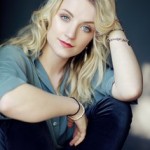 Jun 15, 2017
As recently reported by Leaky, Evanna Lynch will star in the 20th anniversary production of Enda Walsh's Disco Pigs, telling the story of two teenagers in Cork (Ireland) who are so close they even created their own language together!
Evanna spoke to HuffPost about the production, speaking about her projects since Harry Potter.
Check out @Evy_Lynch's interview with @HuffPost where she chats #DiscoPigs20 https://t.co/pBV1BWAqfl pic.twitter.com/qqTl1ogKTs

— Tara Finney Prods (@tara_finney) June 13, 2017
On why she joined Disco Pigs, Evanna comments on her desire to portray complex, bold characters in interesting stories:
"I loved the script; it was so different from anything I'd read before. The language is so strange and idiosyncratic. I find the story very romantic. It's these two teenagers, and they have their own little world. I always connect to characters who do things their own way, and who don't really set their standards by other people"
Later she says:
"I always look up to people who are very unapologetic. Whether their morals are in line with mine ? say for example, the character in "Disco Pigs." She has no moral compass, really. She's 17, for one thing. But they're always eating sausages, they don't give a damn. I didn't see that as a reason not to admire her, because obviously that's her blind spot, but what I liked about her was that she was so sure of what she was doing, such a unique person, such an individual. That's what it is in characters. I just want to find something individual, something about them that makes them an outsider, and that encourages me to be more that way. Because I think if I'm around other people I tend to want to fit in. I think characters in books and in movies that are complete individuals and who are not apologizing for it, they remind me to be myself. That's why I like the character Luna Lovegood so much. I just want to have more of that energy"
She compared working on stage and screen, saying that stage is a lot more high pressure. She said of her previous role in Simon Fitzmaurice's film My Name is Emily:
"I just focused on the work. I'm not trying to make friends with everyone. I've seen with other films, the central cast member will try to really welcome everyone and I thought about that, but it's just not me. I'm quite shy, I'm quite introverted, I like to sit and watch people. I feel like that's how I learn about people, how I study them. So, it wasn't a whole lot different for me. Yes, there was added pressure, but you have to do everything you can to not think about the pressure." 
Interestingly, when asked if there were any other Harry Potter characters she admired apart from Luna, Evanna not only said Dumbledore, but Gilderoy Lockhart!
"Recently I realized I really like [Gilderoy] Lockhart. I sort of admire that obliviousness he has. He doesn't seem to be aware of what people think of him, or that not everyone wants his autograph. I think I'm probably too self-conscious. Not in an insecure way, but I have this paranoid thing where I'll often think people are giving me a weird look or something. My best friend always points it out, he's like, really, it's not about you. […] My mind makes up weird stories, and I started to really love Lockhart for how he doesn't do that. He does the opposite. He assumes everyone loves him. I just think it's so funny."
They also speak about activism, and Evanna's love of animals and constant attempts to give them a voice:
.@Evy_Lynch asking you to sign our petition urging @CarnivalCruise to stop sending tourists to cruel turtle centre https://t.co/dwt0qOV1QC pic.twitter.com/XQ69tzDvHY

— Animal Protection UK (@MoveTheWorldUK) May 30, 2017
Read the full interview with Evanna here, and read our interview with Evanna on My Name is Emily here.