Jason Isaacs Sparks Debate Among 'Star Trek' Fans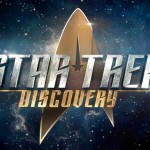 Aug 04, 2017
Entertainment Weekly released a teaser for it's new Star Trek-centric issue out last week, and it was not without some controversy!
The report included a preview from their on-set visit in which Jason Isaacs, known to Potter fans as Lucius Malfoy, was introduced to Star Trek: Discovery's interpretation of Gene Roddenberry's science-based utopia after some improvisation gone awry.
The scene unfolded as follows:
"The imposing Captain Gabriel Lorca strides across the Starship Discovery bridge, squinting at the raging battle on the viewscreen, rattling off orders to his crew with rapid precision. There's a Federation ship under attack by Klingons, and the Discovery is rushing to join their fight. 'Lock on the Bird of Prey!' Lorca barks. 'Basic pattern Beta 9. Hard to port! Fire at something, for God's sakes!"
According to EW, this is where production halted so the writer, Kirsten Beyer, could give Isaacs a crash course in the determined protocol for Star Trek: Discovery. Beyer explained that Roddenberry envisioned a society which had moved beyond religion and, thus, to their minds, any mention of it.
News of the decision to exclude references to God spread quickly, sparking debate among staunch fans online.
Inquisitr reported that many fans pointed out the inconsistency of the decision, given that the original series featuring Captain Kirk did include the word as a part of expletives and, where appropriate, in dialogue. Fans specifically cited the episode "Who Mourns for Adonais" as one in which Kirk mentioned both God and gods.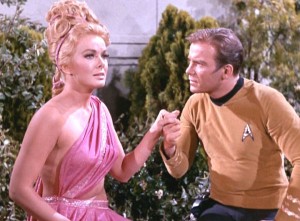 Gizmodo suggested the series creators are taking a hard line where they need not draw one, explaining that such an exclamation could still easily fit within their 23rd-century vision. They argued:
"We say all sorts of things colloquially that we don't believe in. Most people don't believe that knocking on wood really forestalls bad luck, but it's still a handy short cut for 'here's hoping nothing goes wrong.' Similarly, the horse and buggy is not a common conveyance these days, but we still say 'don't put the cart before the horse.' I fully believe that 'god's sake' would still be an interjection in the future devoid of any actual religious belief."
The discussion may have turned into a heated one for fans, but Isaacs seemed to take it in stride, poking fun at himself through a series of tweets in advance of the TCA17 Star Trek: Discovery panel.
Getting briefed with a gaggle of #StarTrekDiscovery producers about what to say and not to say to the press. Apparently we mustn't say that pic.twitter.com/CCjUNYmB2H

— Jason Isaacs (@jasonsfolly) August 2, 2017
The #StarTrekDiscovery#TCA17 panel is beginning now! Follow along here for live updates. pic.twitter.com/EpQ7QeXA8m

— Star Trek: Discovery (@startrekcbs) August 2, 2017
CBS covered the TCA Press Day, which featured the series' executive producers and starring cast members. They emphasized that this new iteration of the franchise will be defined by "unprecedented conflict, long-form storytelling, and serialization."
Sonequa Martin-Green (First Officer Michael Burnham) explained:
"It's one thing to speak of a utopia…To be able to see it in action, to see us aspiring to it, we haven't reached this perfection yet, but we're trying—and I think it's going to be really compelling because you're seeing us try and fail and try again."
And Isaacs further expounded:
"'With [our show], you can start the discussion,' drawing a contrast to other versions of Star Trek, which would often encompass the entire discussion in a single episode. 'That's the richness that you get from a long-form story.'"
"We are complicated characters for complicated times." – @jasonsfolly #StarTrekDiscovery #TCA17

— Star Trek: Discovery (@startrekcbs) August 2, 2017
Executive producer Alex Kurtzman also reiterated that they were committed to producing the intricate and elaborate sets, costumes, and other world-building details necessary to maintain a high standard of story-telling. With a desire to do justice to Gene Roddenberry's legacy, they have worked closely with Roddenberry's son, as well, and acknowledged, "It's not a small thing we've inherited; it's a huge thing."
Isaacs also spoke with Crooke's Magazine  about what draws him to a role–and what he loves about Star Trek!–to promote the upcoming show, which premieres on CBS Sept. 24.
Jason Isaacs (@jasonsfolly) talked to us about his role on @StarTrekCBS Read at https://t.co/8mOzUk1H1epic.twitter.com/fQ7FntdlD8 — Crookes Magazine (@CrookesMagazine) July 27, 2017 
When asked what he looks for in a good script, Isaacs observed:
"If I can't stop reading, that's a good sign. If I keep putting it down and dread coming back to it…very bad. The only definition I can offer is that you know it when you see it: something that's engaging, surprising, moving and that seems authentic – albeit sometimes within its own fantastical premise. A story (or just a character) that illustrates and elevates what makes us human. For me, the purpose of storytelling and bringing 3 dimensional characters to life is so that people feel less alone. Like they're not uniquely broken, but have those idiosyncrasies in common with more people than they realised." 
Isaacs' comments indirectly say quite a lot about what fans can look forward to in Star Trek: Discovery, given that he was induced to take on the role and his stated desire to play interesting, idiosyncratic characters fits with what he has already revealed about Lorca.
At the recent San Diego Comic Con panel, Isaacs hinted at what sets him apart from previous captains.
Jason Isaacs: Lorca differs from other captains in that "he's probably more f*cked up"#SDCC2017 #StarTrekDiscovery — TrekMovie.com (@TrekMovie) July 22, 2017 
Isaacs: Lorca has a lot of sharp edges. Trying not to look or sound like and previous captain. #SDCC2017#StarTrekDiscovery — TrekMovie.com (@TrekMovie) July 22, 2017
This sounds like an exciting, and challenging, new direction for both Isaacs and Star Trek, which is no commentary on his fondness for the original series. In fact, it is probably his experience with the original and, no doubt, the brash James Tiberius Kirk, which makes pushing the boundaries of the captain's chair all the more satisfying.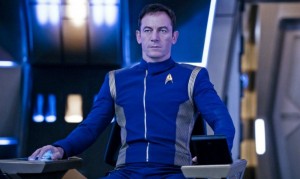 Speaking as a fan, he told Crookes:
 "I was a huge TOS (The Original Series) fan and remember curling up on the couch with my family to watch it religiously. Bill Shatner and Leonard Nimoy were superb together – they could take the most mundane dialogue and imbue it with epic and believable high stakes. Numbers of the episodes haunted me then and still play on me to this day: Who would want god-like powers? What's this disease that hits during puberty and never resolves? Why is Spock wearing eye-shadow?"
It seems there are no small questions and, as Isaacs pointed out at TCA17, one of the enduring gifts of Star Trek is the way it engages viewers–starting discussions, challenging perspectives, and causing them to think about questions that will be debated, as has already been proven, long past the air date of its episodes.