EXCLUSIVE: Harry Potter's David Bradley On Being Doctor Who & Cast Interviews at LFCC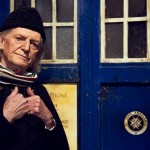 Aug 09, 2017
London Film and Comic-Con took place July 28th-30th this year, and there were plenty of Harry Potter actors in attendance to keep guests occupied. Leaky were lucky enough to be granted exclusive access to a Doctor Who talk by David Bradley (Filch) and Sylvester McCoy (who you may also know as Radagast in The Hobbit), as well as interviews catching up with Harry Potter's Sean Biggerstaff (Oliver Wood) and Danielle Tabor (Angelina Johnson) – keep reading for full coverage from the weekend!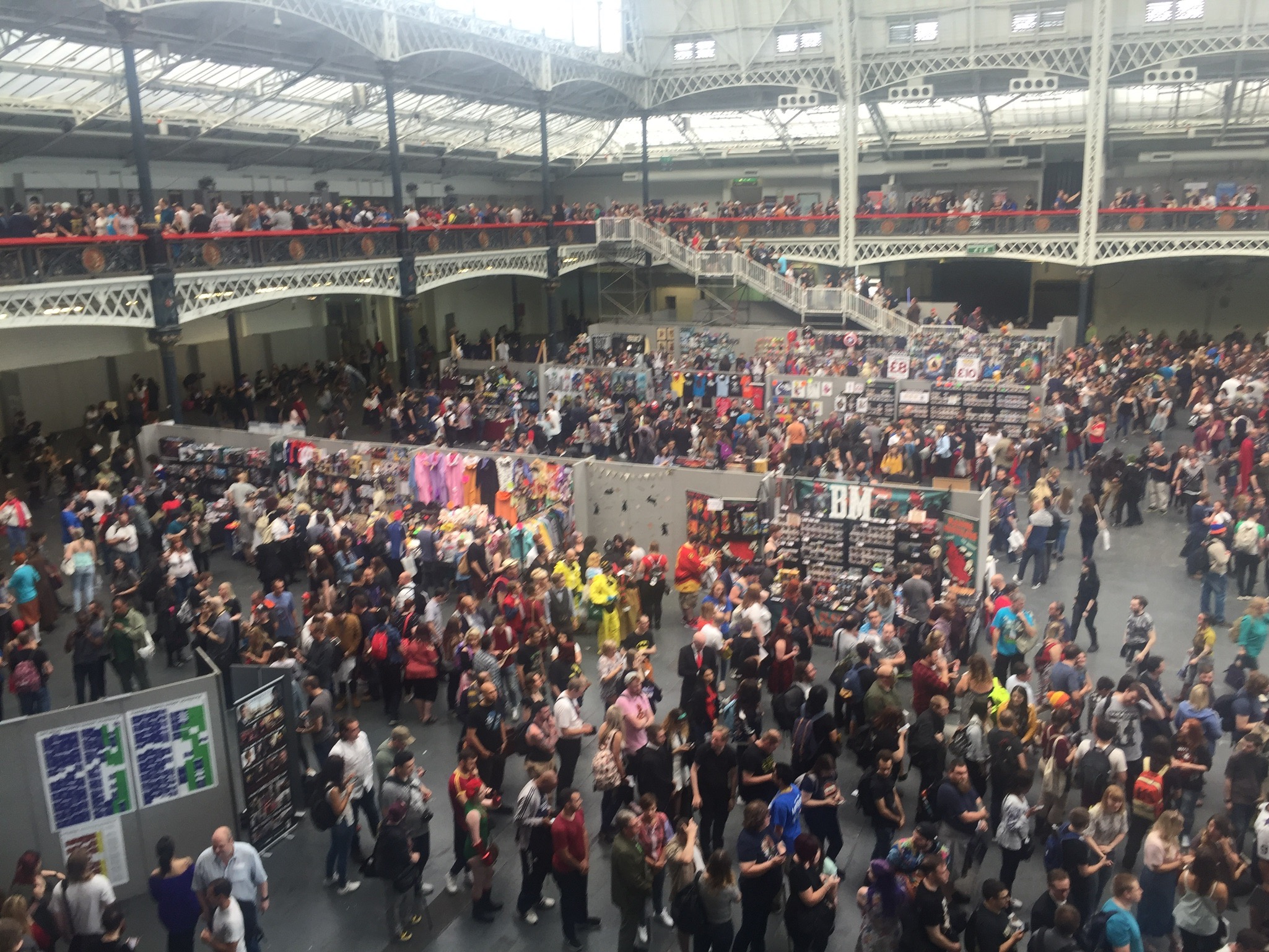 Fantastic Beasts actor Dan Fogler created a HUGE queue in the comic guest area as he promoted Heavy Metal comics. Bleeding Cool reports from the Heavy Metal panel, where a new comic co-created by Dan Fogler and artist Justin Mohlman and Burney was discussed, read more here.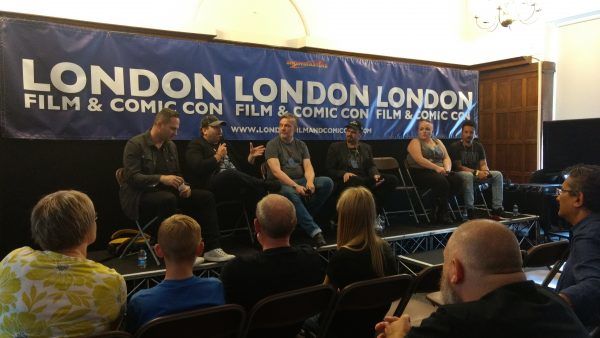 Fans did not miss the opportunity to take some great photos with the actors, which included meet and greets from Mark Williams (Mr Weasley), James and Oliver Phelps (the Weasley twins) and Zoë Wanamaker.
"What exactly is the function of a rubber duck?" – I never did find out if Mark Williams knew the answer!! #LFCC #LFCC2017 #HarryPotter pic.twitter.com/aFCnkkW2MH

— Sarah Ellacott (@MrsEllacott) July 30, 2017
Was Harry Potter galore at @Showmasters #LFCC #LFCC2017 with @James_Phelps @OliverPhelps @Seanchuckle @bradders_david Mark Williams & others pic.twitter.com/HfYG5zroID

— Jamie Bleming (@wjbleming) August 2, 2017
"Can we do a photo where we're surprised Fred is alive?"
"Yeah!"
"… which one of you is Fred?" #LFCC #Laughingsohard pic.twitter.com/2ohXn864pE

— Jenny (@QueenOfTheSonic) July 29, 2017
All the guests I met at #LFCC #LFCC2017 were lovely. James & Oliver Phelps, Zoe Wanamaker, John Cleese and Mark Sheppard 🤗 pic.twitter.com/RInMfG1I3c

— Sheryl (@LostInTheMagic1) August 1, 2017
Meeting the Weasley twins today and getting up to no good! 😝#LFCC pic.twitter.com/kAAKu08gGz

— Amber 🙋🏻 (@bythe95) July 29, 2017
This convention was also a first for John Cleese (Nearly Headless Nick), who greeted fans dressed in some amazing Fawlty Towers, Harry Potter and Monty Python costumes:
Had a great time at #LFCC on Saturday. Highlight of the day … meeting John Cleese! pic.twitter.com/HbJ2tUc6tc

— David Carnegie (@dacarnegie) July 31, 2017
Being a Fawlty Towers/Python fan I have always wanted to meet John Cleese one day..never thought it would happen though!@Showmasters #LFCC pic.twitter.com/IohUb7Omq7

— The Geeks Handbag (@TheGeeksHandbag) July 31, 2017
Some took snaps from afar:
IT'S DADDY WEASLEY! 💕 #YALC #LFCC pic.twitter.com/5NL1UhNuqh

— The Copper Boom (@thecopperboom_) July 30, 2017
The Ford Anglia also made an appearance, and fans were given the opportunity to have a photo with Mr Weasley and his trusty car – the Phelps twins Ford Anglia photo was unfortunately cancelled: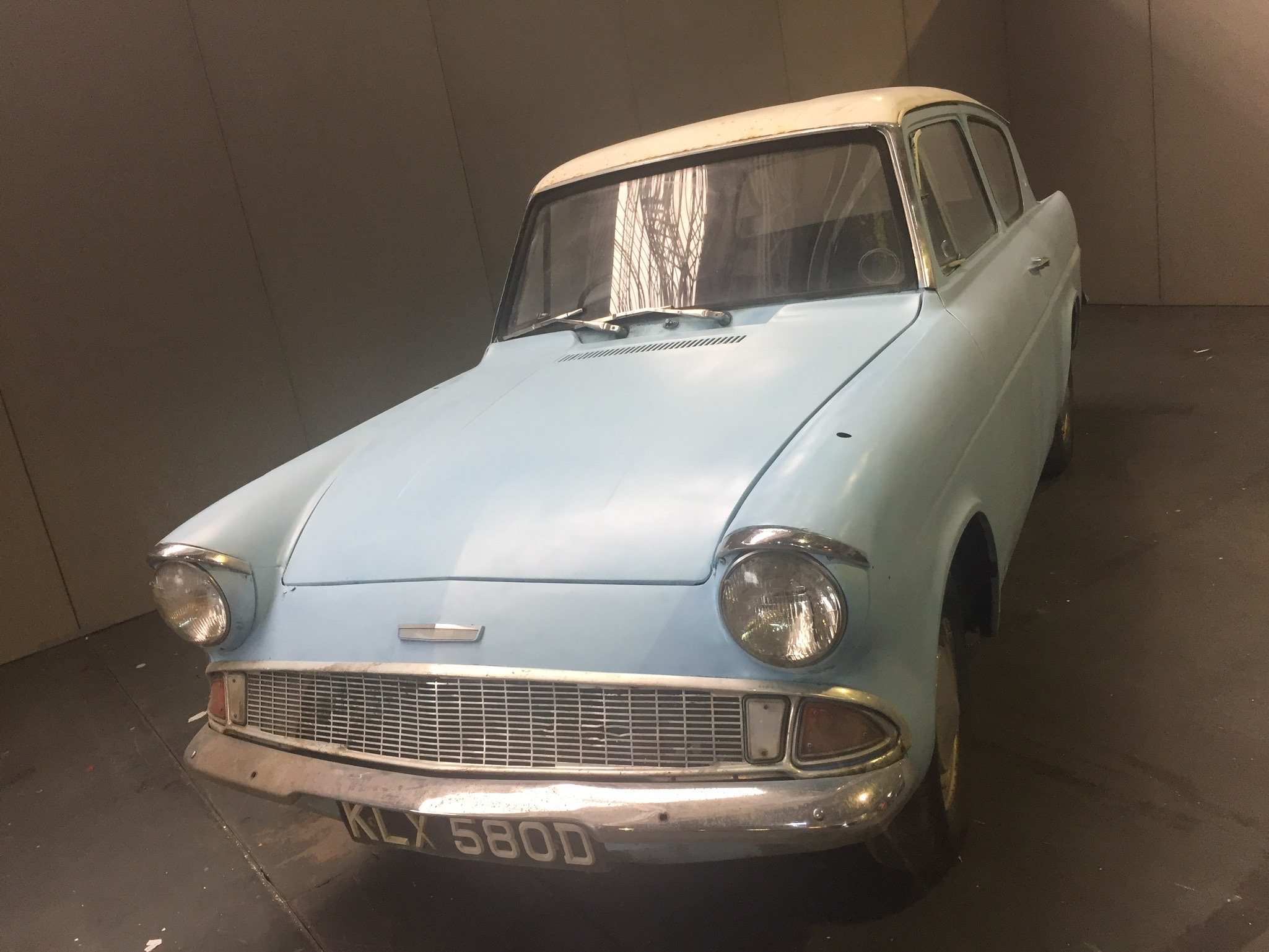 The event was hugely busy the entire weekend, and as you might imagine, Potter alumni were snowed under with fans hoping to get to meet their favourite characters! Nevertheless, Leaky persisted.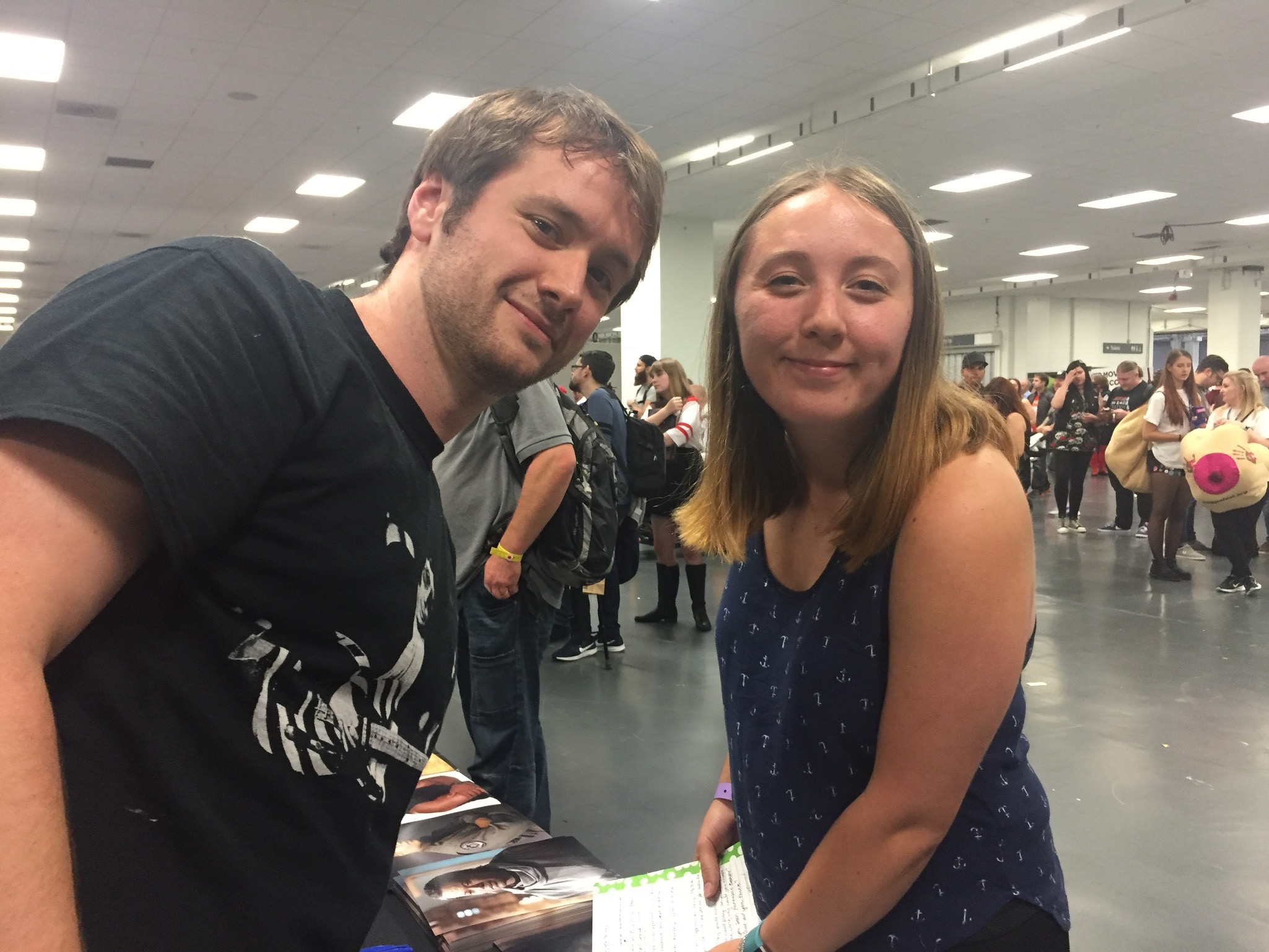 We managed to quickly catch up with Sean Biggerstaff, who tells us that he recently had his latest project accidentally leaked online. Sean moved on from his Qudditch captain days and is due to voice the companion of the Doctor's daughter, played by Georgia Moffett in production house Big Finish's Doctor Who audio stories (read more at Radio Times here).
Q: We heard you're going to be involved in more of the Big Finish audiobooks! Are you a fan of the TV series still?
A: Yeah! Unfortunately that wasn't meant to be announced yet, so I'm not allowed to talk in detail about the show itself, but I've been involved in Big Finish stuff since around 2002 off and on, so it's grown into a bit of a family there, and it's cool seeing where it's going and such and being involved with it again.
We also asked about his time on Potter, to which he jokingly said, "It was awful, completely awful!" and then clarified, "No it was the best, I had an amazing time as you can imagine."
We'll bring news of when you'll be able to hear Sean in the Doctor Who audio series later this year, so keep posted!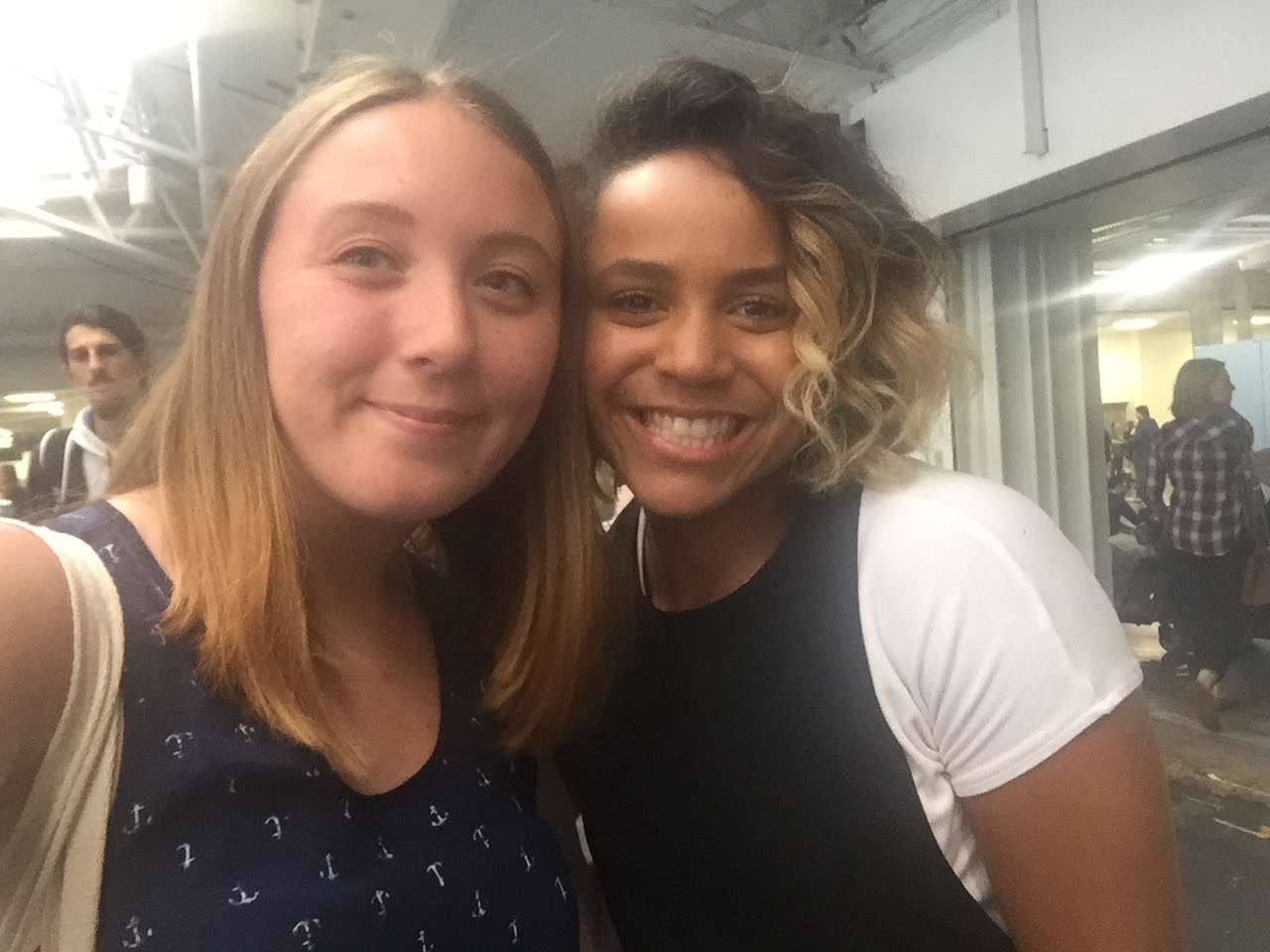 Danielle Tabor (Angelina Johnson) was also in attendance, and we caught her in a spare moment to speak about filming on Harry Potter – we wanted to know just how uncomfortable those Quidditch scenes were. Who knows if we'll see Quidditch again in Fantastic Beasts!
Q: Have you been to the studio tour? I wanted to know if you thought the Quidditch green screen experience there was a good replica of the experience on set – I heard it was pretty uncomfortable!
A: I haven't actually! Was it like a bicycle seat? That's how it was for us, pretty much just a bicycle seat. I always tell people how uncomfortable it was, seriously, it was so uncomfortable! No one gets how bad it was!
Q: What was it like being a part of the Potter movies?
A: I was saying just now, I don't think I understood just how big it was. Being 16/17/18, it's just dawning on me how big of a thing it was, and now I really appreciate how great and lovely it was to experience that and be a part – even just a small part –  of it all.
Q: Did you spend time with the other cast? 
A: Yeah, when we had the Great Hall scenes I would sit near Dan, Emma and Rupert, and James and Oliver would be opposite me. It was all pretty great, being 16 or so in something like that. For shooting on the scene where Ron's puking up slugs I stayed in the same hotel as Tom and Rupert, and if I can remember, Tom – being 16 or maybe slightly older – was being chaperoned by his brother! I also got on with a few of the common room cast members, we're still friends now!
Q: Have you been sorted? 
A: I haven't actually, but I've been told to take the official quiz. I'd be too scared that I wouldn't be in Gryffindor! I guess it's sort of like being afraid that you're not who you think you are!
See Danielle's brilliant video on the event and chasing success below:
We also quickly spoke to Michelle Harrison, who – if you've been watching Tom Felton slowly become everyone's favourite character on The Flash (only to be cut as a season regular for Season 4) – you'll know as Nora Allen, Barry's mother in the show. We asked her if she thinks Barry's love for his mother is his downfall, as his desire to solve her murder often drives him to make drastic mistakes and be easily manipulated by his enemies. We see this mirrored in Harry's story at times, and Michelle's answer sheds light on the importance of love and emotion in Barry's successes, which we know was also one of the key messages in the Potter series:
"I think acting through emotion can sometimes drive people to do things they wouldn't otherwise, but ultimately love and emotion are important to Barry's story, so I wouldn't say it was his downfall! He makes mistakes, but his love for his mother also gives him strength.'
We also asked how it's been working on The Flash, if there are any cool special effects she gets to see behind-the-scenes and if she'll be back for Season 4:
"I've absolutely loved my time on the show. A lot of [the special effect work] is done post-production but there's a lot of things that go on during filming that are really interesting, it's definitely a really impressive team!
"I can't imagine Nora won't be in a few of the scenes, so I imagine I'll be back."
The big event for Potter fans, though, was a talk by David Bradley on his appearance in Doctor Who as the William Hartnell in An Adventure in Space and Time, and then his debut as the first Doctor in the most recent season. His role as the First Doctor will presumably wrap up in the Christmas special where Broadchurch actress Jodie Whittaker – fellow costar of David Bradley and David Tennant, who have both starred in Doctor Who and Harry Potter – will officially take on the role of the renowned Time Lord.
He took to the stage with Doctor Who's Seventh Doctor, Sylvester McCoy – videos weren't allowed so apologies for the blurry impromptu photo!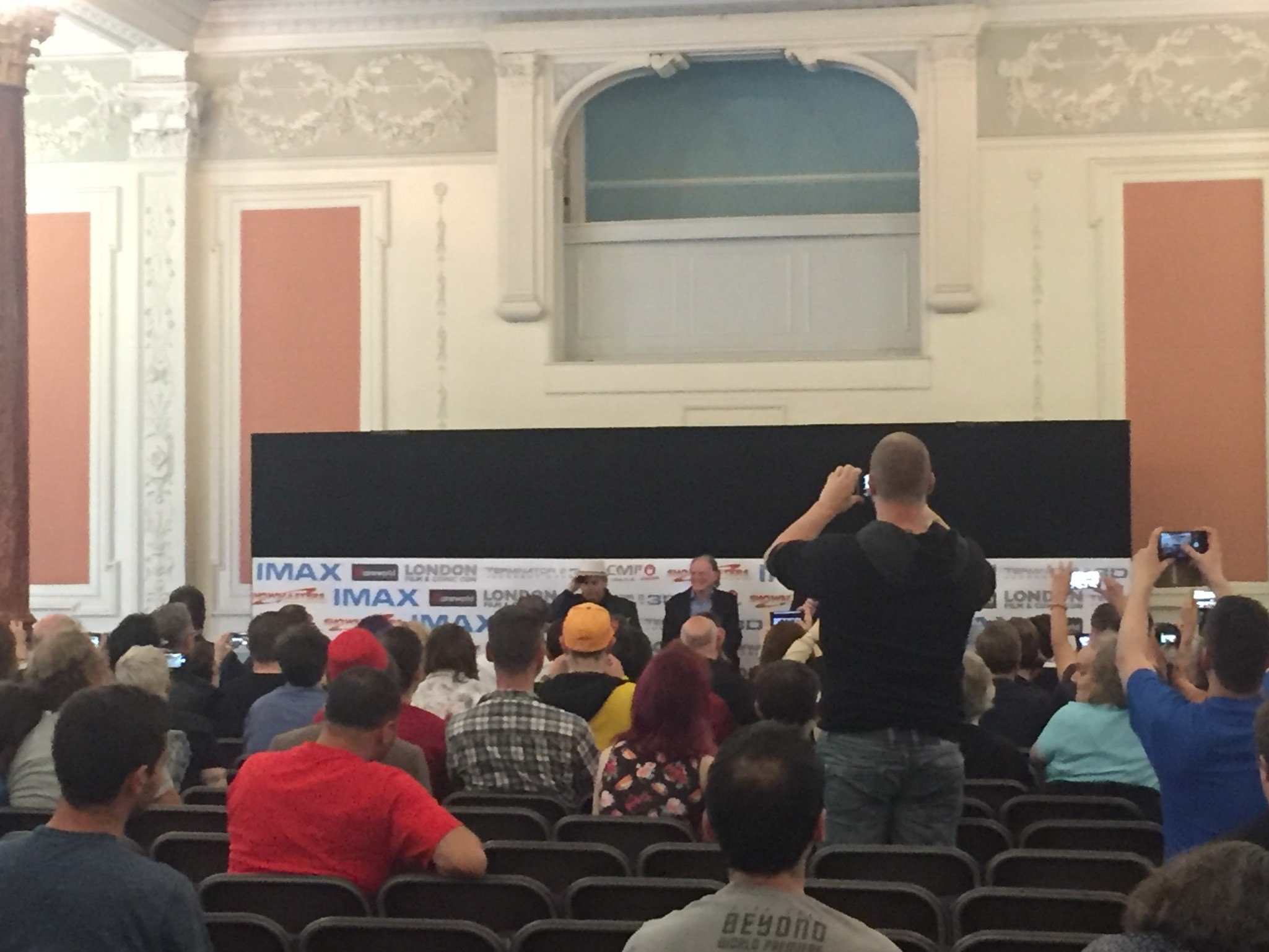 Answering a question on his experience of portraying Hartnell's Doctor, David spoke about the process of CGI transitions between his and Hartnell's face in the promotion for the Christmas special (below).
He also gave the audience a few hints at what this episode might have in store, telling of bickering between Peter Capaldi's current portrayal as the Twelfth Doctor, and the First Doctor as a result of the earlier incarnation's 'old ways', in particular his chauvinism from the 60s:
"He goes into the Twelfth Doctor's Tardis and says, 'it's a bit dusty around here, it's in an awful state isn't it? Where's Polly? Shouldn't she give it a spring clean?' And Peter's saying 'you can't say that!'. He brings all his 60s sensibilities – what's lovingly called casual sexism, or chauvinism."
"His attitudes to a lot of things come right from the 60s, so there's a lot of conflict between Hartnell's Doctor and Peter's Doctor about how things have changed in the last 50 years… we had quite a bit of fun with that."
Bradley also hinted at a 'big event' due to take place in the Christmas special:
"I've only seen the trailer but there's a big event towards the end that happens. When it happened, neither Peter nor I were expecting it. There was no CGI involved […] we were both almost blubbing by the time that the take ended.
"I'm not going to say, what it was but it was quite an event and we weren't prepared for all the things that were going to be going on around us as we were doing our dialogue."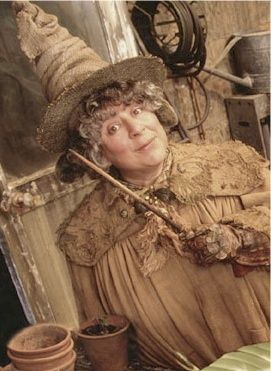 Sylvester McCoy charmed audiences, and when conversation moved to Jodie Whittaker's new role as the first female Doctor (which Bradley said he was thrilled by, having worked with her previously), McCoy gave a nod to Harry Potter's Professor Sprout as another great potential now that the role is open to women:
"It could be Miriam Margoyles. Although I don't think I'd like to be in the TARDIS with her. She's a bit windy, if you know what I mean."
To end the panel, McCoy performed his last speech, and Bradley gave a beautiful live delivery of William Hartnell's farewell speech (which he also performed in An Adventure in Space and Time, below). He earned a standing ovation for his impromptu passion and emotion.
If you didn't get a chance to meet the actors at this year's London Film and Comic Con, be sure to visit the convention's website to be the first to find out when the event will return in 2018. If you can't wait that long, join us at LeakyCon in Dublin at the end of the month!
Keep posted for further updates on the Doctor Who Christmas Special and Sean's Big Finish audio series.