Happy Birthday, Evanna Lynch!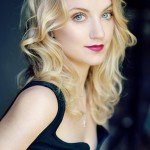 Aug 16, 2017
Today we wish a very happy birthday to LeakyCon special guest, the wonderful Evanna Lynch!
Whether through her acting, her activism or just being her truest self, Evanna Lynch has always been an inspiration. She entered into the world of Harry Potter as a diehard fan of the series, and was not just lucky to get, but incredibly deserving of the role of Luna Lovegood in the movies. This year she's returned to the stage in the twentieth anniversary of Enda Walsh's Disco Pigs at Trafalgar Studios, and she'll be joining us in Dublin, Ireland, for a very special LeakyCon.
She was right alongside us theorising about The Deathly Hallows back in 2007 – she shared her favourite theory way back in an interview with The Drogheda Independent – proof enough that she's always been a huge fan:
"All Hallows Eve is the time when the veil between the two worlds is at its thinnest. I think Harry will have to go through the veil for some Horcrux-hunt related reason and he'll have to get to understand death more and he may meet Dumbledore because apparently JKR told Dan that DD was giving her trouble. Also JKR is always emphasising that there are worse things than death and I think it would be very like her to trick us like that, so that Harry is 'dead' but we're still with him, death isn't the end. Most people think that he either lives or dies but I like the idea that it's an in-between."
In an interview with The Leaky Cauldron this year, Evanna spoke about the characters she likes to portray – her enthusiasm for character depth and acknowledging the complexity of normal people helps get across just how brilliant she is as an actress:
"I just want to keep doing things that are different and weird to me. I just tend to like weird characters, I like taking on people who see the world differently or who make me push myself. I can generally only take characters on who I look up to, who I respect, who have strong views. I don't think I'd be able to take on someone who just seemed passive or weak because I wouldn't want to.
She also spoke more about a vegan podcast she's working on (which people were eagerly tweeting her once we let on that she was looking for a co-host, at least we know she's not short on choices!), and a novel she's been in the process of writing for a while now, which we can't wait to hear more about, given her excellent sense for what makes a good character! Read our full interview with her here.
More recently, Evanna spoke to the BBC about Disco Pigs, discussing how she's found working onstage again, which you can view here.
She also posted on Instagram to mark her 26th birthday, by dressing like her bitmoji:
Find out more about LeakyCon here (taking place 31st August – 3rd September) to secure your chance to meet Evanna on Fandom Expo Day, and join us in wishing her all the best on her birthday, keep being 100% you!