Emma Watson Awarded at Teen Choice Awards 2017!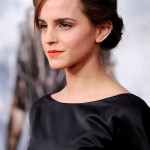 Aug 17, 2017
The 2017 Teen Choice Awards took place on Sunday night in LA, and after 63 million Twitter votes, teen icons from the film, music, TV, sports, fashion, comedy and internet were honoured as Choice artists of the year. Emma Watson had her talents as an actress rewarded at the event, winning four awards total, not including another for Beauty and the Beast!
Emma Watson won Fantasy Movie Actress for her portrayal of Belle in Beauty and the Beast (with Dwayne "The Rock" Johnson winning Fantasy Movie Actor for Moana). She also won Drama Movie Actress for The Circle, and MovieShip and LipLock for her on screen chemistry with Dan Stevens, who played the Beast in Beauty and the Beast. The live action Disney classic also won best Fantasy Movie at the awards, meaning Emma pretty much dominated the Teen Choice Movie Awards this year!
She took to Twitter to give her thanks to supporters, and fans were quick to respond telling her how much she deserved the awards:
THANK YOU SO MUCH to everybody who voted for me and @beourguest! Such lovely news to wake up to! Means a lot to me, thank you @TeenChoiceFOX

— Emma Watson (@EmmaWatson) August 14, 2017
You truly deserved that! No thanking us , I thank u for giving such beautiful films and for being an inspiration to girls , [email protected] pic.twitter.com/TazKlYwMW7

— Shahwan Khan (@shahwankhan151) August 14, 2017
It's so well deserved! You're a fantastic actress, singer & role model👍 pic.twitter.com/uCQkzGlMAP

— Monika 🖤💛🐝🐲🎶🎼 (@monitroll65) August 14, 2017
The Flash – the latest season of which Tom Felton featured in as a series regular – won Action TV Show (with lead actor Grant GUstin winning Action TV Actor).
Join us in congratulation Emma Watson on her much-deserved wins! Have you seen The Circle and/or Beauty and the Beast? Let us know what you thought in the comments!