David Tennant Takes a Bow With 'Broadchurch,' Talks 'Doctor Who,' Returns to 'Jessica Jones,' and Stars in 'Good Omens!'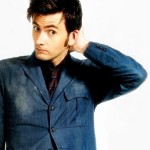 Aug 18, 2017
The final season of David Tennant's hit British crime procedural, Broadchurch, ended in April, but the last episode didn't air in the U.S. until Wednesday of this week, so he's been making the rounds to promote BBC America's release of the show–and his other upcoming projects!
He spoke to Yahoo TV about the fate of his character, DI Alec Hardy, and reflected on the closing moments of the episode, which saw Hardy and Miller seated on a bench, backed by the show's memorable coastal cliffs. There they sit, stoically processing what has transpired, and share a characteristically-curt exchange capped with Hardy interjecting simply, "I'll see you tomorrow, Miller," to which she replies, "Fine. See you tomorrow."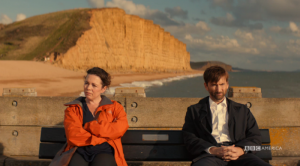 According to Tennant, the scene perfectly captured–and honored–the unusual relationship between the two partners. He said:
"I think the journey that Miller and Hardy go on is so beautifully summed up in that final scene…They're both broken people, really. They're people who don't have anyone other than each other. They're sort of the closest thing to best friends that the other one has. They're both kind of disconnected from their families, and they've been through some terrible, bruising experiences. They feel like slightly incomplete human beings. They found each other in this world, and yet even then they can't quite connect."
As to Hardy's future, Tennant has given that a great deal of thoughts as well. He mused:
"In the short term, he'll just come to work the next day, and he'll probably go back to dealing with small-town crimes that will infuriate him and make him annoyed that he's not in some bustling metropolis. Although on one level, of course, he'll be delighted and relieved because it means that there aren't any more terrible events going on in this town that's had its fair share…I think he'll settle back into a life of complaining about his life, probably. And rolling his eyes at the small-town mundanities of it all. But as we find out in this series, he's clearly decided that this is where he's meant to be and that that's where he's going to stay. Unless something changes. I guess much will [depend on] Daisy and where she goes and what her life becomes, because I think that's his final salvation, really — his daughter. And probably his Achilles' heel as well."
He also appeared on the Late Show with Stephen Colbert, and they took some time to discuss the casting of his Broadchurch costar Jodie Whitaker as the next Doctor. Colbert asked how Tennant, a former Doctor himself, felt about Whitaker breaking the "glass Tardis ceiling."
Tennant replied enthusiastically, "Well, I'm delighted! You know, she's been on Broadchurch for three seasons, so I know her very well. She's a mate of mine." He added, "It's brilliant! I can't think of someone better to join the gang and to be poised to take it to a whole new level."
Colbert went on to ask about the backlash of casting a female in a role previously played exclusively by men, and Tennant soundly dismissed it, framing it as par-for-the-course when it comes to the iconic show, which has been entertaining zealous fans for our five decades. He observed, "Do you know, whenever the Doctor changes, there's a backlash because that's a character people love, so people get very affectionate about the Doctor."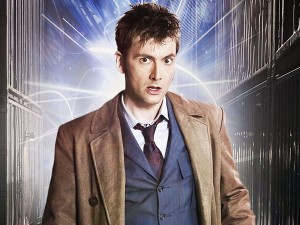 He reminded the audience that fans had the same reaction when he took over the part, joking that many exclaimed, "Who's the weasely-looking guy? Who's this?! I like the last guy! It's not gonna work for me–this show is dead to me!"
Of course, as we now well know, Tennant eventually won over the fandom and many consider him their favorite Doctor. No doubt Whitaker will also have her own devoted following before long!
As for Tennant, he confirmed that he is now working on season two of Ducktales, for which he voices the iconic miser Scrooge McDuck, and had a little fun with his Scottish accent at Colbert's behest. Watch the full video of their interview below. (Don't miss the hilarious reference to the awkward proximity of his Barty Crouch Jr. to Cedric Diggory, given that Robert Pattinson was the previous guest!)
See an hour long preview of the show on YouTube here:
Here is the hour long premiere of our new @DuckTales reboot FOR FREE on @YouTube! https://t.co/InNlJS4E0M

— Ben Schwartz (@rejectedjokes) August 14, 2017
In other exciting news about the actor, Entertainment Weekly announced Monday that Tennant will reprise his role as Kilgrave in season two of Marvel's Jessica Jones. This is a huge surprise for fans who, for good reason, didn't see his return coming, since Tennant's mind-controlling villain was killed off at the end of the first season.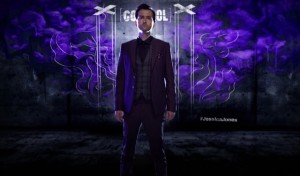 No details about his character's storyline, or how large an arc it might be, have been released. But, photos from the set surfaced Wednesday, which showed Tennant's Kilgrave tormenting both Jessica Jones and Malcolm.
Holy F***! pic.twitter.com/iRP9Da0ifG

— David ?? (@dxvid616) August 16, 2017
Kilgrave still in Jessica and Malcolm's minds? pic.twitter.com/LY7IGGCnxA

— David ?? (@dxvid616) August 16, 2017
"Though Kilgrave is obviously in Jessica and Malcolm's personal space, both characters seem to behave as if he's really not present, like he is a figment of their imaginations. Kilgrave took possession of both Jessica and Malcolm in the first season, so it's quite possible he left a part of his consciousness behind to haunt his victims after his passing."
Other photos from the set of The Defenders (released on Netflix today, August 18th) seem to support their theory that Kilgrave has continued to posthumously torment the two characters: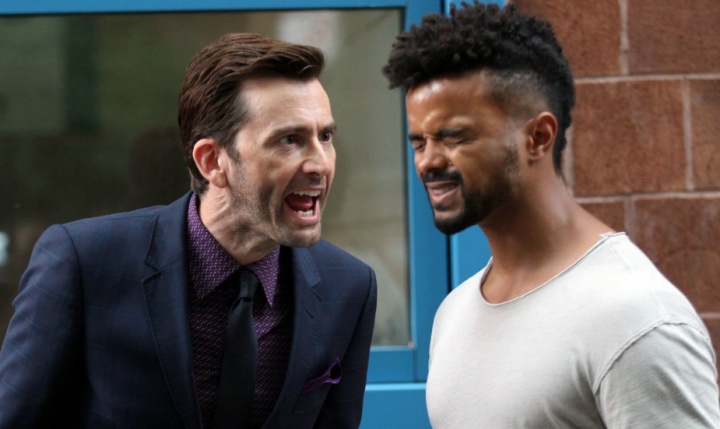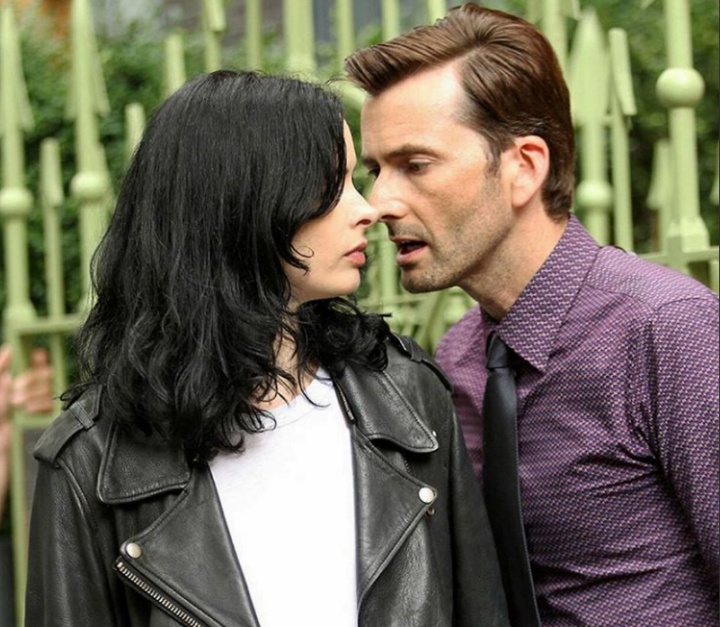 Production doesn't wrap until September, so fans will have to wait awhile to find out more. And, since the suspense is already mounting, we may as well add that Tennant has also been confirmed for the upcoming adaptation of Neil Gaiman and Terry Pratchett's Good Omens.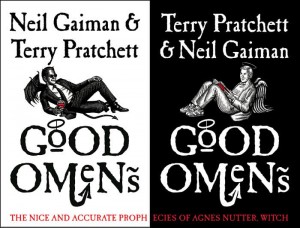 Variety described the highly-anticipated series as follows:
"The show is set in 2018 on the brink of an apocalypse as humanity prepares for a final judgment. But Aziraphale, a somewhat fussy angel, and Crowley, a demon, aren't enthusiastic about the end of the world, and can't seem to find the Antichrist. [Michael] Sheen will play the role of Aziraphale, while Tennant will play Crowley. It will consist of six one-hour episodes."
Considering Tennant's experience playing twisted antagonists–Barty Crouch Jr. in Harry Potter and the Goblet of Fire, Don Juan in Soho, and the aforementioned Kilgrave in Jessica Jones, to name only a few–he's perfectly cast as the ambivalent demon. Who better to win over the audience with his snarky wit and charisma in such a role?!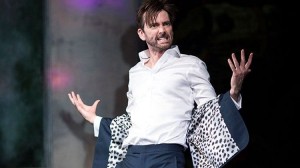 (No one, that's who.) So stay tuned for more updates about these projects; it sounds like David Tennant will be busy for quite some time, and we look forward to following his continued success!