Trailer for 'Strike: The Cuckoo's Calling' Arrives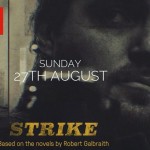 Aug 20, 2017
It's only a week until Strike will air on BBC One, and a trailer was released today teasing the new series based on J.K. Rowling / Robert Galbraith's series of murder mystery novels. The series has been written by Ben Richards and directed by Michael Keillor.The BBC summarises the show as follows:
"Tom Burke stars as Cormoran Strike, a war veteran turned private detective operating out of a tiny office in London's Denmark Street. Though he's wounded both physically and psychologically, Strike's unique insight and his background as an SIB Investigator prove crucial to solving three complex cases which have eluded the police.

Holliday Grainger plays Robin, assistant to Strike. Though she begins as a temporary secretary, managing Strike's chaotic life, she soon becomes involved with his caseload and begins to see her true potential."
The trailer sets up the mystery of celebrity Lula Landry's murder in The Cuckoo's Calling, and Robin and Cormoran's dynamic, which seems spot on (as guests to the BFI's recent preview and Q&A noted).
The show will air on BBC One on August 27th at 9pm (BST). If you're from the U.S., no need to fret! The show was produced in association with HBO/Cinemax, and will air on HBO in the U.S. and Canada (though we're not entirely sure when, yet).
Tom Burke also recently spoke to The Express about the late Alan Rickman, who of course played Severus Snape in the Harry Potter series, and mentored Burke throughout his career:
"Alan was such a strong voice in my life that I can almost ask a question now and know exactly what he'd say. He was incredibly informative on everything,
"I wouldn't have necessarily gone to drama school if he hadn't said he thought it was a good idea to have three years to just figure things out a bit. 
"I'm really glad that I did. The thing I remember him saying is 'Examine your instincts' because I was priding myself on being incredibly instinctive and making incredibly quick decisions about things – and sometimes quite rash decisions about work – because I thought it was better to be instinctive than to be too much in your head.
"He was very good at pointing out that one can have good instincts and bad instincts. And sometimes they can come from fear and sometimes they can come from ego."
Strike Fans fansite also managed to interview the duo on their involvement in the show. Listen to their interviews with Holliday Grainger on how relatable Robin is as a character below:
They also had the chance to speak to Tom Burke, who spoke about the challenges he faced in portraying an amputee as accurately as possible:
Head on over to the Strike Fans newsfeed here for more!
See the trailer below, more clips from the show in our recent article here, and let us know what you think. Have you read the series? Do you plan on reading them?