Going Back to Hogwarts with New Magic From Pottermore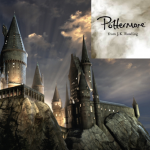 Sep 01, 2017
Fans across the world are commemorating Nineteen Years Later, this very day, September 1, 2017, when Harry, Ron and Hermione watched their children board the Hogwarts Express to begin their own wizarding journeys. As covered by Leaky earlier today we have seen celebrations at King's Cross Station, this year's Leakycon happening this weekend in Dublin and a special Harry Potter and the Cursed Child celebration and meet-up.
To those with us at King's Cross, and those joining us from all over the world, we wish you a safe and happy journey #BackToHogwarts pic.twitter.com/wAo7B157Zj

— Pottermore (@pottermore) September 1, 2017
Couldn't ask for a better place to be than @LeakyCon for #19YearsLater pic.twitter.com/A8YYhQn0kR

— ablar (@ablarus) September 1, 2017
Special cake for a special day. The Hogwarts Express is about to depart at the Palace Theatre. #19YearsLater #BackToHogwarts #CursedChild pic.twitter.com/b4EtbW9cnL

— Cursed Child Play (@HPPlayLDN) September 1, 2017
Now Pottermore has unveiled a enchanted gift to the fandom of epic proportion:
Introducing the Hogwarts Experience from Pottermore. Go #BackToHogwarts this September first: https://t.co/rqqIDt4jGZ pic.twitter.com/lBa46FPCN1

— Pottermore (@pottermore) September 1, 2017
To mark this historic day in the Harry Potter saga, Pottermore has crafted a magnificent 360-degree virtual tour of the exterior of Hogwarts and the surrounding grounds including the Quidditch pitch, Hagrid's hut and the Forbidden Forest. As users explore this new aspect of the site, they will encounter 100 different "hot spots" that each share information about that memorable location. Some of the spots we've found include the entrance to the castle, the Great Hall, the vaulted opening where Howlers are delivered and even the very escape route Fred and George took on broomstick under a shower of fireworks during Order of the Phoenix.
Pottermore's global digital director, Henriette Stuart-Reckling, said this about the new feature,
"We've seen many interpretations of Hogwarts – from the artwork in the illustrated editions of the books to the eight feature films from Warner Bros., The Hogwarts Experience is "a unique, mobile-first experience using bespoke visual assets allowing anyone to 'visit' Hogwarts on-the-go."
What better way to commemorate Nineteen Years Later and Going Back to Hogwarts on September 1 than taking your own personal tour of our favorite school of witchcraft and wizardry? Log on to Pottermore today and find all 100 hot spots. Let us know about your magical discoveries and raise your wands to Hogwarts, Pottermore and of course the mastermind behind it all, J.K. Rowling!