New Kindle in Motion Sorcerer's Stone!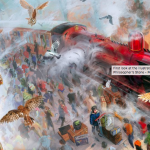 Sep 05, 2017
Following the success of the illustrated hardcovers of the first three books in the Potter series, Pottermore  announced earlier this summer the 'Kindle in Motion' version of the first book, Harry Potter and the Sorcerer's Stone as covered here by Leaky. This magical moving version of book one of our favorite story went on sale today!
Pottermore says that along with the illustrations;
"Other highlights from the moving book will include a multi-page spread of the lively Diagon Alley, an animated portrait of Draco Malfoy and a handy guide to trolls.

As well as moving images, readers can still tailor their reading experience, adjusting font sizes with the newly sized words magically reflowing around the animation and images, and, if they choose, toggle the animations off or on."
Featuring illustrations by Jim Kay, it's just as beautiful and magnificent as its coffee table book cousin. This hopefully means that the other hardcover illustrated editions will also eventually become interactive Kindle versions!
Pottermore announced it via twitter this morning:
It's here! See the magical moments of Sorcerer's/Philosopher's Stone brought to life with Kindle in Motion: https://t.co/fbY9RJfLpn pic.twitter.com/TJghVa3IC1

— Pottermore (@pottermore) September 5, 2017
You can buy the Kindle in Motion version of Harry Potter and the Sorcerer's Stone here on Amazon. We can't wait to hear what you think of it, let us know in the comments!