Robes and Wands Ready for Halloween at Hogwarts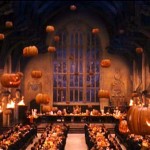 Sep 06, 2017
Warner Bros Studio Tour London has announced the spooky details for a Halloween bash that sounds like every Harry Potter fan's dream, or nightmare, on this particular occasion. Imagine entering the Great Hall, with tables stretched end to end, set with a spellbinding feast, and dozens of pumpkins floating overhead, exactly how you've seen them in the films. This magical scene is just the beginning of "Hogwarts After Dark" at the Making of Harry Potter Warner Bros. Studio Tour London October 28 and 29, 2017.
Brave witches, wizards and Muggles are invited to #HogwartsAfterDark this October, tickets on sale 12th September: https://t.co/V7lZORJuz4 pic.twitter.com/6uuoraX3uw

— WB Tour London (@wbtourlondon) September 5, 2017
After dinner, guests will have the chance to explore the new Forbidden Forest set that opened earlier this year as covered here by Leaky and mingle with magical creatures familiar from the Wizarding World like Aragog the Acromantula, from Harry Potter and the Chamber of Secrets and Buckbeak the Hippogriff from Prisoner of Azkaban.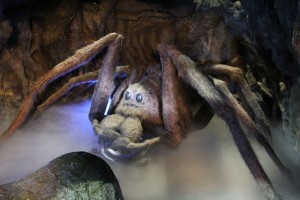 They will also have the opportunity to tour the Studio after hours and see many of the sets from the Potter films, as well meet with members of the Props Making Department, who've masterminded all of our favorite magical objects.
Muggles and wizards alike will get to participate in a wand combat lesson and prepare for a duel with Death Eaters, who will be lurking around the event all evening costumed in the original robes and masks used in the movies. The Dark Lord's minions will then follow guests to a darkened Diagon Alley set to see the Wizarding shop-lined street.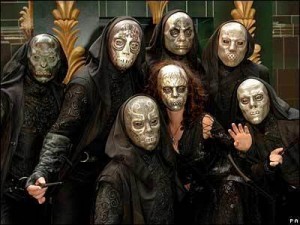 The evening includes hors d'oeuvres and dry ice cocktails, a two-course dinner and dessert, and Butterbeer at the Studio's Backlot Cafe. Tickets for this thrilling event go on sale September 12, 2017 at 10am. View the schedule for the evening and get all of the information at the Warner Bros. Studio Tour London website here.
Will you be dressed as your favorite witch or wizard and ready to cavort with Death Eaters and maybe a ghost or two on the set of the Harry Potter films for Halloween? Let us know if you'll be there!