Winter Celebrations at the Wizarding World in Japan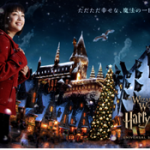 Sep 06, 2017
Hogwarts is set to light up the Wizarding World of Harry Potter in Universal Studios Japan this Christmas, as an all-new state-of-the-art projection mapping show is introduced this holiday season:
The large-scale show – "Hogwarts Magical Nights – Winter Magic" – will transform Hogwarts castle with snow-capped spires and warm holiday lights emanating from inside. The show continues by featuring scenery and images reminiscent of the Yule Ball."
Hogsmeade will be adorned in seasonal decorations, complete with a magical Christmas Tree, which guests can cast a spell on to illuminate the candles and make the ornaments dance. Hot butterbeer (finally!) will also be available to try.
These celebrations will begin on November 10th, following Halloween celebrations at the park (which Leaky reported on here), decorating Hogsmeade with bats, skulls and more festive gear, and offering guests the opportunity to collect special candy by saying 'Trick or Treat' to wizards working at the theme park.
Christmas will also be coming to the Wizarding World at Universal Studios Orlando and Universal Studios Hollywood, fearing a brand new night show, an even more magical festive atmosphere in Hogsmeade and more.
Outside of Universal Studios theme parks, Warner Bros are also bringing the magic of Harry Potter to major shopping venues this Christmas, which you can read more about here.