J.K. Rowling Writes Foreword to Henry Fraser's 'The Little Big Things'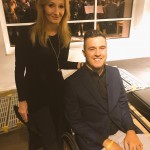 Sep 08, 2017
Lumos are currently hosting a Crowdrise campaign (#LumosCrowdrise), which offers fans to win some great prizes including a chance to meet the cast of Fantastic Beasts on set, and a beautiful, signed artwork of Newt Scamander by the hugely talented mouth artist, Henry Fraser.
My mouth painting of Newt Scamander from @FantasticBeasts.

It has been signed by the cast and will be sold to raise money for @lumos. pic.twitter.com/0D70bSSk67

— Henry Fraser (@henryfraser0) August 15, 2017
Fraser was involved in an accident that left him paralysed from the shoulders down when he was 17, but his incredible strength and perseverance has seen him go on to become a brilliant public speaker, and create extraordinary artwork – with his mouth! Just take a look at a Harry Potter piece here – Henry says on his website that he's always been a fan of the books, and audiobooks.
Yesterday, Henry published his book, The Little Big Things, which features a foreword by none other than J.K. Rowling herself! The book is Fraser's memoir, giving inspiration on finding life's silver linings, accepting oneself and more:
The day is finally here! My book is OUT!!! 😁📚

Available at:
Amazon – https://t.co/60z5PUv3Zo
Waterstones
WHSmiths
Independent bookstores pic.twitter.com/Dx9RD6NX5S

— Henry Fraser (@henryfraser0) September 7, 2017
It was an honour to write the foreword to #littlebigthings. Happy publication day, Henry. You're a daily inspiration. https://t.co/CgZmpGkqNN

— J.K. Rowling (@jk_rowling) September 7, 2017
In the foreword, J.K. Rowling speaks of how she found Henry's story whilst checking 'details of a fixture mentioned in a whodunit' she was writing (Cormoran Strike, we imagine!). She summarises his bravery:
"We humans are more fragile than we like to think. Fate forced Henry Fraser down a terrifying path for which no preparation was possible. He had to find his own way back to a life worth living and in doing so he revealed himself to be a person of extraordinary perserverance, strength and wisdom. He pushes himself both physically and mentally, exceeding expectations in every direction, raising money for causes he cares about, his art becoming more accomplished with every drawing and painting he produces.
Above all, Henry is living proof that acceptance and aspiration are not mutually exclusive"
Read the full foreword on the 'Look Inside' feature on Amazon, where you can also order the book.
Jo also attended the launch, which we can imagine was pretty surreal!
A privilege to be at the launch for The Little Big Things by @henryfraser0! #littlebigthings pic.twitter.com/JkVzdS7s77

— J.K. Rowling (@jk_rowling) September 7, 2017
Congrats to Henry on the book launch! Order the book on Amazon here, and read more on Henry's Newt Scamander artwork and the Lumos Crowdrise campaign here.