BBC Documentary to Feature J.K. Rowling Interview, British Library Exhibition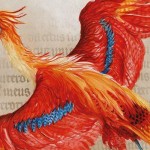 Sep 10, 2017
The BBC is gearing up for the release of its first Harry Potter documentary since 2001, when it released an interview with J.K. Rowling in which several pages of her early notes were unveiled. (Missed that one? Read a transcript of the 2001 interview, or watch the television special!) The new documentary will not only include a new interview with Rowling, but will go behind the scenes of the Harry Potter: A History of Magic exhibition at the British Library. This excited response to the news from the British Library was retweeted by Pottermore today:
Thrilled that our #BLHarryPotter exhibition will be featured in a documentary on @BBCTwo. https://t.co/td7X1rB75k

— The British Library (@britishlibrary) September 11, 2017
The British Library exhibition will open on October 20th, and will showcase magical items, artifacts, and rare books from the British Library's collection as well as drafts and drawings from the desks of JK Rowling and illustrator Jim Kay. Learn more about Harry Potter: A History of Magic, and how to see the exhibition in the US here.
The documentary will include interviews with people involved directly in the books and films, as well as fans and everyone in between. Learn more here, and stay tuned to Leaky for more info!