"A Magical Yearbook" now available for pre-order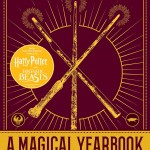 Sep 20, 2017
We've kept you apprised of 2017 Harry Potter-related book releases, but this one slipped between the seat cushions on the Hogwarts Express.  A Magical Yearbook: Cinematic Journey: Imagine, Draw, Create has a somewhat unwieldy title, and we haven't been privy to an inside look, but it appears to be a Fantastic Beasts-based activity book, similar to last year's Harry Potter: Hogwarts: A Cinematic Journey.  Here are some photos from that earlier book:
A Magical Yearbook is also pitched at a young audience.  According to its Amazon description, this new hardcover book will feature photos from all of the Harry Potter films, including Fantastic Beasts and Where to Find Them, full-page posters, and an 8-page fold-out Wand and Spells Guide.  Wow!  So, even if you are over 8 years old, even if, let's say, you are a Harry Potter fan old enough to be buying it for your own 8-year-old (or 18-year-old), you will want to add this book to your collection.  C'mon, who doesn't practice spells at home?
A Magical Yearbook will be released on November 28, 2017.  It is available for pre-order on Amazon now.
(Sorry, we won't be sharing the release date of the travel guide the Malfoys are writing for their wealthy friends, Fantastic Beasts and Where to Eat Them.)