J.K. Rowling and Cursed Child Creatives Talk Broadway with CBS Sunday Morning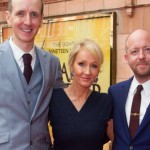 Sep 24, 2017
Broadway here they come! The nine-time Olivier award-winning  Harry Potter and the Cursed Child is headed to the Great White Way and the play's creative team appeared on CBS Sunday Morning to discuss nineteen years later and its trip across the pond.
J.K. Rowling, acclaimed Cursed Child playwright Jack Thorne, and famed director of the production John Tiffany, met with CBS correspondent Mark Phillips to talk all things Potter in anticipation of the Wizarding World on Broadway this season and the play's opening next spring.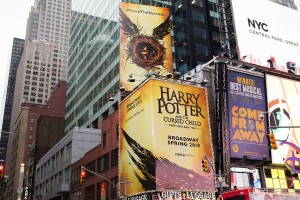 Host Jane Pauley opened the theater segment of the program with this homage to our favorite author,
"Of all of the shows opening on Broadway, the most talked about this season bears the most famous name in wizardry."
The interview began with a look back to the epilogue of Deathly Hallows, explaining to viewer where the original story ended and the stage play begins nineteen years later on Platform 9 ¾ with the adult Harry Potter sending his son Albus off to Hogwarts. Rowling discussed the fact that she didn't originally intend to continue the celebrated tale, but the collaboration with Thorne and Tiffany felt right, as did the ability to share Albus's story and the burden he carries as the son of the Boy Who Lived.
The three creatives talked about the importance of "Keeping the Secrets" once fans see the stage production but did give a little insight into the plot of the two-part, five hour production including the use of special effects in the films versus utilizing the audience's imagination for the stage play.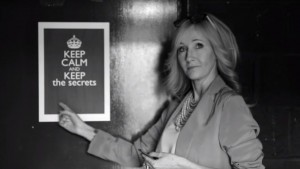 Phillips asked Rowling if her fans ever rebel against her creative decisions, which may refer to some that have not viewed Cursed Child as canon. She replied that she is definitely aware of times her audience isn't happy, especially now with social media, but she thinks it's important as a writer to "hold tight to your vision" and joked about what her Twitter feed looks like during those instances.
She wrapped up the interview with Phillips sharing her pride in the play, but also telling him that this is the end of Harry's story for her; she doesn't intend to see Albus's son go to Hogwarts any time in the future!
The entire CBS Sunday Morning interview can be seen here:
.@jk_rowling, @jackthorne and #JohnTiffany talk about bringing magical #CursedChildNYC to Broadway @HPPlayNYC#SundayMorning pic.twitter.com/yRqInrIZhN

— CBS Sunday Morning (@CBSSunday) September 24, 2017
Are you planning to see Harry Potter and the Cursed Child at the Lyric Theater on Broadway? Tickets go on sale October 12, 2017 and Ticketmaster's Verified Fan pre-registration opens October 1-5. For more information on the Verified Fan process check out Leaky's coverage here or go to the Cursed Child website here:
There's just 1 week to go until registration opens for the Broadway production of #CursedChildNYC! https://t.co/JjPFcQjbCp pic.twitter.com/Q3Niot5Gyi

— Cursed Child NYC (@HPPlayNYC) September 24, 2017