Happy Birthday, Ezra Miller!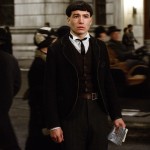 Sep 30, 2017
Today marks the 25th birthday of Ezra Miller, who portrayed Credence Barebone in the first Fantastic Beasts film, and will reportedly return in the next instalment!
Ezra has been busy on the sets of Fantastic Beasts 2 and Justice League this year, roles he told us were letting him live out two of his childhood dreams. After managing to persuade Warner Bros to let him portray both Credence and Barry Allen (two characters felt particularly attached to), Ezra 'wow'ed us on screen with his haunting portrayal of a tormented Obscurial, a performance he said came from being bullied as a child:
"I experienced my fair share of bullying and teasing as a youngster with strange interests," he told us. "I also had a speech impediment when I was a kid, which made me an easy target, because I was the Quirrell [from the Harry Potter films] on the scene.
"And when I started going through puberty and having sort of confusing feelings about wanting to kiss people [laughs].  So, yeah, there were moments in my life where I felt ostracised from my contemporaries or from my peers."
Credence is, of course, a HUGE Harry Potter fan, sharing his love and knowledge of the series with anyone and everyone – he even schooled Josh Horowitz that one time:
We can all relate to the passion he feels for Harry Potter, but it's the understanding he has for what it takes to play Credence which is particularly moving. He spoke to us prior to the release of the first movie, and shared the level physical acting required to portray such a tormented character:
"That can actually be very helpful – words lie while your body tells the truth, right? The body knows the truth, the body remembers everything, while the mind forgets. So for me I think that it's a huge gift for an actor to be without dialogue.
"Some actors don't feel this way. But I really do, I would love to make a silent movie at some point."
He also shared an especially brilliant opinion on the power of story (after equating J.K. Rowling to Shakespeare):
"I put all of my faith in the power of story. It would be a silly question to ask a child if a story impacts how they act or think, because we know that stories effect children and change the way that they think, we know stories effect us and change the way that we think. All we have is our perspective, and actually, everything we know is the narrative that we create – the story that we tell. Collectively and personally. There's nothing but story."
He's a wonderfully open and eccentric actor, who has deserved every major role he's received thus far. We've loved welcoming Ezra Miller to the cinematic wizarding world, and were delighted to hear that he's been with us as a fan this entire time. We've loved hearing his offhand references to the series in interviews, and hope we get to see more of him in Fantastic Beasts 2. Join us in wishing Ezra a very happy birthday!