Happy Birthday, David Yates!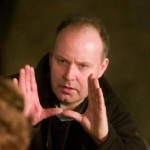 Oct 08, 2017
Today (8th October) marks the birthday of director David Yates, who is currently guiding the actors of Fantastic Beasts 2 on set of the next instalment in the cinematic wizarding world.
Yates began his journey on the Potter films with Order of the Phoenix. Voldemort was back (well, at least Harry knew he was), and the story had taken on a much darker, mature tone. The films needed to balance the detail and richness of J.K. Rowling's writing within the time constraints of a movie – as the biggest book in the Potter series, this was no mean feat for a first-timer!
Yates took it in his stride, and delivered some particularly moving scenes, with the bond between Dumbledore's Army in particular leaving us wanting to see more.
Various cast members have spoken highly of Yates's approach to directing, with Daniel Radcliffe noting his attention to detail, and his ability to encourage actors to get inside their character's head,
Yates is one of only two directors (the other being Chris Columbus) to have directed more than one Potter film – it takes stamina, that's for sure:
"It is very hard work," said Yates, "simply because there is so much going on in the stories and so many characters to be attended to. But once you do get involved, you are made more confident by the fact that everyone else has been doing this for a long, long time and has gotten very good at it. […] And then you have a cast like this one, your only problem is feeling guilty that you can't give them more scenes, more to do. I mean, here I am working with Maggie Smith, for God's sake, and she only has a couple of scenes."
Not only directing the actors through to the end of the series, Yates then picked up the mantle of directing Fantastic Beasts, which is another mammoth task. The way the cast speaks of his directing shows his talent for drawing out emotion and vivid connections to the period and very real, human elements they're dealing with in the midst of such fantastical stories. Dan Fogler said of him:
"We're working on one of the largest franchises in the world – he makes it feel like it's this little intimate movie. It's the best creative experience I've ever had with a director. That man is an angel in my life; he changed my life."
Ezra Miller had a slightly different take:
"You should know that David Yates is a psychic … He is inside your mind when he is directing. He bounds up to you with these bright, shining eyes, happy like a child, and tells you exactly what to do. He's a joy. He's feeling exactly what needs to happen but is as cool as a cucumber, because he knows you can do it and he shows you how."
Read more here.
Time and time again, Yates has proved that he's wildly talented as a director, and his immense work ethic and dedication (along with the incomparable mind and storytelling of J.K. Rowling and the rest of the cast and crew, of course!) has pulled us through into an entirely new set of stories, and we can't wait to see what's coming next.
Join us in wishing Yates a very happy birthday, and share your favourite moments from the films he's directed in the comments!