The 'Fantastic Beasts' Interviews: David Yates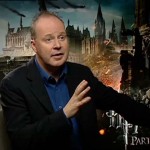 Oct 11, 2016
Pottermore have been conducting a series of interviews with the cast and crew of Fantastic Beasts in the run up to the movie's release next month. The next in line is David Yates, Director of not only the story of Newt Scamander's ventures in 1920's New York, but of the last four Harry Potter films. This man knows how to bring J.K. Rowling's world to life, and it appears he's not tiring of it either!
"David doesn't wander around set: he is purposeful, excited. He is, in everything he does, meticulous yet subtle"
The Pottermore Correspondent opens with this description of Yates, provided in part by the shining interviews with cast members vocalising their gratitude to David's methods:
'David has such a lovely manner,' Eddie Redmayne tells me. 'He has an incredible kindness and warmth. He brings out the best in people. When you're the director on a film like this, you are juggling so many departments. It's like you are having to man this huge liner of a ship.
… 'What's wonderful about David is that, for all that chaos, he is the strongest of acting directors. I've just enjoyed his company so much.'
Alison Sudol calls Yates a storyteller, and a very visual director – a theme repeated in many cast members' descriptions of him:
'He can see everything and he makes you feel like a little kid listening to a bedtime story when he's telling you about a scene.

'He's very gentle with us. He allows us a lot of freedom and space… but you feel the responsibility because you've been given that freedom. He's like, "I trust you." He's always wonderful, he never raises his voice… He knows what he wants and is very clear. He gets the performance he needs, but is never anything but lovely about it.'
Katherine Waterston previously told Pottermore how David's knowledge of the world creates a 'faith in the process' evident to the cast and crew around him:
"He's like, "We're going to take a left here, avoid the quicksand." You know, he's really got this kind of shorthand and a comfort with the world, he's not precious with it. There's something really comforting in that.'"
Dan Fogler repeats this sentiment, saying that the comfortable, easy atmosphere David creates makes acting feel like being in a 'playground':
"Yes, we're working on one of the largest franchises in the world – he makes it feel like it's this little intimate movie"
It's the best creative experience I've ever had with a director. That man is an angel in my life; he changed my life."
Ezra Miller has a slightly different take on his directing – a magical conspiracy theory, if you will:
'You should know that David Yates is a psychic … He is inside your mind when he is directing. He bounds up to you with these bright, shining eyes, happy like a child, and tells you exactly what to do. He's a joy. He's feeling exactly what needs to happen but is as cool as a cucumber, because he knows you can do it and he shows you how.
He then gives a small anecdote, hinting at the sort of character Credence is, and the level of acting required to deal with his storyline suggests we're dealing with a character who's been through a lot:
'So, there's a part we're shooting where it's dark and I really need to draw on my own life experiences, so I'm holding these memories in my mind during a take to get me to the right place for Credence. When we cut, David comes up to me and his one note is, "I think we're getting too personal here. That was too Ezra and we've just got to get back to Credence." I promise you, the man is a psychic.'
Yates himself gave his take on these interviews. The pressure is there – constantly, we imagine – but David takes these movies in his stride and gives his cast and crew a filming experience to remember, because at the end of the day it's a dream job, and he's loving every second of it:
"It's such a fun thing to be doing, making these films. It's never stressful. And kind? How could you not be? Why wouldn't you enjoy this process and the game we get to play together? It's so much fun. It's like being nine years old and someone gives you a big train set and they say, "Go on, have fun." And so you do. "And remember to bring your favourite friends to play!" The studio's supportive, my producer is lovely, J.K. Rowling is lovely, my cast is lovely… Everyone is very kind, too, so it just kind of works. It's easy.'
Read the full interview over at Pottermore here!