8 Things We Learned From 'Fantastic Beasts' Star Dan Fogler at LeakyCon 2017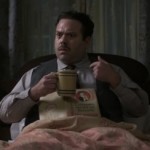 Oct 15, 2017
Last month, Dan Fogler took part in a Q&A panel at LeakyCon 2017 in Dublin to talk about Fantastic Beasts, and certainly did not disappoint!
Between telling us that he'll be rocking his moustache for the next few years ('I've become a real moustache connoisseur') and inviting Q&A host Josh Wittge to do a podcast with him, Dan gave us insights into everything from his career to his experience on set of Fantastic Beasts.
It was one hilarious panel – true to his character – and there was even an impromptu interruption by Newt himself! Well, kind of…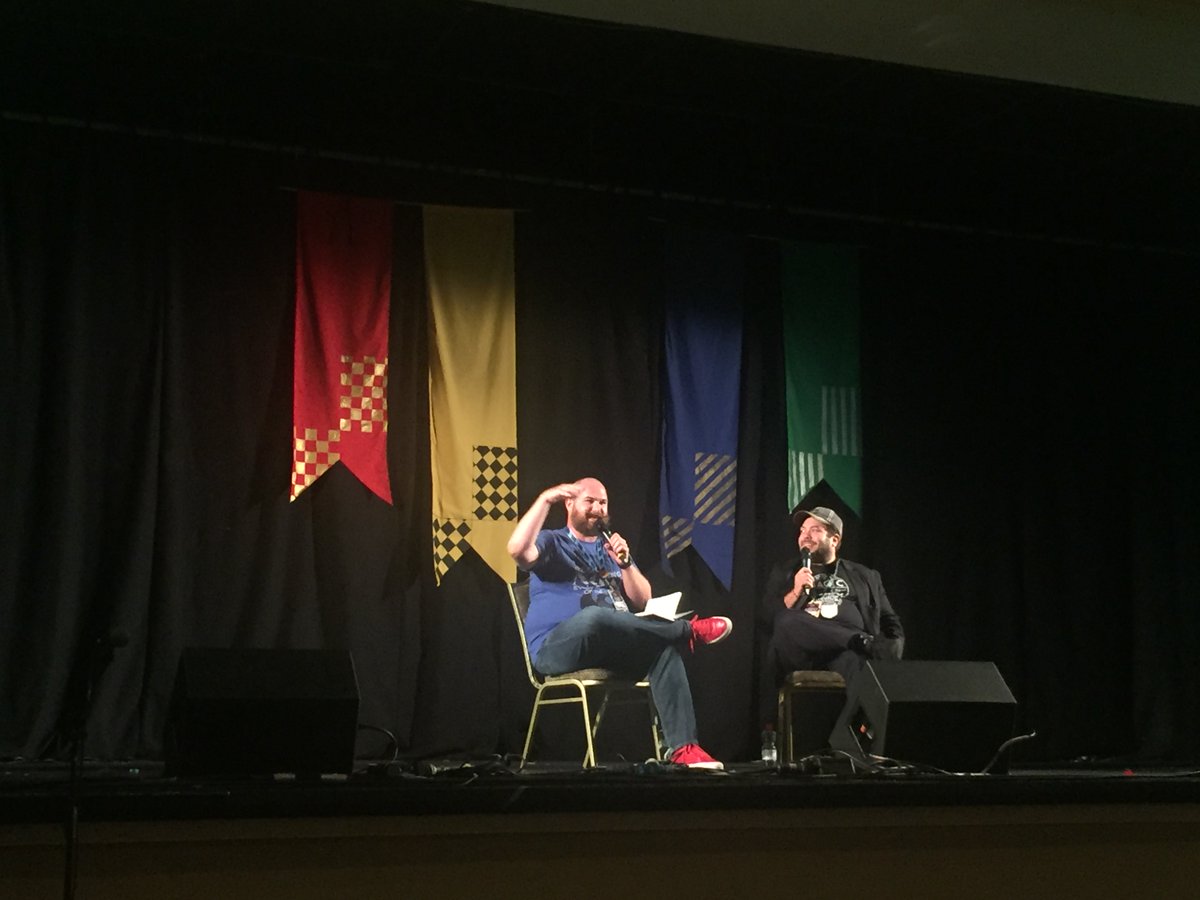 1) His career has come 'full circle':
When asked about how he got into acting, Dan revealed that his first encounter with trying to act was through cartoon comedy as a child:
"I was very young and I was watching Warner Bros. Looney Tunes, like, 'One guy is doing all of these characters… Wow.' So my first introduction to acting was through those characters, and trying to see how many of their voices I could do."
He then discussed his involvement inThe 25th Annual Putnam County Spelling Bee – the Broadway musical which eventually won him a Tony Award:
"That got me a load of attention, then eventually a Tony Award […] You have to send message to the world – comedycomedycomedycomedy – let them know you as The Comedy Guy. After a while I was just like, 'I'm gonna do whatever I wanna do.'"

"[My career has come] full circle. I've had a lot of synchronicities. [Speaks to crowd] You guys out there know what synchronicities are? Like, real magic?"
2) He's a Hufflepuff:
Dan proudly told the audience that he had been sorted into Hufflepuff, and his  Illvermorny house was Puckwudgie, which he said were basically "shades of the same thing".
3) He let us in on the story of him getting cast:
Upon being asked about the story of being cast as Jacob Kowalski, Dan immediately launched into story-mode. He'd already discussed his career coming full-circle, but the story of his casting in Fantastic Beasts takes 'synchronicities' to a new level (he's also pretty great at imitating director David Yates):
"You guys are gonna dig this… this is funky.
"It's years later – it's the tenth anniversary of Spelling Bee. [James] Lapine and Will Finn asked me to do this thing called Encores on Broadway – they get all these wonderful people together and you have a week to put together a Broadway show.
"So I'm playing A New Brain. The part I'm playing is essentially the Warner Bros. frog. So, in a thanks from the universe I get a call from Warner Bros. while I'm doing the show, and they say, "Come and do this audition for a kind-of prequel spin-off of Harry Potter." Just a few weeks before that I had wished on a star [for a big break].
"My hair was shaggy, I put a costume together – I got a newsboy hat, some 'hobo' gloves I thought [Charlie] Chaplin would wear, some suspenders. It was totally, obviously wrong, but it made me feel like I was a character. I went in, did the audition, walked out and was like, "Oh my god, I'm brilliant! They're gonna call me!" 
"And then they didn't. A lot of time passed but out of the blue they call me back again  when I'm in the middle of doing a Spelling Bee reunion. They ask me to come out and do a screen test and I meet Eddie and Alison. I brought the same costume. David Yates was just like, [gentle voice] "Maybe… Maybe don't do the hat this time."'
"Later I go to Comic-Con in San Diego. I didn't have much going on. I had my comic book, Brooklyn Gladiator, and some preview books I was gonna sell. Usually the reason you wanna be at Comic-Con is because you got a big movie – I just had my comic book. 
"I get the call, and my manager says, 'Where are you right now?' and I tell her Comic-Con, and she goes, 'Well Comic-Con's gonna be a lot different next year.'"
"And then I swear I started hearing Superman music."
4) Dan is a pretty great Lumos ambassador: 
Opting for a Lumos t-shirt for his panel, Dan took the opportunity to plug their campaign, after an incident in which a tiny child dressed as Newt who was rather upset and crying rather loudly ended up walking onstage: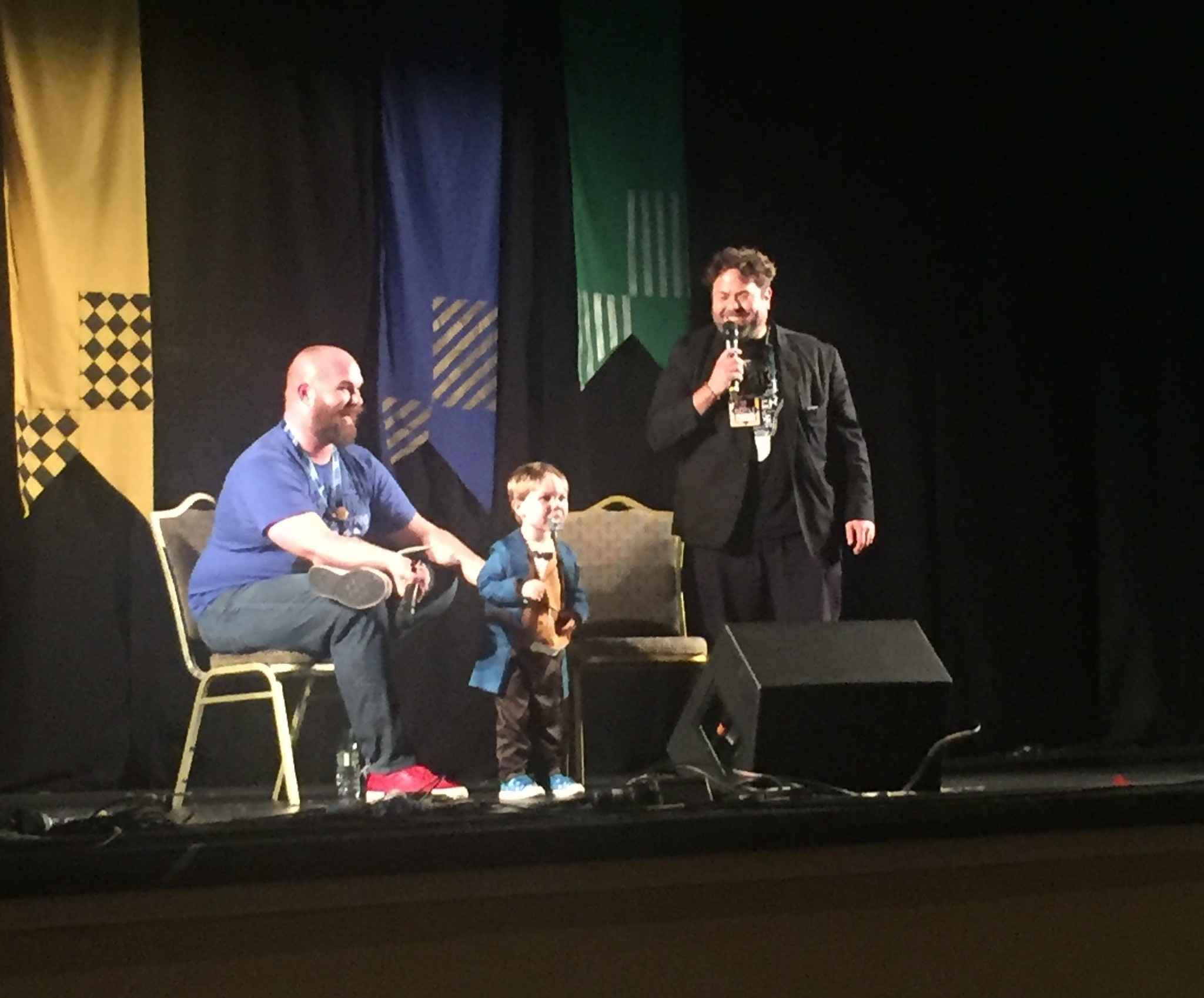 "You okay pal?"
"I guess not. Take him down to the suitcase. Let him hang out with the mooncalves, that'll calm him down"
"That's my moment to plug Lumos. Save the kids, because they're lovely – they're like lil Buddha's, man. J.K.'s foundation. Support it"
The wonderful @mrdanfogler wearing his Be The Light tee on-stage at #LeakyCon – get yours with #LumosCrowdrise https://t.co/y0RnzWMTJ0 pic.twitter.com/4AGuCl8YjS

— Lumos (@lumos) September 2, 2017
5) It was Jacob's 'heart of gold' that attracted Queenie: 
We're all aware of Jacob's charm in Fantastic Beasts, stemming entirely from his unrelenting sweetness – and his love of baking, of course. Who wasn't charmed by those magical creature creations in the last scene!
"He's got a heart of gold, and she just sees it from across the room. The guy's been through hell – he went to World War One. He goes through hell and what is his philosophy when he gets back? He's not misanthropic. No. He want's to heal the world with cupcakes! That's like, the sweetest thing in the world."
"So [Queenie] sees that, she smells… cookies. In her heart, she sees someone who's such a lovely guy."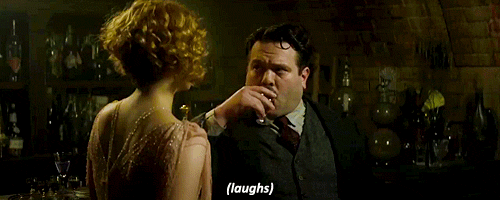 6) He was stunned the first time he saw Alison Sudol: 
"My god, when I saw her the first time under the lights… She's got that skin – she's luminescent. 
"She looks like an angel, and when I saw her with the blonde wig she looked like Carilyn Monroe – Marilyn's cousin or something. She is such a sweetheart, she's just an angel in real life." 
"We were both in the same boat – we came together in that relationship. What J.K. does is she creates these iconic characters that you can fit into any hero's journey. It's in our DNA to know those characters."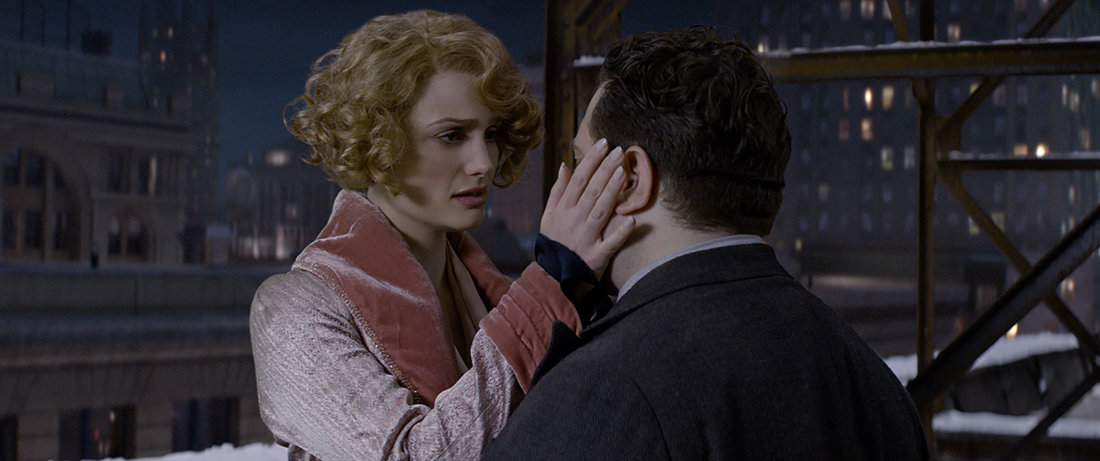 7) He revealed what was going through his head when they filmed the scene where Jacob's memory is erased:
"Once we were there, and once the rain was going and everything. I think there's a chemical thing that happens – it's osmosis. It's raining and the liquid just want stop come out of your eyes. It's just one of those moments. 
"They tell you in acting school to equate the feeling with something from your real life. That for me was such an innocent thing: you've gone to sleep-away camp for the first time, you've had your first kiss or whatever, and some magical moments. Firsts. 
"And that's what happens to Jacob. He falls in love in a very short amount of time. To say goodbye to that- [baby cries out suddenly] yes, it's very sad!"
'There's no dialogue, it was classic silent comedy, I loved that scene' – @mrdanfogler on the suitcase scene in @FantasticBeasts #LeakyCon

— The Leaky Cauldron (@leaky) September 2, 2017
8) Working on Fantastic Beasts is a dream come true for Dan:
"You're never prepared for how huge it is. I feel like I've won the lottery. Like I've got the golden ticket and I get to go to Willy Wonka's Chocolate Factory. 
"This is huge. As an actor, you dream of being a part of something like this […] When your dreams start to come true, you just dream bigger."
'I come home to find my one-year-old chewing on my @OriginalFunko doll, it's surreal' @mrdanfogler on @FantasticBeasts #LeakyCon pic.twitter.com/1EBLEAdeZn

— The Leaky Cauldron (@leaky) September 2, 2017
It was fantastic to hear from Dan Fogler at LeakyCon, and we can't wait to see what he's been getting up to on set of the second movie. Were you at LeakyCon this year? What was your favourite memory???
We'll be bringing more panels and interviews from Evanna Lynch, some of the cast of Dumbledore's Army (Evanna, Alfred Enoch, Katie Leung and Afshan Azad), Hero Fiennes-Tiffin, graphic designer Miraphora Mina, head prop master Pierre Bohanna, storyboarder Jim Cornish and more – stay tuned!
Also, incase you missed it, LeakyCon recently posted a teaser at next year's event – what do you think it could mean?