A New Updated Edition of J.K. Rowling's Bibliography From Bloomsbury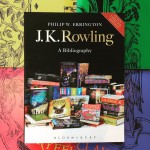 Oct 27, 2017
Calling all J.K. Rowling aficionados! Have you ever imagined seeing every single item written by your favorite author combined into one Grawp-sized volume? Then make room on your bookshelf for J. K Rowling: A Bibliography: Updated Edition from Bloomsbury Publishing.
This extensive compendium of J.K. Rowling's writing covers every edition of each of her books, as well as any other material penned by her, including original contributions to other published works and even editions of the Daily Prophet. It's like a magical walk down Privet Drive for a Potter fan to be able to view 20-30 different versions of each of the seven Harry Potter books cataloged neatly together. Readers will be just as giddy to see 5-10 editions of each Potter companion book, as well as at least that many versions of Rowling's later adult novels, The Casual Vacancy and the first three installments of the Cormoran Strike Series.
Since the last printing of the bibliography in 2013, over 40 new editions have been published, including the 2014 children's versions of the Potter series as well as the illustrated editions of Harry Potter and the Philosopher's Stone and Harry Potter and the Chamber of Secrets with artwork by Jim Kay. The illustrated Prisoner of Azkaban, which was released earlier this month as covered by Leaky, didn't quite make this list. Also included in this release, is the screenplay for Fantastic Beasts and Where to Find Them and the first edition of the Harry Potter and the Cursed Child playscript.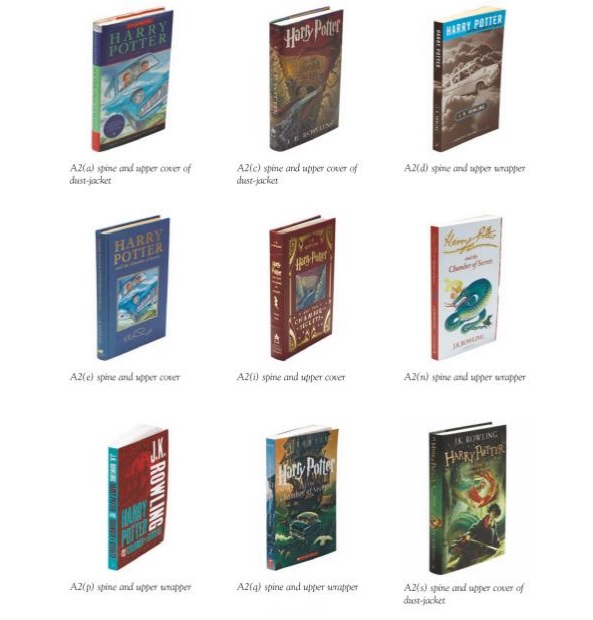 The maestro herself begins the volume with these words for the author,
"As someone who respects comprehensive research, I am in awe of the level of detail and amount of time Philip Errington has dedicated to this slavishly thorough and somewhat mind-boggling bibliography. Even in my most deluded moments, I could have never anticipated that an idea that occurred to me on a train to Manchester could have spawned this amount of verbiage and prose in every language under the sun. I am humbled and deeply flattered." J. K. Rowling
One of the entries near to our Leaky hearts is the New York Times Best Seller Harry: A History written by The Leaky Cauldron's very own webmistress, Melissa Anelli. Rowling wrote the foreword to Anelli's 2008 true story about the phenomenon of Harry Potter and life inside the fandom, which also includes exclusive interviews with the literary genius behind our favorite boy wizard.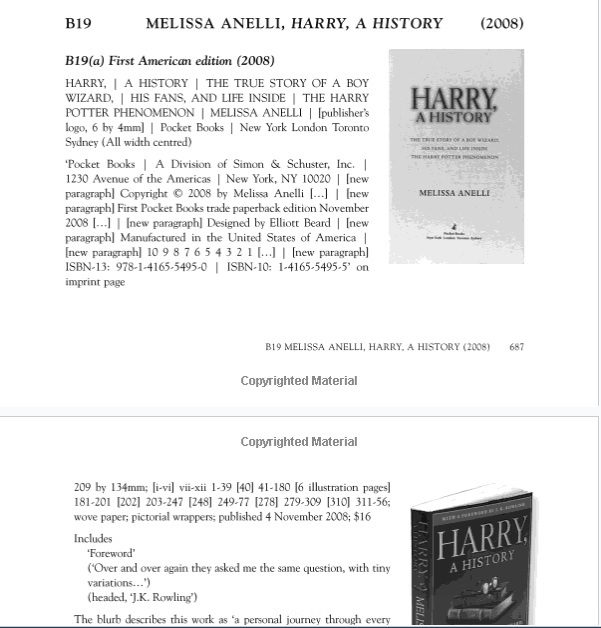 In addition to information on hundreds of Rowling's books, the 2017 release includes publishing history of her work as well as material on Rowling at auction. Philip W. Errington, Director of Books and Manuscripts for Sotheby's London and author of Rowling's bibliographies, was involved in two highly publicized auction events featuring Rowling's work. In 2002 she hand wrote a 93-word card that gave clues into the long-awaited fifth installment of the series, Order of the Phoenix, which sold at auction for £28,680. A fan group at the time raised funds to bid on the card and Anelli planned to post the words on Leaky had they won the bid. CNN coverage of the event can be found here.
Again in 2007 Errington set a world record for a bid on a modern manuscript and children's book when an autographed manuscript of Tales of Beedle the Bard was sold to benefit Rowling's children's charity Lumos for £1.95m
Is J.K. Rowling's newest edition bibliography a must have for your collection? If so, it can be found on Amazon here.