It's John Cleese's Birthday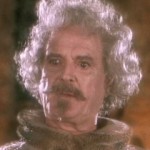 Oct 27, 2017
Actor John Cleese, who played Nearly Headless Nick—or, as he preferred to be called, Sir Nicholas—in the Harry Potter films, is 78 today.  Let's hope his birthday celebration has better food and music than Nick's Deathday party, although I suppose you really can't beat the headless hunt for entertainment.
English actor Cleese rose to prominence as one of the founders of the Monty Python comedy troupe, back in the 1960s.  He followed it with the sitcom Fawlty Towers, and then a number of feature films, including A Fish Called Wanda.
Cleese is fond of lemurs and had the honour of having a species of wooly lemur in Madagascar named after him, Avahi cleesei (which sounds a bit like a spell).  This is in keeping with the trend of scientists choosing Potter-related names for species.  So far, we have a spider named for Aragog, a wasp named after Lucius Malfoy, and a lizard called after the sectumsempra spell.
Let's all wish John Cleese a happy birthday.  But we hope it doesn't go to his head.