UPDATED: Evanna Lynch Announces 'Disco Pigs' NYC Run & Launches Vegan Podcast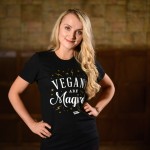 Nov 08, 2017
Two exciting announcements from Evanna Lynch will delight vegan-curious, theater-loving Harry Potter fans – which we're sure there are plenty of. Evanna will be reprising her role in Disco Pigs for the New York run of the show in early 2018, and her vegan podcast – The ChickPeeps – launched its first two episodes today!
**UPDATED: Evanna will also be starring in Indigo Valley – details below!**
The Irish Repertory Theatre (132 West 22nd Street) will host the 20th anniversary production of Disco Pigs beginning with previews on January 5th, 2018 (officially opening January 8th) and a limited run through to February 18th. Tara Finney Productions announced the move to New York yesterday, which will also see costar Colin Campbell reprise his own role.
The show – originally written by Enda Walsh and shown at the 1997 Edinburgh Fringe Festival – ran in Trafalgar Studios in London this summer, and received wonderful reviews. Evanna spoke of her role in the show at LeakyCon, and Katie Leung spoke highly of her performance on the Dumbledore's Army panel, which you can listen to here.
I. Am. SO. Excited!! https://t.co/WPqwEk3gww

— Evanna Lynch (@Evy_Lynch) November 7, 2017
A summary of the play is as follows:
"Born at the same time on the same day in the same hospital, Pig and Runt have been inseparable ever since. They speak in their own language, play by their own rules, and create a world for themselves in which boundaries blur between truth and illusion. Until, on their seventeenth birthday, they discover something more. As night falls, and the disco and drink take hold, they spiral violently out of control."
Watch the trailer from the London production here, and an interview with Evanna on the role here. We'll be posted more interviews and panels from her time at LeakyCon soon, so stay tuned for updates!
The performance schedule for DISCO PIGS is as follows: Wednesdays at 3pm and 8pm; Thursdays at 7pm; Fridays at 8pm; Saturdays at 3pm and 8pm; and Sundays at 3pm.
Tickets to the show range from $50-$70. Book tickets to Disco Pigs in New York at the Irish Rep Theater's official website here, or by calling the box office at 212-727-2737.
Evanna also debuted her vegan podcast with Harry Potter's Robbie Jarvis (also tech goblin and vegan activist), The Fantastic Beast Foundation's super-active activist founder Tylor Starr and ocean conservationist, vegan supporter and (as Evanna puts it) authentic witch, Momoko Hill.
The podcast is upbeat, super fun and informative and has a cute intro jingle that reminds you to not eat your friends – they're also going to do a Harry Potter themed episode in future, and said they'd love to interview J.K. Rowling on the show! The group discuss their introductions to veganism and activism in general in the first episode, and then chat to Vegan.com's Erik Marcus about the ups and downs of changing your lifestyle, how to make it easier and healthier for yourself, the secrets of great activism and how to conceptualise a sustainable future. If you're at all interested about conservation, environmental issues, animal welfare, nutrition, wellbeing or basically anything related to being vegan, we're sure you'll love the podcast. Listen to the first two episodes here and let us know what you think.
Congratulations to Evanna, Robbie, Tylor & Momo on a successful launch! Do you have any Harry Potter inspired vegan recipes to share? We'd love to hear them!
My podcast dropped today! To celebrate and elucidate all things I love about the vegan lifestyle. Listen/download here https://t.co/mKuJeB8Mzu (also why is twitter not cutting me off from babbling ceaselessly into infinity this is a terrible idea what have you oh, Ah, ok-😲😯)

— Evanna Lynch (@Evy_Lynch) November 8, 2017
**UPDATE: Evanna will also star in Indigo Valley**
Make that THREE exciting announcements from Evanna Lynch this week.
Evanna will also be starring in independent drama Indigo Valley, a wilderness story about a newlywed couple joined by an estranged older sister (an actress who has recently been released from rehab) on a hiking trip in Iceland, based on a short film by Jaclyn Bethany, who will be starring in and directing this film:
"Bethany will play the older [estranged] sister and Lynch will portray her newlywed sister. Jealousy, insecurity, and sexual tension run high in the desolate landscape of Iceland, highlighting the tumultuous future these three people face."
Read more here.