More 'Harry Potter' Merchandise for Your Christmas Wish List!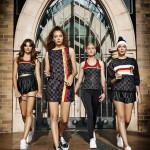 Dec 17, 2017
We're not ashamed to say we've shelled out a fair number of galleons for Harry Potter-themed merchandise over the years. From pillow shams to blankets to travel mugs and House socks, t-shirts, and robes, there's enough out there for the Christmases and birthdays of avid fans for years to come, and we are NOT complaining about that! We're glad to report that some new products have come on the market–and just in time for you to make a few last-minute additions to your wish list.
Comicbook came across a new line of Potter jewelry and accessories by Merchoid earlier in the week, and there are some charming must-haves in the bunch:
Harry Potter: Just Wand-ering Hair Sticks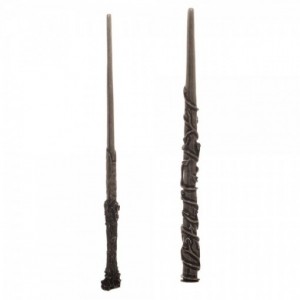 These hair-stick replicas of the wands belonging to Harry and Hermione would be great for every long-haired fan. Not only will your hair get a magical upgrade, you'll also have a wand or two at the ready should the need arise!
Harry Potter Jewelry: Earrings, Necklaces, and Rings
Merchoid offers some lovely necklace and earring sets, as well as ring sets customized to each House (like the Ravenclaw set above). There are four separate earring sets, too: the set shown above, featuring Harry's lightening scar, the Platform 9 3/4 emblem, "Always," and the symbol of the Hallows; a set which includes the House mascots (Gryffindor lion, Hufflepuff badger, Ravenclaw eagle, and Slytherin snake) and a pair of Hogwarts letters; a set featuring a doe Patronus, Harry's glasses, and the golden snitch; and a set of the House and Hogwarts crests! Also included on this page of products is a beautiful set of House bookmarks–perfect for your favorite Harry Potter reader.
Harry Potter Bracelets and Cuffs
There's also an exciting selection of bracelets and cuffs, and unique among the group is the "Work Your Magic" wand which wraps around your wrist (shown above). There's also a variety of other items which allow you to demonstrate House pride and look chic at the same time. There are Hufflepuff (shown above), Gryffindor, Ravenclaw, and Slytherin cuffs, as well as two different styles of House bracelet sets from which to choose!
Harry Potter Liquid Luck Necklace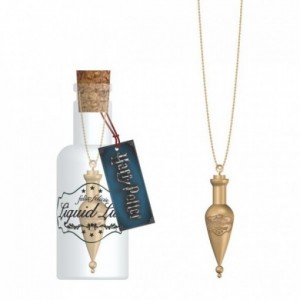 Last but certainly not least, Merchoid offers this one-of-a-kind necklace for the "lucky" fan who wants to keep a vial of Felix Felicis available at all times. It may just be for looks, but you're sure to look good wearing it, and it comes with a collectible bottle!
All of the Merchoid items are currently in limited supply, so if you want to snag any of these keepsakes for yourself or a friend, don't delay! They're flying off the shelves faster than a Firebolt after a snitch.
If that's not enough, Alex and Ani also released a new Harry Potter collection this year, which you can check out here.
"Team Hogwarts" Activewear From Black Milk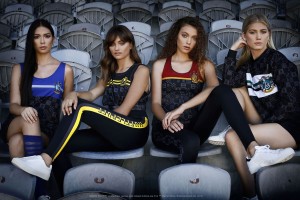 If jewelry and accessories aren't your cup of tea, there are plenty of other options. Mashable reported that Australian label Black Milk is releasing a new line of "Team Hogwarts" active wear on Dec. 18/Dec. 19 (depending on your hemisphere).
Simply select Gryffindor, Hufflepuff, Ravenclaw, or Slytherin and mix and match from there. You can pair tanks tops, leggings, and sweatshirts, or opt for a tunic dress. You'll look like you're headed for the Quidditch pitch, which makes exercise fashionable and fun! Prices range from A$70 to 120 ($53-91), so they won't empty your bank vault, but bear it in mind!
Also in the realm of clothing and accessories are Danielle Nicole's new handbag and accessory range, which you can read more about here.
Subscription boxes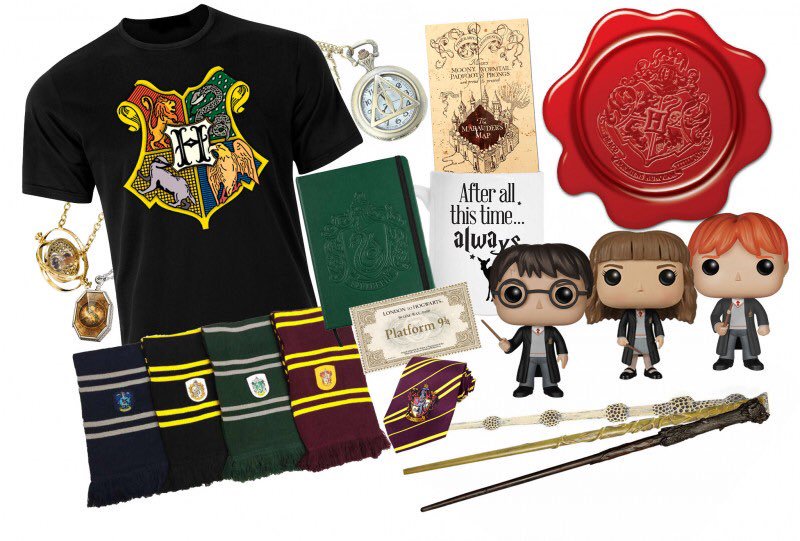 Photo from GeekGear
If you're burdened with an complete and utter adoration of any Harry Potter merchandise, a subscription box might be a great option to look into! There are a huge variety of unique options, giving you more selection outside of the usual merchandise – they also make great gifts! From house pride boxes and Fantastic Beasts merch to a monthly Ollivanders subscription, you can basically get any themed box your heart desires sent to your doorstep in a mysterious and wonderful package. Most subscription services post worldwide, and there are a range of prices to choose from. Check out Cratejoy's recent guide to Harry Potter gift boxes here, and our review of one of Lootcrate's Wizarding World subscription box here.
If you're still stuck for ideas, take a look at Funko's range of Harry Potter / Fantastic Beasts figures, try out some DIY (chocolate frog molds by CineReplicas are a fun and fast idea!) or go old-school and check out all the great Warner Bros official-official merch at their shop – the possibilities are endless!