BREAKING: More Tickets Released for Cursed Child Broadway!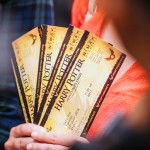 Dec 20, 2017
Big holiday news from  Harry Potter and the Cursed Child Broadway announced today. After tickets for the upcoming New York production of the play sold out in a matter of hours earlier this fall, more tickets will be released on February 7, 2018 at 11AM ET for performances from March 16, 2018 to March 9, 2019.
More tickets will be released via Ticketmaster Verified Fan on Feb 7, 2018. Registration dates will be announced soon! Please note, if you registered for the previous release you will need to register again for the chance to get ticket access. pic.twitter.com/Ru4rkmhve4

— Cursed Child NYC (@HPPlayNYC) December 20, 2017
Cursed Child's Broadway website explains that, once again, tickets will be available through the Ticketmaster Verified Fan process, which requires fans to pre-register through Ticketmaster, a system used to deter bots and scalpers from acquiring large blocks of tickets. The Verified Fan pre-registration date will be announced soon. As Leaky discussed earlier this year and fans discovered when the registration opened in October, those interested in trying to purchase tickets must have a Ticketmaster account established. We also recommend following Ticketmaster as well as Cursed Child on Twitter, if possible, for current information during the sale.
The play's website also states these details about the Verified Fan process and the February sale:
"Those who completed the registration process for the first ticket release in October will need to register again in order to be eligible to receive an Access Code. All those who register and are identified as genuine ticket buyers, not bots or scalpers, will be equally eligible to be randomly selected to receive an Access Code. The selection process is randomized to ensure access to tickets is as fair as possible and is in no way influenced by a patron's Ticketmaster purchase history. Those who receive an Access Code will have the opportunity to purchase tickets on a first-come, first-served basis on February 7, 2018".
More information about the process is stated on the Ticketmaster website:
"Fans register via webpage. We then review every registration based on Ticketmaster data and distribute unique codes via text message prior to the presale. Not all verified fans will receive a code if inventory is limited.

Selected fans are notified approximately two (2) hrs prior to the presale with a unique code to purchase."
Leaky will keep you posted on information about the sale, including the soon-to-be-announced Verified Fan registration date and possible further ticket availability after February 8 also mentioned by the play today on Twitter. In the meantime, get that Felix Felicis and your Ticketmaster login info ready to go!
If you weren't one of the lucky ones to get tickets in the first round, will you give it a try in February? Do you think the original cast will perform in the award-winning play on Broadway through March 2019? Wands crossed!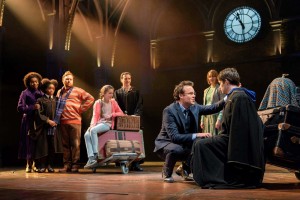 More information about Harry Potter and the Cursed Child Broadway and the next ticket release, as well as to sign up for emails from the production can be found here.