Happy Birthday, Jude Law!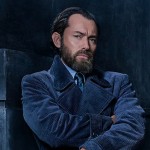 Dec 29, 2017
Jude Law first came onto the Potter scene in April with the announcement that thrilled the fandom–he would portray the young Albus Dumbledore in the Fantastic Beasts sequel, now named Fantastic Beasts: The Crimes of Grindelwald. We must wait one excruciatingly long year before the film hits theaters and we get to see Law in action as the great wizard, but we can confidently project that his performance will be captivating!
In recognition of his birthday and brilliant career to date, let's review a sampling of his previous roles which demonstrably confirm this spot-on casting.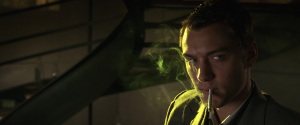 Jude Law's career began on the stages of London and Broadway before officially breaking into film with a role in Gattaca (1997) alongside Uma Thurman and Ethan Hawke. He played the part of Jerome Eugene Morrow, a man genetically engineered to be the best but who – in his estimation – failed miserably after a second place finish in a swim meet. He punishes himself daily, both emotionally and physically, for this failure and aids a man named Vincent in a desperate fraud to masquerade as a "valid" member of society. The film showed off Law's unique ability to communicate raw vulnerability and concentrated intensity with even the slightest facial expressions.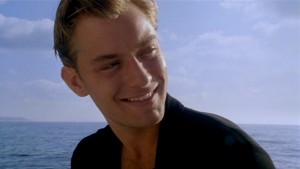 The same year he scored a supporting role in Midnight in the Garden of Good and Evil and two years later garnered fame and critical accolades for playing Dickie Greenleaf in The Talented Mr. Ripley (1999). The story of deception and intrigue flaunted Law as a millionaire philandering playboy, bringing another facet of his talent to the screen. In particular, his mesmerizing charisma.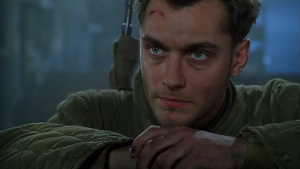 In 2001, he was cast in Enemy at the Gates as the Russian sniper Vassili Zaitsev, a role he won, according to Imdb.com, due to the expressiveness of his eyes given that he was often called to communicate emotion by facial expression alone. Here Law perfected the ability to believably draw the audience into high-stakes conflicts.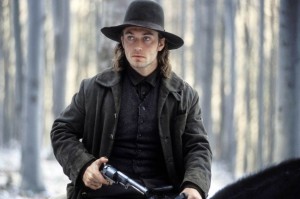 He followed the wartime drama with starring turns in A.I. Artifical Intelligence (2001), Road to Perdition (2002), and Cold Mountain (2003), for which he recieved Golden Globe and Academy Award Best Actor nominations for his portrayal of Confederate deserter Inman. The Civil War epic tells the story of the embattled and world-weary soldier's journey to return home to his love, demonstrating Law's remarkable talent and ability to embody steely determination yet again.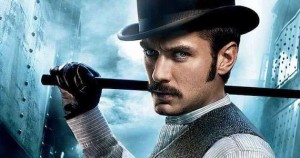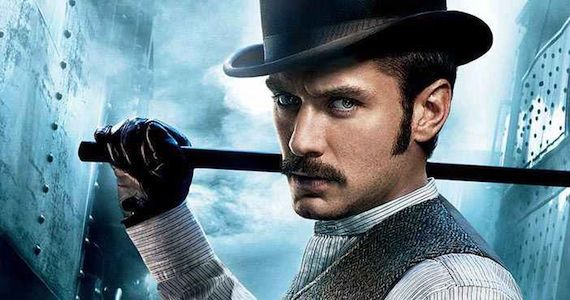 He continued to work steadily throughout the decade, closing out those stellar years by assuming the iconic role of Sir Arthur Conan Doyle's Doctor Watson in Guy Ritchie's gritty adaption of Sherlock Holmes. The period film showed off the wide range of Law's skill, including his humor, wit, and physicality.
He played off costar Robert Downey Jr. (Holmes) wonderfully, and the delightful onscreen chemistry between the two makes us excited to see how Law handles Dumbledore's relationship with Gellert Grindelwald in Fantastic Beasts! Knowing Johnny Depp's extensive filmography and ability to immerse himself into character roles, it should make for an incredible pairing–even though they will be enemy combatants rather than partners in crime.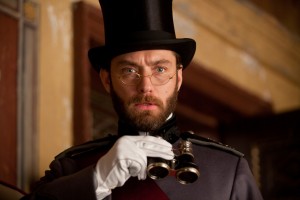 For a glimpse of Law with a Dumbledore-esque beard we need look no further than his body of work this decade and Anna Karenina (2012). The typically smooth-faced star pulled off the look, as well as the haughtiness of the aristocratic Karenin. Though we don't expect Dumbledore to be arrogant, he's an authoritative, powerful figure, and Law has the chops to bring the right amount of gravitas to the part.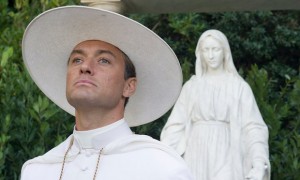 He reinforced this perfectly with his recent role in the biting satire The Young Pope (2016). In addition to preparing him to play his upcoming part with adequate presence, it also required him to examine a character who is isolated by both position and family history. Lenny Belardo (Law) grew up as an orphan before committing his life to the church. On this backstory, Law commented to The Sydney Morning Herald:
"At his heart, [Belardo] is trying to understand this sense of lack of love…A lot of the part he plays as Pope Pius is trying to understand that and, if you like, reflect his sense of solitude."
This gives Law unique insight into a character who, like Dumbledore, reaches a place of prominence and must constantly battle with past demons.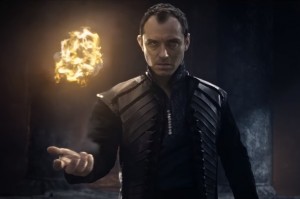 Law has also had experience dabbling in magic–though of the darker variety–as Vortigern in the 2017 film King Arthur: Legend of the Sword. In an interview with the Los Angeles Times, he considered the villainous king's internal struggle and motivations: "He's somebody who's drunk on power…He's lost in attaining a higher position of dominance at the cost of anything."
This was a situation that Dumbledore himself once faced–the allure of power and the reality of the costs associated with attaining it–and Law well understands that there is often a fine line between a villain and a hero and the choices they've made in becoming one or the other; this is knowledge that will serve him well in portraying the enigmatic wizard.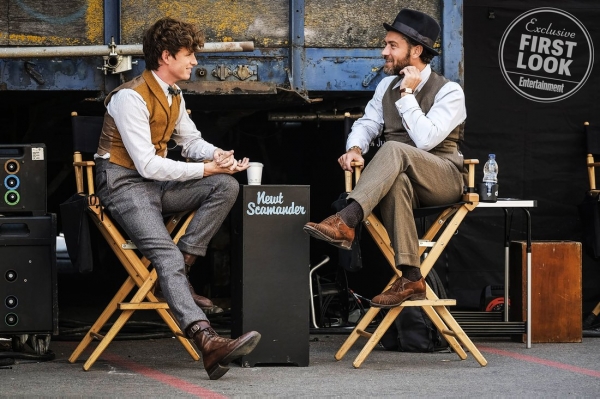 Regarding his view of playing such characters, he observed:
"I've never been particularly interested in taking parts that are one or the other…You sort of take parts that have a complexity to them and you try to bring humanity to the villains and a sort of edge to the heroes and meet all of them somewhere in the middle."
The more we learn of Albus Dumbledore's backstory, the more exciting it is to know that we have such a gifted actor cloaked with the responsibility of giving us such nuance and depth. Fantastic Beasts: The Crimes of Grindelwald looks to be an incredible film, bringing to bear all of Law's considerable skills and abilities, and on this, his birthday, we wish him all the best in filling those shoes (and others) for years to come!