First Look Photos from Fantastic Beasts: The Crimes of Grindelwald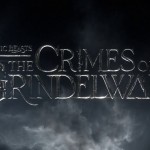 Dec 06, 2017
An exciting Wizarding Wednesday brings a new look into the Fantastic Beasts sequel, Fantastic Beasts: The Crimes of Grindelwald with Warner Bros releasing two first-look photos today via Entertainment Weekly.
The first shows the film's protagonist, magizoologist Newt Scamander, below ground in a sewer system, perhaps under London or Paris, with what appears to be a startled look on his face. Hopefully that expression isn't from the condition actor Eddie Redmayne revealed to EW that he's been suffering from on set which is referred to by the cast as "wand shoulder strain". "It's from doing some quite hardcore wand action," Redmayne said.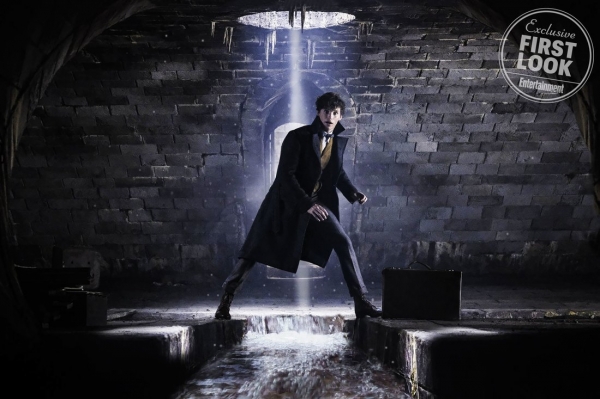 The second photo from behind the scenes shows Eddie Redmayne chatting with Jude Law, who plays a young Albus Dumbledore in the upcoming film. Interestingly, as pointed out by Entertainment Weekly, if this photo was indeed shot between takes, Law's Dumbledore appears to be dressed in Muggle clothing as opposed to his typical wizard robes or more flowing coat fans saw in the movie's first promotional photo. Does David Heyman's discussion with EW on casting Law as the beloved Dumbledore give us any hint?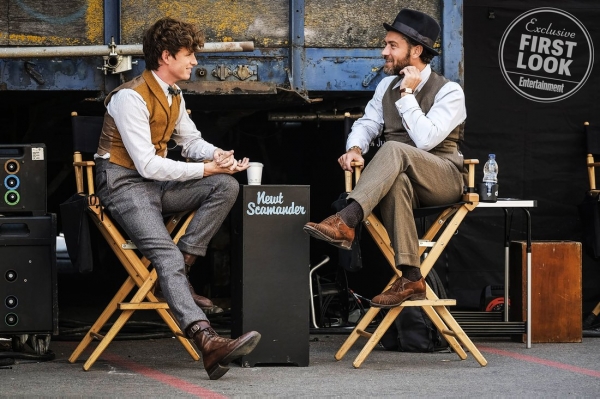 As we ponder what these photos may imply, we can take into consideration this latest information on Crimes from director David Yates,
"The first film had a level of whimsy; the characters felt like children in grown-up bodies," notes director David Yates. "In this movie, it gets grittier and more nuanced and detailed. It's quite a romantic film, it's a thriller, it's quite an interesting combination of genres you rarely see together. I think it will surprise people."
How might these new clues relate to Leaky's extensive speculation of the sequel's plot? Is the dark wizard Grindelwald involved in whatever Newt is doing underground or has the magizoologist found a new sewer-dwelling beast? What reasons could be presumed for Dumbledore's Muggle attire? Take a look back at some of our earlier coverage on the sequel and let us know what you think!
Image credits: Jaap Buitendijk/Warner Bros