Everything We Know About 'Fantastic Beasts' So Far: Plot Hints and Cast News!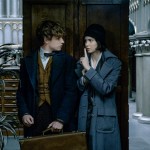 Sep 17, 2017
Exciting new information surfaced this week, which seems to confirm that Fantastic Beasts and Where to Find Them 2 will return to Hogwarts! In light of this, we can't resist reviewing what we know about the movie so far–and speculating as best we can about the rest.
Getting Back to Hogwarts:
Leaky reported on some suspiciously coincidental sightings and hints, including Jude Law's presence in the town of Bath. As Brits and avid fans alike know, Bath is conveniently close to Wiltshire, home of Lacock Abbey, which served as select parts of Hogwarts in previous Harry Potter films. Deputy chair of Lacock Parish Council John Boldon was also quoted in the Bath Chronicle revealing that a large, secretive set had taken up residence. One fan even snapped photos of what appeared to be actors in wizarding accoutrement!
Little wizards on their lunch break from filming at #lacock#FantasticBeasts2#hogwartspic.twitter.com/QObozd4BSX

— Rachel Acres (@RachelAcres) September 6, 2017
This leaves fans to seriously consider what plot twists and turns might bring Newt back to his former school, and we couldn't be more ecstatic!
We know that this film will move from New York to London to Paris as the story unfolds and reveals Grindelwald's growing power. And as amazing as it was to be introduced to MACUSA, Ilvermorny, and many new favorite American witches, wizards, and no-maj, along with the promise of a west-European adventure, we couldn't help but feel nostalgic for where our magical journey began. For Rowling to take us there again, with Newt as our guide, is akin to returning home! So, how might that play out?
According to a recent Leaky article on the production, the most current plot synopsis for the sequel reads as follows:
"Grindelwald has made a dramatic escape and has been gathering more followers to his cause – elevating wizards above all non-magical beings. The only one who might be able to stop him is the wizard he once called his dearest friend, Albus Dumbledore. But Dumbledore will need help from the wizard who had thwarted Grindelwald once before, his former student Newt Scamander. The adventure reunites Newt with Tina, Queenie and Jacob, but his mission will also test their loyalties as they face new perils in an increasingly dangerous and divided wizarding world."
Given that this film includes a young Dumbledore, played by the perfectly-cast and newly-bearded Jude Law, it makes complete sense that Hogwarts would feature in the story–and in any number of ways. It's possible that Newt, Tina, Queenie, and Jacob will return to the School of Witchcraft and Wizardry to rendezvous with Dumbledore and be brought up-to-date on Grindelwald's latest whereabouts and suspected plans.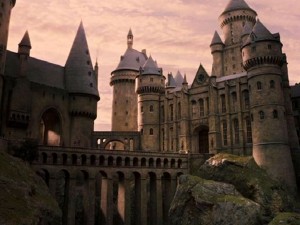 This in itself would make for some truly wonderful bits of film, both sentimental and comical. Imagine Newt shepherding Tina and Queenie proudly about the grounds and halls of the ancient and hallowed school? Imagine Jacob's reaction to the ghosts, the moving staircases, the Forbidden Forest, and any number of other enchantments!
It's also possible Hogwarts could feature as more than a strategy session–it could also be revisited in flashbacks to Newt's days as a student, developing his relationship with Dumbledore and, potentially, giving more backstory on the mysterious friendship between Newt and Leta Lestrange, as well as Newt's unfortunate expulsion (which was not fully enforced due to Dumbledore's defense of the young wizard). An open casting call for five young actors earlier this year suggested that we'll go back in time to see not just Newt and Leta's history, but Dumbledore and Grindelwald's, too!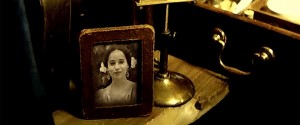 The Mysterious Question of Leta Lestrange
We already know that Lestrange will have a larger part in this second film, though the exact nature and extent remain unclear. Leaky did, however, report on telling comments from director David Yates:
"Yes. Leta Lestrange comes into the second movie. She's quite complicated and damaged and confused, and Newt is absolutely still in love with her. So, she has a kind of power over him, and she, yeah, she's a kind of tragic figure, so we will see a bit more of her in the second movie."
It's very reasonable to assume, then, that their history will be important to the plot–so much so, that it could be one of the driving forces. Given that J.K. Rowling has also said that Newt's patronus is a 'big spoiler', we may also be able to assume that Newt will come across a Dementor or two over the course of these films (unless Queenie is the one to reveal it), and that we'll be learning more about Newt's personal life as the films develop.
The summary also mentioned that this "mission will test their loyalties." This could mean the groups' loyalties to each other, Newt's loyalties to old friends and new, and even Dumbledore's loyalties as he discerns the best way to track and capture Grindelwald. It could press them all to examine which side they're on and why.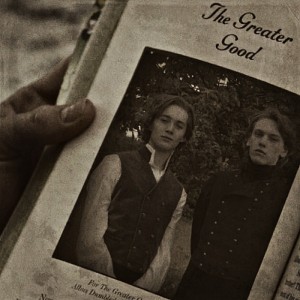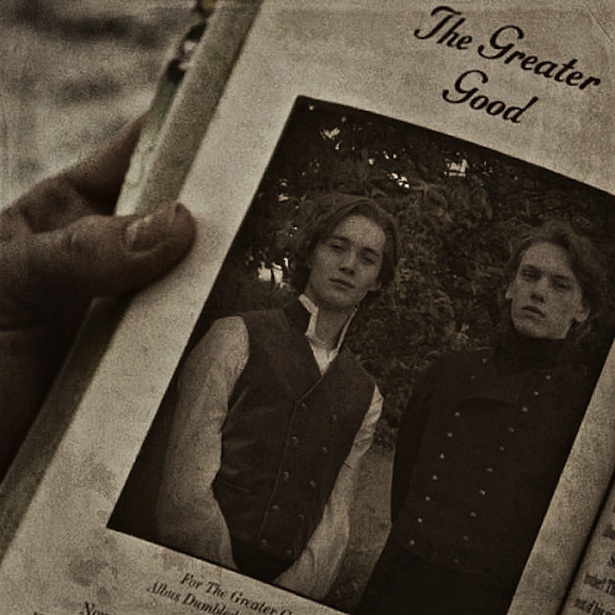 Perhaps Leta has joined Grindelwald's ranks and Dumbledore, not opposed to manipulation when necessary, uses this fact to draw Newt into the fight. Casting details mention that an Ingvar Sigurdsson will play a bounty hunter named Grimmson and, if Leta has become involved in dark magic, she may be the object of Grimmson's search. Given Newt's compassionate nature, a plea to intervene and attempt a rescue would undoubtedly resonate with him–and may even cause conflict between him and his companions.
Or, from the other side of the equation, Grindelwald could use Leta in an attempt to exploit Newt's knowledge of and experience with the obscurus, which we know from the first film is an obsession of Grindelwald's due to the dark magical power he could potentially harness and tap.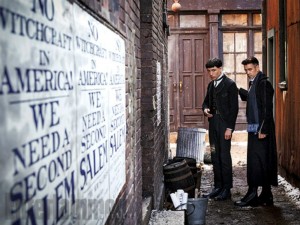 Dumbledore, Credence and the Obscur-ious Mystery:
The existence of the Obscurus will almost certainly reappear as another plot point since we know Ezra Miller is reprising his role as Credence Barebone, a role which may be even larger than originally supposed. Turning the tables, Dumbledore and Newt could plan to use Credence to draw Grindelwald out of hiding! Since casting details also indicate their paths will cross a wizarding circus, what better place could there be for them to discover Credence vainly trying to lay low?
And to think, this may all begin with heated planning sessions and flashbacks deep in the heart of Hogwarts!
The one thing we can be sure of is that whatever plan Dumbledore and Newt brew, it will not come to fruition in the way they hoped. Rowling establishes in Deathly Hallows that Dumbledore and Grindelwald do not meet until 1945 and that, in fact, Dumbledore actively avoids the confrontation.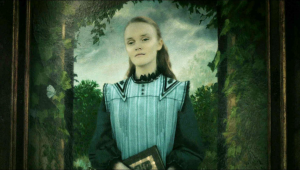 What remains to be seen is what excuse he will give. Perhaps he will abdicate the plan to pursue Credence in the hope of easing his tortured mind and conscience with answers about the Obscurus and his suspicions about his sister, Ariana's, illness. This may well prove to be yet another test of loyalties–and friendship.
Where does Paris fit in to all of this?
We know from our interviews with David Heyman and David Yates that this movie (and possibly the following movies) will be European-centric, with this movie stepping into Paris–will we get to see more of the French wizarding community? It's doubtful that Beauxbatons (situated in the southern Pyrenees) would make an appearance if the film is sticking to Paris, so perhaps this will tie more into the Grindelwald story, given that he flees to Europe, and the Obscurus narrative.
Who knows what experts in strange fields Dumbledore or Newt and his crew might find if they venture into the European wizarding community? Maybe the answers to their questions about Grindelwald and Obscurials lie in France! After all, Nicolas Flamel was an extraordinarily ingenious and experimental wizard–having created the Philosopher's Stone–and he began his journey at Beauxbatons!
Luc Millefeuille –an infamous pastry maker–also attended Beauxbatons in his youth. However, this wizard was also a known muggle-poisoner, so Jacob might want to steer clear if they happen to come across him.
Given the French roots of the name 'Lestrange', we could also delve more into the Lestrange family tree in this movie, in which case we'll see Leta play an even more prominent role than previously expected.
What about the beasts?
Less magical creatures will feature in this movie, according to David Yates, but one Chinese beast will make a notable appearance, with many speculating that this could be Fawkes–or maybe a Chinese Fireball!
However it turns out, it's wildly fun to speculate, and we can't wait to see what new magic Rowling has conjured for us in this next installment! Hopefully we'll get an exclusive look at the new movie at A Celebration of Harry Potter, taking place from January 26th-28th 2018 at the Wizarding World, Universal Orlando:
#HPCelebration will return to #UniversalOrlando in 2018! More details coming soon. pic.twitter.com/cXTw9LgvuM

— Universal Orlando (@UniversalORL) September 13, 2017
Now, as we await more details from the set, let's quickly recap what the stars of Fantastic Beasts are up to in the meantime:
Katherine Waterston, who plays Tina Goldstein, MACUSA auror and Newt's fledging love interest, is starring in The Current War alongside Benedict Cumberbatch. As Leaky previously reported, the film is described as follows:
"Set in the late 1880s, 'The Current War' details the rivalry between Thomas Edison and George Westinghouse and the race to create a marketable and sustainable electricity system. Edison championed the use of a direct current for electric power distribution over an alternating current, which was backed by Westinghouse Electric and a host of European companies."
Waterston plays the wife of Westinghouse in the film, which premiered at the Toronto International Film Festival. Both Waterston and Cumberbatch (Thomas Edison) attended, according to the Daily Mail.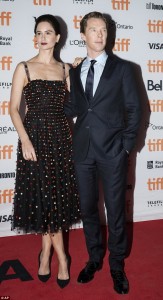 In other news, Celebrity Insider reported that Zoe Kravitz (Leta Lestrange) is on the cover of British Vogue's October issue. In the magazine she spoke at length about her famous parents, Lenny Kravitz and Lisa Bonet, but she also goes on to counter any charge of resulting nepotism. She assured readers that she has always wanted to achieve success in the industry on her own merits.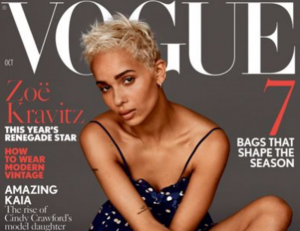 Kravitz has also partnered with Tiffany & Co., which recently launched a collection of Save the Wild jewelry in support of the Elephant Crisis Fund. To promote the initiative, Kravitz joined other notable actors in a video promoting the fund with interesting facts about elephants. According to the Hollywood Reporter, all proceeds from the campaign will be donated to the cause. View the video below!
The Newport Beach Patch reported that Kravitz has been added to the list of presenters for the 69th Emmy Awards airing this Sunday as well!
Finally, a photo courtesy of Comic Book Movie shows Ezra Miller (Credence Barebone) in character as Barry Allen in a still from his highly-anticipated upcoming film Justice League. Since this is really all about the hints and reveals, take a look at the packed image of his workspace and see what clues you uncover!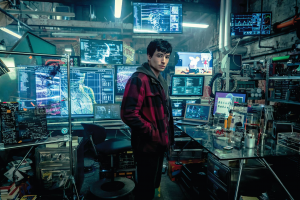 If only Newt was around to utter 'Revelio!' Alas, we'll have to settle for divining all these fantastic secrets ourselves. What do you think, Potter fans? What do you read in these tea leaves?